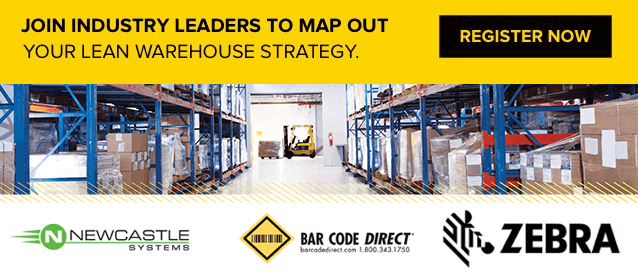 LEARN HOW TO ELIMINATE 8 WASTES
THAT HURT YOUR BOTTOM LINE!
"Lean Warehouse: How to change your warehouse from a cost center to a profit center—eliminate the 8 wastes that are hurting your bottom line"
In today's highly competitive environment, you need to maximize your profitability. Learn how to trim the excess from your distribution systems and work leaner, stronger, and more efficiently. Change your warehouse from a cost center to a profit center.

This hands-on seminar will guide you step-by-step through every aspect of your operation and then rebuild with better process flow.

Join lean warehouse and industry experts from Zebra Technologies, Newcastle Systems, and Bar Code Direct. Explore the newest wireless and industrial-strength mobile technology solutions.

All attendees will receive FREE lean work tools, including a Gemba Walks checklist and calculators for uncovering productivity gaps in your operation.
Location:
HILTON HASBROUCK HEIGHTS
650 TERRACE AVENUE
HASBROUCK HEIGHTS, NJ 07604
Click here to learn more and register for this special event!