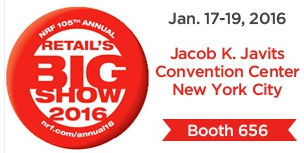 More than 33,000 retail industry professionals will gather in New York City on January 17 – 20 for Retail's BIG Show 2016. With more than 540 exhibitors across 220,000 square feet, the EXPO offers solutions for every retail challenge. Retailers walk the EXPO for free.
Show Hours:

Sun. 1/17, 10-3 PM
Mon. 1/18, 9-5 PM
Tue. 1/19, 9-5 PM
Watch the sneak peek video:
The Retailer EXPO Pass allows retailers, drug and convenience retailers, grocers, visual merchandisers, store designers, CPGs, and private investment firms access to the EXPO Hall during regular EXPO hours, as well as Retail's BIG Show Opening Reception.
The Small Business Experience Pass allows retailers access to the small business program (which is in the EXPO) and Retail's BIG Show Opening Reception on Sunday, January 17. The pass is also valid for EXPO Hall access during regular EXPO hours on Monday, January 18 and Tuesday, January 19.
At Retail's BIG Show 2016, you can explore innovative retail technologies, learn about groundbreaking solutions and get updates on solutions needed to run your enterprise.
Click here for more information on the NRF retailer definition. Download the registration form pdf.