Time management tools are essential in any dynamic organization, be it a national retailer, global manufacturing firm or a regional distribution center. Here are five crucial productivity and efficiency tips along with quotes from industry leaders to help empower your employees to work smarter for you.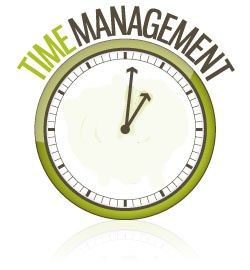 Batch What You Do So That You Do Similar Tasks Together
Consider the pick-up time of activities, the time it takes to start doing an activity again after you have stopped it. If you think multitasking is an efficient method for getting things done, think again. Multitasking simply means switching quickly between things, which increases the pick-up time, making you less efficient.

Employees need to be able to manage their attention, but studies show that people are inefficient at changing focus too often, and individual tasks suffer from too much switching. It is far better to batch what you do so that you do similar tasks together. This does the opposite of multitasking and minimizes pick-up time.

Having portable powered workstations allows employees to batch their work by having the tools they need, on-demand, to focus on their work where it is needed. In a distribution center, for example, you can batch all your receiving activities such as, scanning, matching product to purchase order, and printing labels in one location, without stopping and going to a fixed workstation for any reason and then having to come back and pick up where you left off. Batchching work will streamline your processes and make for greater efficiency while minimizing errors.


Model Excellence

Find someone that does a similar job to you, has been doing it for a long time and is very good at it. Then, get more efficient by modeling how they do it. There is no need to reinvent the wheel. Modeling excellence is a sure and powerful method to advance performance and gain results.

Case In Point: Amazon.com, the world's largest online retailer, partnered with Newcastle Systems to power their "mobile problem solve cart".

This fast-paced progressive organization needed to resolve incoming product discrepancies, including quantities that did not match their packing slip/purchase order or products that didn't have a barcode label on them. This caused the need to walk back and forth to a fixed computer station in order to research the discrepancy as well as to a label printer if a new barcode label was required.

The solution was a mobile workstation powered by the Newcastle Systems' PP25 Stand-Alone Power Package (w/200 AH battery system), which provides the mobile power component that keeps the following hardware powered for 24 - 36 hours at a time:
Laptop

Zebra 2844 Lable Printer

Scanner
"The portable power enables us to take our workstations to any area within our facility while increasing workflow, productivity and giving us greater flexibility in our process. "It's extremely easy to use and powers anything we plug into it." - Team at Amazon www.amazon.com

Download the complete Amazon case study along with others, and learn how diverse industries including manufacturing, healthcare, education, military and government, as well as warehouse and distribution centers, have empowered their workforce by using portable powered workstations.


Have a Clear and Ordered Environment

Clutter and debris are not only distracting, but also dangerous. A well-organized work area allows workers to perform their jobs without constantly taking the time to find things and move items out of their way. Employees should not have to walk through obstacle courses nor should they have to sort through clutter for the tools they need to get their job done.

Implement the first two items of the Lean 5S methodology
Sort - the process of separating needed tools or merchandise from those that are not needed, and removing the unneeded materials.

Systematic Arrangement - the process of arranging items in a particular order, making them easiest to use.
In addition, consider doing what Ross Stores, Inc., an S&P 500, Fortune 500 and Nasdaq 100 (ROST) company, did in their distribution center and go cord free.
"Operators are now able to freely move to the next pallet, or anywhere in the DC - cord free!" - Ross Stores, Inc.
Long extension cords that are tethered to power outlets can cause major clutter in your warehouse or DC. This practice is archaic and unnecessary in today's technologically rich environment.
Instead, look into using lightweight or industrial portable powered workstations to sort, arrange, and declutter your workplace. These workstations are cordless, ergonomic, and can power a number of tools, for example, computer and monitor, printer, and swappable battery pack. They can also come with a desktop and an area for handy tools.


Don't Rely On Your Memory

Don't rely on memory, rather use systems which remember things for you, freeing up your brain for everything else. If you are running a warehouse you might use an inventory management system, or a healthcare facility might have a patient information system. In either case, having the information handy will greatly improve accuracy, not to mention customer service.

"Our accuracy has increased since checkers no longer have to remember important specifications while inspecting materials. Basically - they can turn around and their workstation is right there!" - National MRO Supplier


Eliminate Your Time Wasters

Consider what is taking time away from your work. Walking back and forth is one of the biggest time wasters in many organizations. Eliminating worker motion as well as bulky transportation to faraway stations will greatly consolidate and make more effective your processes.

Here is what another industry leader, Disneyland Resort, is saying about removing time wasters with portable powered workstations:

"After deploying your mobile carts in our receiving and package process operations, our time study indicates a reduction in average distance travelled during processing from 57' to 22', and an labor efficiency increase of up to 24%. This was as a result of process redesign which was facilitated by the move to mobile workstations. As you can imagine, I am very pleased with the results and am expanding the use of mobile workstations using Newcastle Systems products." - Rick McDole, Manager of Distribution Services, Disneyland Resort
---
Now that you know what industry leaders are doing to empower their employees, consider what you can do also. Whether you need a rugged mobile powered workstation, a slimline workstation or anything in between, Newcastle Systems has the expertise and technology, specific to your needs.


Download our PowerPack Ultra Series 2.6 Data Sheet for features and technical specifications.