FREEDOM FROM CORDS = THE NB SERIES IS DESIGNED TO PROVIDE TRUE MOBILITY ANYWHERE WITHIN A FACILITY.
The Patented NB Series Mobile Powered Workstation by Newcastle Systems was developed to provide true mobility ANYWHERE in a facility, while eliminating costly movement, touches and transportation wastes.
Unique features include:
Integrated Power – seamless rechargeable power and the ability to run up to 4 devices at once for 8 - 12 hours of normal use. Also available with NEW lithium power system.
Mobile – compact footprint and 5" locking swivel casters make it easy to deploy to area of need.
Adjustable – using a slotted upright system, the shelves and accessories can be quickly adjusted in seconds to suit the operator's needs.
Modular – A number of optional accessories are available and can be integrated in seconds. Create a highly versatile workstation that can be configured to suit any application. VIEW FULL LINE OF OPTIONAL ACCESSORIES
This mobile powered cart comes standard with (1) 24" wide x 22" deep adjustable height laminated shelf. Each unit can accommodate up to three shelves.
Video: Receiving Revolution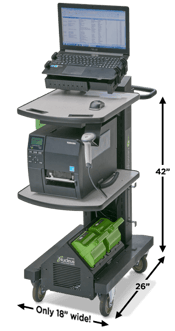 Need a Cart for Tight Workspaces?
The NB Series SLIM offers the same great features as the standard NB Series Mobile Powered Workstations, plus the new NB Series SLIM is only 18" wide!
Productivity Benefits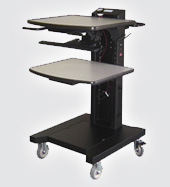 NB Series workstations eliminate unnecessary foot travel and paperwork. Instead of walking back and forth from a deskbound computer to printers and other devices used in tasks such as inventory management, process control, on-demand label printing, product testing, order picking, cross-docking, weighing, scanning, etc., all necessary equipment can be brought to where the work is taking place. An operator can have real-time access to WMS, ERP, and automated data collection.