Ever since Santa heard about our NEW Nucleus Lithium Power System, he has been ordering them to put in Christmas stockings around the world to those on his "nice list". He appreciates the smaller and lighter power packs and how easy it will be to drop down the chimney with them.
The first thing Santa did was attach a couple of power supplies to the sleigh for a test.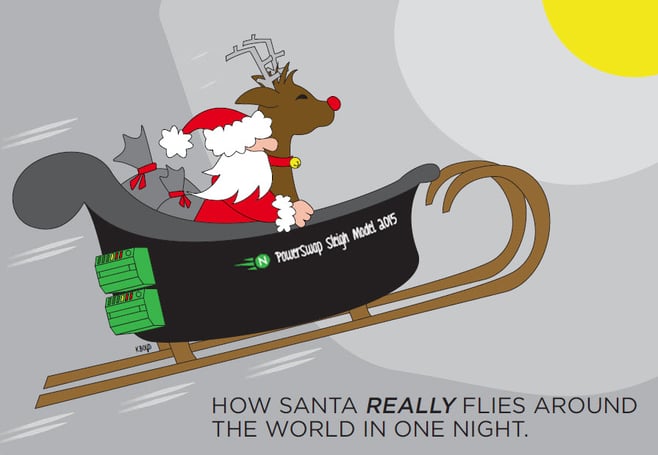 In fact, since the power pack can be charged by plugging into a regular outlet, he finds places along his route to plug and recharge. (For instance, the sleigh can be parked a while on the roof of a sky scraper and has proven a great opportunity to give the portable power supply a quick charge.)
Santa's privately shared with us that while the reindeer and sleigh has magic, by using the new power pack lithium power system on the sleigh, he can offer the reindeer snack breaks and not be caught by surprise.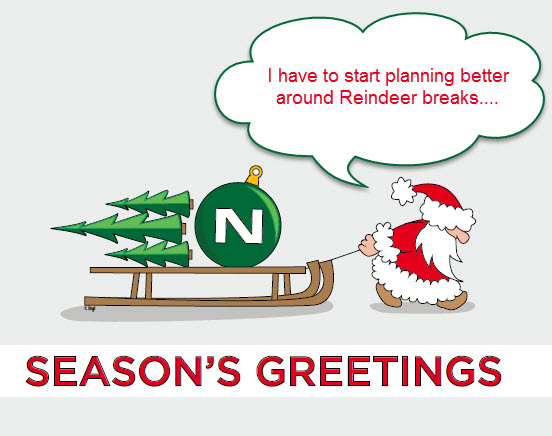 Santa is a bit confused why the team here at Newcastle Systems talks primarily about the industrial use of the Nucleus Lithium Portable Power System since he uses it to move the sleigh around the North Pole property. He also uses it for a portable hot chocolate maker he keeps in the sleigh.
Why Rudolph got nervous - Santa tells the story about how he pulled a trick on Rudolph by plugging a bright red light bulb into the portable power supply and then attached the bulb to a tree branch. It was a foggy dark night and Rudolph was thinking he either had a brother or there was someone getting ready to replace him.
There were plenty of "ho-ho-ho's" for a week around the North Pole about. Rudolph is thinking up a way to use the power supply to get even. (We are helping.)
We had to admit to Santa that his savvy use of a portable power supply opened our eyes. While our mission at Newcastle Systems is to help companies find new ways to be more efficient and eliminate wasted steps, the portable power supply is versatile and can be used in an office, school, military base, restaurant, campground and… even the North Pole.
Santa of course has his finger on all cutting edge technology but you may not have heard of our new power system yet. Other than Santa, Fortune 100 companies are already recognizing the benefits of the smaller lighter lithium power system.
Here are three reasons the new power systems are raved about:
At 36 Amps, the new

PowerSwap Nucleus Lithium Power System

is the most powerful mobile workstation battery of its size.

Its

AC output will power over 80% of standard workstation configurations for a full shift with only 1 or 2 batteries!

Sealed

, tough plastic casing means your power source can survive in the toughest warehouse conditions.
Santa has loved our portable workstations with power for years and knows the care we put into manufacturing all of our products. As you know, he is pretty creative and finds new ways to use the portable workstations with power.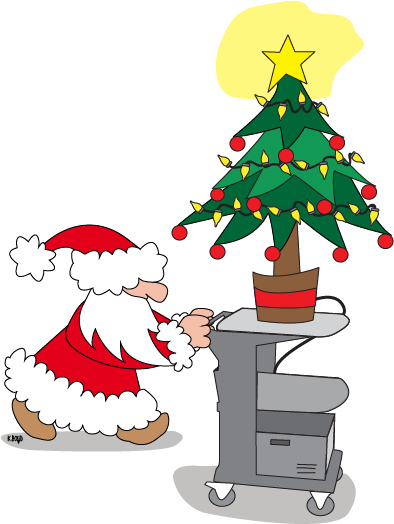 Earlier this year we started shipping the workstations fully assembled which gets Santa's elves operational in minutes. This is why the Newcastle Systems' team was put on Santa's "nice list" this year.
Watch the short video as someone upacks a portable workstation with power and has it "ready" in minutes:
The team at Newcastle Systems wishes you the very best Holiday Season. Our hope is that you find the new Nucleus Lithium Power System so amazing that it will leave you wondering if there indeed is really a Santa Claus. Check out the new portable power system here.