Adding logos and branded colors to your mobile workstation is one thing--but there are so many ways to make a mobile workstation your own! When you run a warehouse or distribution center, order fulfillment is one of your primary functions. Storing inventory, picking and packing orders, shipping, and handling other functions must be done efficiently and safely. Enter mobile workstations.
Mobile workstations allow your workers to have technology where and when they need it in the warehouse. Instead of having to travel back and forth to print labels or collect information, employees can perform those functions directly on the warehouse floor, saving time and money.
But not every mobile workstation will be exactly alike. One of the great things about them is that they are customizable. Discover what you can do with your warehouse's mobile workstation to improve your fulfillment needs.
1. Heavy-Duty Casters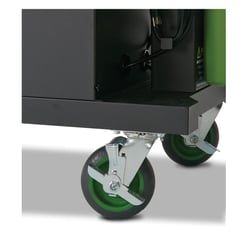 Casters may not be the first thing you think of when it comes to your mobile workstation. But your equipment won't be mobile without them. Because of this, they should be a prime consideration.
The last thing you want is for your nice workstation to perform like a wobbly supermarket shopping cart. Instead, you can outfit it with heavy-duty casters that have superior weight capacity, 360-degree swivel ball bearings, sturdy wheels to move over uneven surfaces, and foot-activated locking mechanisms.
2. Extending Work Surfaces
There aren't many readily available work surfaces in a warehouse, and you can't always count on a pile of boxes or pallets to be in the right place at the right time to act as a makeshift office. But you can customize your mobile workstation so your workers have the work surfaces they need to be efficient and productive. For example, rotating and expanding work surfaces can be useful for different types of tasks.
3. Rechargeable Power Options
Without a power source, the technology on your mobile workstations won't be of much use. You can add a variety of efficient, reliable, long-lasting, and fast-charging power sources to your equipment.
Among your choices are Sealed Lead Acid (SLA) and Lithium-based power systems. While lithium batteries cost more upfront, they outperform SLA, are ⅓ the weight when pushing a cart through a warehouse, and can last up to eight times longer.
4. Document and Label Printing
Many warehouse workers dread having to walk back and forth to a central location to retrieve documents or print labels. It's time-consuming and exhausting, not to mention a huge drain on productivity.
Fortunately, mobile workstations can be customized with any type of document or label printing solution you need. Whether you need to print picking lists for workers or RFID labels, these are things you can do from anywhere in the warehouse.
5. Company Branding
Internal culture can be a significant driver of your business's overall success. While providing technology solutions to your warehouse workers is a step in the right direction, there's nothing stopping you from adding your branding to those items as well.
Remind your workers what your business stands for, whether it's delivering a positive customer experience, operating a safe workplace, or being a sustainable organization. You can add these messages to your equipment. These will be daily reminders of your company's message, which can improve your overall culture.
6. Mobile Technology Support
Many warehouses are leveraging mobile technology solutions to improve the order fulfillment process. These include things like wireless headsets and other wearables. Your mobile-powered cart can support these solutions in several ways.
First, it can store and transport the equipment around the warehouse to where it is needed. Second, the technology on the cart can interface with the mobile solutions during the picking and packing processes to improve efficiency and boost productivity.
7. Storage Solutions
No matter where or how you work, you can never have too much storage. Fortunately, with the right setup, your data and information will be stored on the cloud. But you might need to store other things while working a shift, such as labels, paper, headsets, and a few personal items. A mobile workstation can be outfitted with pegboards, upper cabinets, and shelving to hold all of these items and more.
8. Vital Utility Options
There are several utility options you can add to your mobile workstation to make it more useful and safer for your workers. Here are several examples:
Electrical power strips mounted for fast access

Under-shelf lighting equipped with LED bulbs to deliver extra illumination

Cord management system to prevent tangled and confusing wires
9. Laptops and Tablets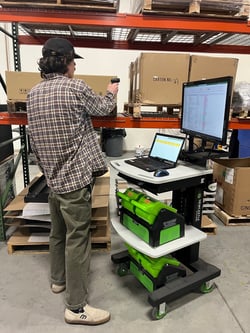 Mobile-powered carts are meant to transport technology solutions wherever they are needed in the workplace. You can customize your cart by choosing the right technology to fit your needs. This might be a laptop, tablet, toughbook, or even a full-sized desktop computer. Your options are only limited by the space and power delivered by the cart you choose.
10. Security and Locking Devices
Depending on who has access to your facility, you may want to add some additional safeguards to your mobile workstations. If they contain compartments that store mobile technology like headsets, you can use mechanical locking solutions accessed by combination or key. Another option is to add an electronic locking mechanism that can only be accessed by workers with certain keycards. Even more advanced are biometric locks, which use fingerprints.
As you can see, mobile workstations aren't a cookie-cutter solution to order fulfillment. Your wants and needs may not be the same as another company's. Fortunately, you can completely customize your mobile workstation so you get the most productivity and efficiency out of it and create a better experience for your warehouse workers.
Get the Powered Industrial Carts Product Overview