If the workers in your warehouse are still running back and forth between the floor and a central location between tasks, this is highly inefficient. A warehouse can significantly boost every aspect of its operations by implementing mobile powered carts. These carts require a portable power system. In some cases, you may also want a standalone mobile power system without a cart. What are portable power systems, and how do you choose the right one for your needs?
What is a Portable Power System?
A portable power system is just what it sounds like - something you don't have to plug into the wall that provides power. Made from highly-efficient lightweight lithium technology, these systems are an economical way to provide power without dealing with cords. Some of the benefits of these systems include: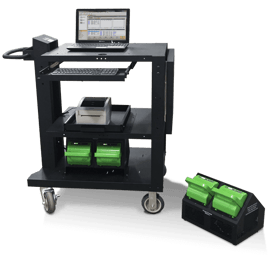 Zero noise

- These systems provide completely silent power.

Long life

- Depending on the model, a power station can last an entire shift or longer.

Ease of use

- Portable power systems are simple to operate.

Clean power

- With no harmful emissions, you can reduce your carbon footprint.

Lower costs

- There are no fuel costs or ongoing maintenance requirements.

Better data

- You get real-time energy management data.

Safer option

- There are no gasoline fumes to inhale or cords to trip over.
Uses for Portable Power Systems in the Warehouse Industry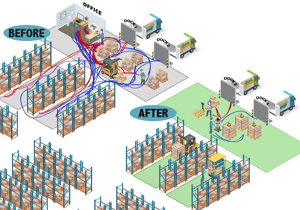 In the warehouse industry, one of the challenges businesses face is inefficiency. Workers waste miles of footsteps moving between the office and the warehouse floor to print labels, process data, or reference documents. This also leads to worker fatigue, which can result in human error.
Portable power systems put the workstations where they are needed the most on the warehouse floor. These systems provide life to mobile powered carts, which workers can move around the warehouse to complete operations as needed. Again, there are also larger, standalone portable power systems that provide seamless AC power to your operation.
Which Portable Power System is Right for You?
The type of portable power system you choose will depend on a variety of factors, such as your needs, preferences, and budget.
Types of Portable Power Systems
If you want to use a portable power system, the good news is that you have quite a few options. Newcastle Systems produces a wide range of power systems, from ones easily lifted by hand to larger systems that can be wheeled from place to place.
Sealed Lead Acid (SLA) vs. Lithium Power Systems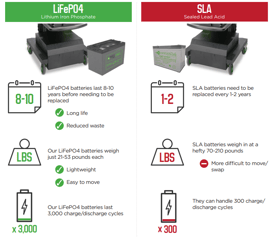 Newcastle offers both traditional Seal Lead Acid (SLA) and Lithium-based power systems. SLA is more economical upfront, but you will have to replace that type of system more often. Lithium batteries have an 8x longer life than SLA batteries. Also, a lithium battery is about ⅓ the weight of an SLA battery.
Swappable vs. Fixed Battery System
You can choose a portable power system that is swappable or fixed. A swappable system allows you to "swap" out the battery for a fresh one, eliminating the possibility of any downtime. A fixed system has a larger capacity and will require you to plug it in at the end of the shift for recharging.
Newcastle's Portable Power Systems
Newcastle offers customers a wide variety of options in portable power systems.
PowerSwap Nucleus Mini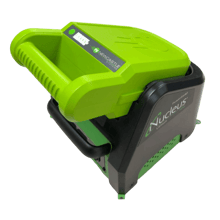 The Nucleus line is the most popular, fully swappable system that is ideal for 24/7 operations. It uses advanced lithium technology for up to a seven-year battery life. The PowerSwap Nucleus Mini is the smallest and lightest model, weighing just 6 lbs. It can operate a tablet, laptop, or small thermal printer or scanner for up to four hours before requiring a battery swap.
PowerSwap Nucleus Classic Solo & Dual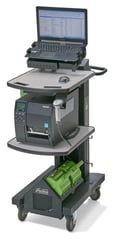 The PowerSwap Nucleus Classic Solo is Newcastle's most popular system. It weighs just 11 lbs can operate a tablet, laptop, or printer for up to eight hours. The system is appropriate for carts or as a standalone power source.
The Classic Dual is the Classic Solo times two. You get double the battery power, making it easy to keep operating across multiple shifts without having to recharge or swap.
PowerMaxx Lithium & SLA
The PowerMaxx batteries are designed for heavy draw equipment, such as the technology you'll find on mobile powered carts. The power supply sits on the bottom of the cart, and once a shift is complete, the system is plugged in for recharging.
The PowerMaxx Lithium provides up to 12 hours of power on a single charge and has an 8-10 year battery life. It is also Bluetooth-enabled. The Powermaxx SLA also offers up to 12 hours of power on a single charge, but the system only has a 1-2 year battery life.
PowerPack Ultra Lithium & SLA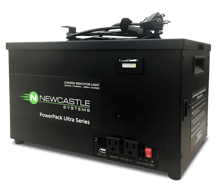 The PowerPack systems by Newcastle provide standalone portable power for your business without the need for a generator. They are 100% safe to use for computers, AV equipment, POS systems, and more.
The PowerPack Ultra Lithium weighs 17 lbs and provides up to eight hours of power per cycle. It also has a battery life of up to 10 years. The Power Pack Ultra SLA provides a similar power experience, but it weighs up to 45 lbs and has a battery life of 1-2 years.
PowerPack Mega Lithium & SLA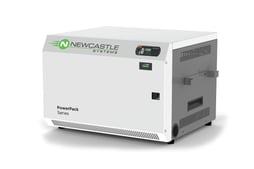 The PowerPack Mega series is the largest portable power system available from Newscastle Systems. If you have high and continuous power demands, these standalone systems may be an ideal choice.
The PowerPack Mega Lithium weighs up to 90 lbs and offers 12+ hours of continuous power. The system is Bluetooth-enabled and has a battery life of up to 10 years. The PowerPack Megal SLA weighs up to 198 lbs and offers a similar power experience. But its battery life is limited to 1-2 years.
If your warehouse or distribution center wants to boost its efficiency, have happier employees, and provide a better customer experience, mobile powered carts are a step in the right direction. These portable power systems by Newcastle Systems will transform the productivity of your receiving, picking, packing, and shipping activities.