We get pretty excited about what portable powered workstations do for warehouses, distribution centers and manufacturing plants. Today we are going to turn to those who use the portable power and Newcastle Systems' specially designed mobile carts. As with most companies, we prefer to keep the personal and company contact information confidential. Below you will hear feedback surveys have provided over the last year.

J, Receiving Manager
"We have a high satisfaction with existing the products. The cart is our workplace with tools, calipers, thread checkers, The powered cart holds two different style label printers."
The battery power lasts through the shift and swappable power not yet needed.
We are very Interested new innovation for safety reasons
To simplify the process, carts are numbered, rolled up to a "charging station" at the end of every day.
Structurally they are very sound. Shelves double as cutting boards, etc.
---
J, System Administrator
"We have a high satisfaction with portable powered carts. , a few things to improve: inverter set-up, keyboard tray holes don't align.
Safety is a growing theme in the workplace
---
S, Operations Manager
"We want to go ALL mobile. Compared other portable power and mobile carts, we like Newcastle better."
Looking forward to going mobile for the outbound labeling process



---
Bill, Manager
"Have used other types of carts and shopped around but went with Newcastle Systems workstations with portable power. All 25 carts in facility are used simultaneously which has proved to be very useful. We currently get 15 hours from ONE battery right now. One change we made for our operation was to remove the front handle, cut one into countertop and route it."
Process efficiencies and targets are a constant with the workstations.

Process engineer on every site to maximize opportunities.



---
Marc, Manager
"We have 50 carts with portable power from Newcastle Systems and expect to get more."
---
Customer Satisfaction:
Customer satisfaction survey says we are doing relatively well and our R&D department continues to test and improve both the carts and the batteries.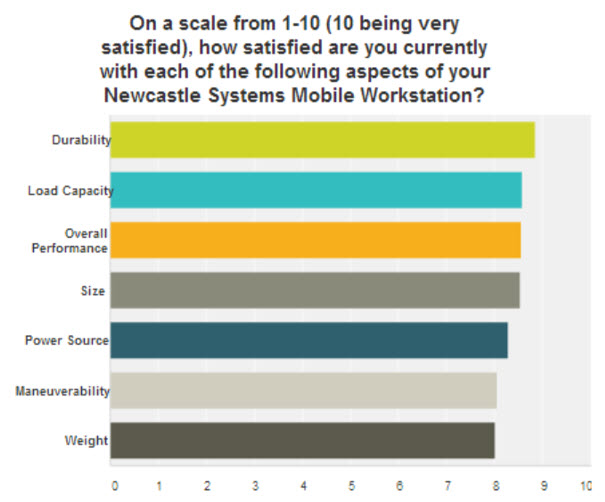 ---
Interesting feedback from the surveys included:
"We had a 43% reduction in transport, motion and wait wastes."
"Mobility has allowed workers to process product at location for direct and immediate processing."

"We reduced man-hours by 25%."

"I have been able to take one person offline of the packing process, (that before needed two people), and now have that individual picking, increasing productivity by 700 lines or up to 60,000 pcs additional per day out the door."
"We saw a 10% to 20% improvement over previous processes and equipment."
---
CASE STUDY:

Recently, MSC Industrial Supply Company was kind enough to share their success story. You can learn how they improved productivity with mobile workstations which includes integrated power in their warehouse & DC operations: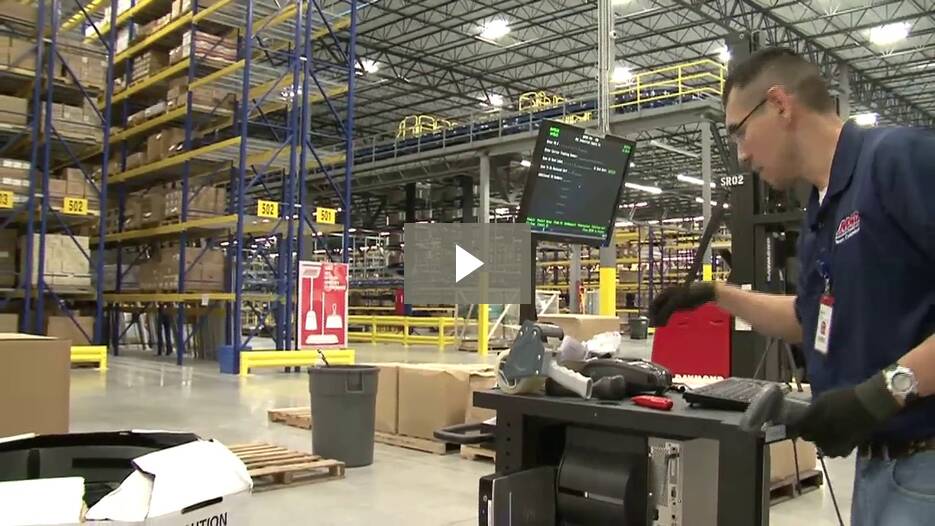 Access more case studies

here and testimonials from amazing companies

here

.


---
It has been an honor to do business with world class organizations and we appreciate so many who have given us positive feedback as well as those who completed the surveys to help us improve our understanding of reality in each of their operations.

Our latest product, PowerPick Station, is a cumulation of research and feedback from those of you who took a moment to share your thoughts. If you haven't yet seen the latest addition to our mobile powered system, check it out here: