The Portable Power Supply Comparison Guide

For Warehouses, Manufacturing and Distribution Centers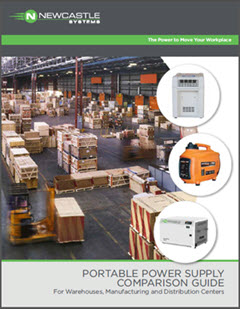 You may be well aware of advances in technology which have already changed how warehouses, manufacturing plants, distribution centers and large retail stores operate.
Research and comparisons are important prior to making purchasing decisions. When time is short, serious research is often put off which causes decisions to be delayed.
To help you to avoid delays and save time, we are providing our research on portable power supply options.
This guide is not designed to be technical, though it provides a few technical specs. We have portable power supply geeks on the team who can't help but share what they know.
This guide is for anyone wanting to eliminate waste of time and money walking back and forth.
Get the free Portable Power Supply Comparison Guide to learn how you can rethink the way you manage power to your operation.