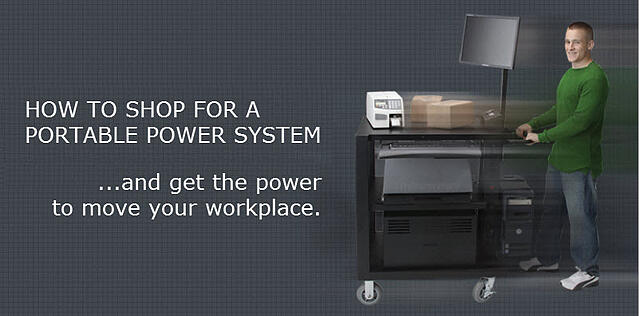 A portable power pack equipped cart with a wireless computer is really a mobile workstation. Capitalizing on the benefits of auto-ID technologies, it integrates the facility's software with devices on the cart to establish a mobile on-demand label printing station, a mobile shipping/receiving station, etc.
The Waste:
In many enterprises, countless hours are wasted as employees walk to and from a desk bound computer where they log information into a database print labels/orders, etc. Often, these employees are merely keying in or confirming data they have previously written on paper or the work site - a classic redundancy of effort.
The Solution:
In contrast, managers and employees operating a portable power pack equipped workstation have continuous, paperless, real-time access via warehouse management systems (WMS), enterprise (ERP), or automated data collection (ADC) software from anywhere in the facility.
The Efficiency:
A single mobile workstation of this kind can often do the job of two or three stationary desks, which means fewer computers and peripherals will be needed overall. For example, the cart can be used all morning at a receiving dock and then wheeled to the shipping department for the afternoon. It also allows you to fully leverage your wireless facility by cutting the power cords and letting your workstation move to where they are needed - with your people.
The Best Option:
Because such a workstation can carry relatively heavy peripherals, such as a high-volume label printer, it is more versatile than a handheld scanner or thermal printer. If you already own the computers the carts will carry, it is also less expensive than converting to handhelds. An "on-demand" high volume label printing/PC station saves time and labor because it enables the use of more than one type/size of label, a full computer screen to toggle between different programs, and more.
How to Shop for a Portable Power System
Obviously, needs differ, so if you think a portable power pack (PPP) might improve your workplace, take the time to shop around until you find a sturdy, reliable model with capabilities that best fit your requirements. In many cases, it might be wise to purchase one with extra power and a longer run time, in case you decide to use it for additional devices/tasks in the future
Ideally, the supplier will carry a comprehensive product line with several battery/inverter/charger configurations. Be sure to ask about the overall battery life. Size, weight and proper cabinet ventilation are also important considerations. User friendly features and accessories such as a power strip and handles are more important than they may first appear.
Some manufacturers will configure custom portable power packs and carts, especially for orders of multiple units. Some have technicians who will make sure your package is fully integrated with the devices you intend to run and some will even have software tools on their websites that help the customer choose the most appropriate power package by calculating the total wattage of the equipment to be supported.
Because the power package itself does not have to be plugged in, there are no cords long enough to trip over, but for cords connecting devices on a cart to the portable power pack, there should be a cord management system that keeps these cords neat and tangle free.
Finally:
Powerful, quiet and compact, portable power packages are opening up new frontiers of convenience, productivity, and profitability.
Offering reliable AC power for indoor or outdoor use, they have many advantages over extension cords, generators, and weaker battery packs.
Their many uses include powering computers, printers and other devices on a mobile cart. This significantly reduces foot travel and paperwork.
If your business would benefit from the additional flexibility provided by one or more portable power packs, shop carefully, plan for future uses and make sure the model you choose is durable and versatile.
Learn more about portable power systems here.
To configure your workstation, start here: