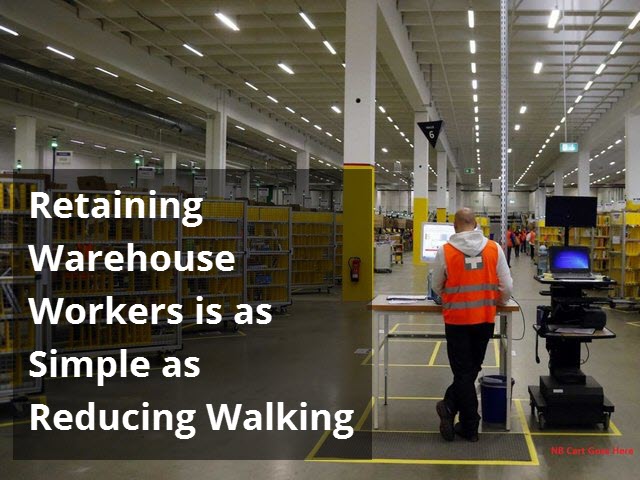 There has been much written about finding and retaining happy warehouse workers. These issues are not going away as eCommerce is expected to grow. But, who is going to do the work? It has never been more important to have the right equipment which includes an advanced warehouse cart with portable power.
Happy warehouse workers are going to be more important. Amazon has said warehouse workers are always going to be needed in their buildings, regardless of automation. Amazon recently had $400 million of revenue in one day, so it is difficult to believe robots will replace the workers. If you are losing warehouse workers or finding it difficult to recruit:
Losing good workers to Amazon for a few bucks an hour is painful if you don't have the budget (might want to find it).
Losing them because of a tight labor market is out of your control unless you are proactive and creative,
Losing good workers to better and much higher paying jobs is understandable (maybe you can offer advancement).
Are you losing them to jobs that are on the same pay level but are less taxing physically? Businesses such as retail, fast food, etc.? Exit interviews are very helpful and help you know if this is the case.
Not only do I travel to distribution centers all over the country, there are five other people who work with me and do the same. We are seeing the same patterns around the country.
We perform operation audits, and most come to a very simple conclusion.
People spend as much as 50% of their day walking on the job. Walking to find things, do things, to find someone to ask questions, to complete tasks… you name it, the day includes many miles of walking. They would benefit from a warehouse cart with portable power.
The Cost
With about 300,000 US workers walking five miles a day, which is about 1.5 million miles. This costs roughly $7 million a day based on the average speed of 3 mph at $14/hr. Add benefits and obviously the cost increases.
In any case it is expensive.
The Result
There is lots of fatigue and no/low productivity.
How many warehouse workers who walk 5 to 10 miles a day on concrete for $14/hr. stay happy?
Our research and interviews show that even though workers are on the lower end of the pay scale, they "DON'T" want to waste their time. They want to be productive, engaged, listened to, and respected, just as any of us do.
Recommendation
We suggest reducing the amount of motion/walking by 50% as a first step. This is fairly easy with some process changes, 5s implantation, better methods, removing paper, removing touches, and increasing mobility with a warehouse cart with portable power. Help the warehouse workers spend time working where the work is located.
Regarding the bigger picture, the industry should begin to look more closely at wages and where these people fit into the economy and what the pay structure should look like. I can also see more industrial engineers having a greater impact on improving methods and automation to streamline processes to get more out of less.
If you are interested in learning how you can reduce walking by 50% in your warehouse,
please contact me here!