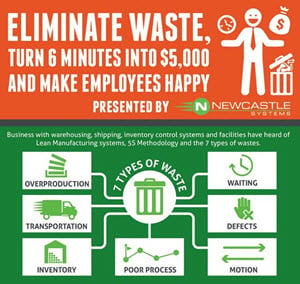 Business with warehousing, shipping, inventory control systems and facilities have heard of Lean Manufacturing systems, 5S Methodology and the 7 types of wastes. 5S is a way of thinking and philosophy focused on creating a well-managed and organized workspace by eliminating wastes – one of which is motion.
How Much Time… and Money Do Your Employees WASTE Walking Back and Forth?
If you have a particular amount of time in mind – think again. Chances are the actual time and resources wasted is much more.
To get better picture of what's really going on inside these warehouses, take a look at this infographic.
Note: The infographic highlights the size and complexity of the issue but you will find the distribution centers shown in the infographic very aware and making constant improvements to eliminate waste with new processes and technology.

Interested in more?
If you are still in the process of putting a complete mobile workstation together to eliminate steps and think "lean", we have already helped thousands of companies improve their business and would be happy to talk with you as well. Contact us here.
And if you would like to upgrade your workstations to make them mobile, we have a 45 point checklist to help you evaluate your workplace.
Download our newly updated 2014 product overview which highlights the benefits and options to increase productivity:
Did you like the infographic? Please share!
To embed this infographic on your site - copy and paste the code below: