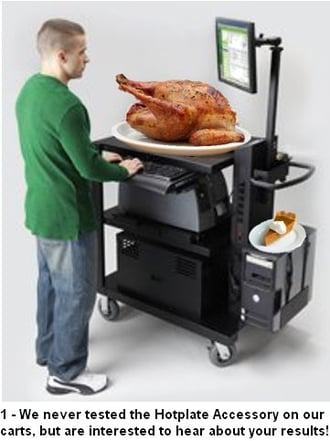 This year has been another banner year for all of us and our customers at Newcastle Systems, and with the short week we have for the Thanksgiving holiday, we wanted to take a moment to take stock and share some of what we are thankful for:
1. A Long Weekend!
Let's get this out of the way first. Yes, it's been a busy year and like the rest of you, we're grateful for the long weekend and time with our families.
2. Our Amazing Team
Tooting our own horn here, but yes, we are grateful for the folks who have broken all the records for us this year in taking your orders, assembling and shipping products and following up with support and service to make sure everyone gets the most out of their new mobile workstations.
That's right – keep talking, valued customers! You are what makes our job easier. If you weren't so willing to share with us the day-to-day challenges you face trying to improve your workplace every day, we wouldn't have the insights we do that help us conceive of new products and improvements to existing ones.
4. Our "Noisy" Customers
Complaints? We're grateful for those too! Yes, we wish everything we shipped was perfect at the moment you receive it and will serve you faithfully for 10+ years, but we too, are not perfect. Seriously, we LOVE hearing about your problems and our flaws – it's how we improve. In fact, our biggest fear is the customer who has a problem and chooses not to tell us about it – because then we can't help you fix it.
5. John Goodenough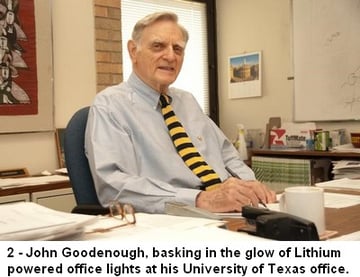 We haven't thanked him directly, but the inventor of the Lithium Battery certainly deserves our thanks this year too. Thanks to John's inventiveness in 1980, we've all got lighter batteries in almost every facet of life now, but we're especially thankful for the way it's revolutionized the way our customers can bring power anywhere they want on the shop floor.
6. Our Resellers
Every sales organization benefits from having a great set of reseller partners. The odds are that at least half of you got your products through a qualified Reseller that incorporated your cart as part of a larger solution that involved new printers, or a new layout and process. We can't be where we are today without their talents.
7. Our New Location
We've been here over a year now, and while we may not have found a replacement for the veal parmigiana sandwiches we used to get near our old location, the extra space and the room to grow has been amazing. We're grateful for the space we know we'll need next year to continue serving your needs.
8. Google
How does a small manufacturing start-up in Massachusetts go from a basement workshop idea to a national supplier of the top retailers and 3PLs in the country – and abroad? Well, if we weren't fortunate enough to be found online by all of you looking for good ideas to solve problems, we would be helping out far fewer people. And imagine how many more miles of walking everyone would be doing every day at work? On that note, I'm guessing that there are some shoe manufacturers that are not as grateful today as we are.
9.Our Suppliers
We rely on a lot of partners to get our products out the door – metal fabricators, component suppliers, our shipping partners and a host of other folks who contribute in all areas of our business. We're grateful that we seem to have made things work for all of us over the years too!
What are you grateful for? Enjoy the holiday break and we'll see you on the other side.
Gratefully,
The Newcastle Team