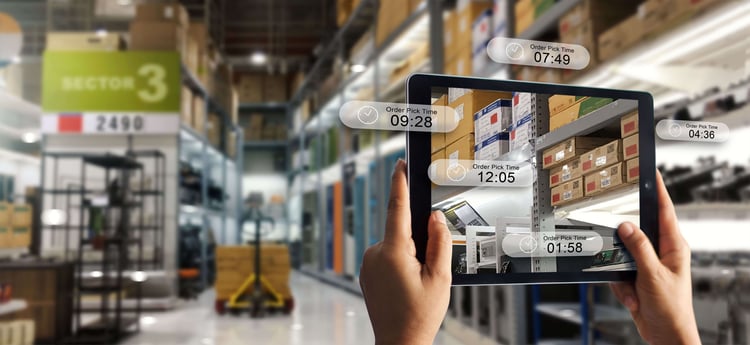 eCommerce has evolved to become the preferred form of retail for many types of goods and services. According to a recent report by Adobe, the COVID-19 pandemic boosted online shopping in the U.S. by $183 billion, a 42% increase in 2020 over the prior year.
The pandemic has accelerated growth in many industries, driving numbers well ahead of natural growth projections. Consumers facing stay-at-home orders found that online shopping wasn't as hard as they thought, and most love the convenience of having items show up on their doorstep.
This presents sellers with a series of challenges. Adobe predicts that 2022 will be the first trillion-dollar year for U.S. eCommerce. "Out of Stock" messages and shipping delays have become more common as retailers struggle to keep up with growing demand. Here is what you need to know about eCommerce order fulfillment and three strategies you can try to fulfill online orders more efficiently.
What is the eCommerce Fulfilment Process?
Taking orders is not the main function of an online business. Fulfilling them is. Your eCommerce business might invest a ton of resources on brand recognition and website usability, but if the orders that customers place don't get delivered on time, accurately, and without damage, you're going to experience a lot of issues.
Order fulfillment is the process of completing an order from the point of sale to delivery. There are five fundamental aspects to order fulfillment: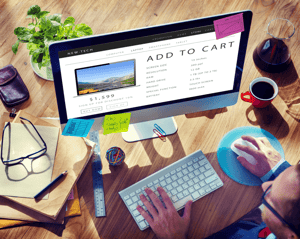 Product Storage

- Where will you store your eCommerce products? Will you keep them in-house or use a third-party fulfillment partner?

Order Processing

- Once an order is received, you will need to process it. These steps involve sending it to the warehouse and picking the order from its storage spot. It might also involve including a slip that accompanies the product to the next step.

Product Packing

- Who is going to package your products before they are shipped to the customer, and how will they be efficiently picked from inventory, labeled, and shipped?

Product Shipping

- Who will ship your eCommerce packages, what will you charge for this, and what sort of tracking will you get?

Returns Processing

- A large percentage of eCommerce items come back as returns. Called reverse logistics, you should also have an efficient process in place to handle these items.
How you address each of these aspects will define your eCommerce order fulfillment strategy.
3 Strategies to Fulfill Online Orders Efficiently
As a business that sells items online, whether you also have a physical store or not, your order fulfillment strategy is critical to your success. Research shows that 53% of eCommerce shoppers want and expect fast delivery, and 61% will abandon a shopping cart if they see that shipping rates or taxes are too high. How you decide to fulfill online orders will depend on a variety of factors, such as the type of products you sell, the location of your customer base, your order volume, and your capacity and budget.
Here are the three most common eCommerce order fulfillment strategies, including some of the advantages and disadvantages of each option.
1. In-House Order Fulfillment
For small to mid-sized businesses, in-house order fulfillment can be an ideal choice. With complete control over picking, packing, and shipping, you have the opportunity to achieve significant returns and business growth. But there is also a lot involved with in-house order fulfillment. And it's easy to let things get away from you with the result of a poor customer experience.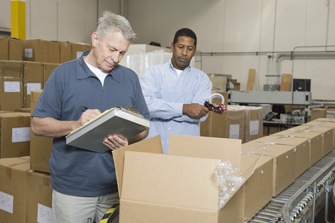 Also known as self-fulfillment, your business will handle every aspect of managing its inventory and packing orders to ship to customers. This DIY approach can be time-consuming and costly. At a certain point, many businesses find that they've grown to a point where they are unable to manage these functions in-house and look outside for other options.
If you are considering in-house order fulfillment, here are the pros and cons.
Advantages:
If your business is small, it can be less costly than other options.

You have 100% control over your inventory and the entire fulfillment process.

You can negotiate bulk shipping rates through shippers like UPS, USPS, or FedEx.
Disadvantages:
It's time-consuming and complex. Order fulfillment isn't easy, and it's a process that can take up a lot of valuable labor hours. And, remember, you'll also have to handle the returns process.

It can be costly. Depending on where you are located, you might pay more than necessary for warehouse space, labor, equipment, and shipping costs.
2. Third-Party Order Fulfillment
Third-party order fulfillment is an excellent eCommerce strategy for many businesses. You might find that you are devoting so many resources to storing, packing, and shipping orders that it becomes one of your primary functions. Instead, you can hand these vital functions off to a company that specializes in them.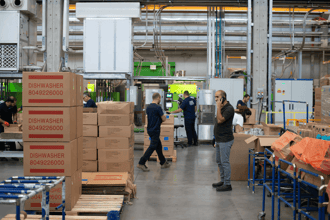 A 3PL provider often works with many businesses, so they might have a number of fulfillment centers that are convenient to your business and its customers. You can have the provider either pick up the merchandise from your factory or receive it directly from your suppliers. When you receive customer orders, the 3PL will complete all of the necessary tasks for order fulfillment, such as picking the orders, packing and labeling them, shipping, and handling any returns.
Advantages:
You don't have to invest in the warehouse space, equipment, or technology to handle order fulfillment.

You can purchase inventory in bulk to achieve additional savings.

You can get better shipping rates through a 3PL that services other clients.

You have more time to focus on selling products instead of order fulfillment.
Disadvantages:
Quality could be an issue if you choose the wrong provider.

You may or may not be able to scale quickly depending on the 3PL's capacity.
3. Dropshipping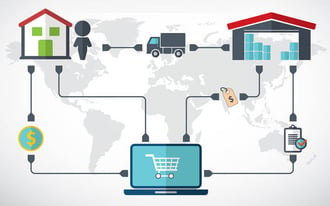 Dropshipping is similar to third-party order fulfillment in that you don't handle any aspects of fulfilling orders or handling returns. But instead of a 3PL partner, dropshipping is handled by the product manufacturer.
Advantages
Simple to get started. Dropshippers handle all the details, and you just do the selling.

Easy to scale your business because you don't have to worry about logistics.

Low-cost solution to online selling because you only pay for your cost once the products are sold.
Disadvantages
Low quality control. You have no control over logistics, so you can't control how fast something is shipped or order accuracy. You might make promises on your website that the drop shipper doesn't fulfill.

You are unable to customize products because what comes from the drop shipper tends to be bulk-produced.

Most eCommerce businesses that use drop shipping end up at a competitive disadvantage because consumers are willing to pay more for better service and faster shipping.
One of the most vital pieces of a successful online business is an efficient order fulfillment process. When customers place an order, they have high expectations, so the on-time and accurate delivery of products is essential to the survival and growth of your business. Having the right processes and technology in place can help you optimize online order fulfillment to achieve the best possible results.