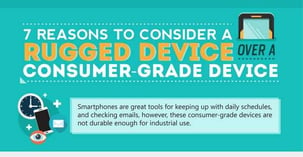 Smartphones are great tools for keeping up with daily schedules, and checking emails, however, these consumer-grade devices are not durable enough for industrial use.

Mobile devices for the enterprise are entirely different. We call them rugged devices that can provide what consumer devices cannot.

In computer hardware lingo, "rugged" means a device capable of withstanding on-the-job accidents and rough handling. This device safeguards your data and will not break under rough and tough industry conditions. In drop specification, "rugged" means offering the right tools in one platform with a consistent performance level to deliver efficient operations and increased productivity over a long period.

Will an investment in rugged technology pay off? Can these devices contribute to your operation?

Here are seven good reasons to consider rugged devices over consumer-grade devices.

Consumer-grade devices seem exciting and more practical because of their slim and sleek hardware and cheaper price tags. They will not meet demands of an enterprise operation.

Going rugged in the field is not an option, it is a necessity. Many companies utilize a rugged computing platform because it works across numerous applications such as warehouse operations, service and repair, field sales, inventory, asset management, and inspections.

Rugged devices can adapt a variety of operating conditions, including dust, water, fluctuating temperatures and other outdoor and indoor environmental factors. With a durable, rugged mobile computing platform, your employees' productivity and ROI will skyrocket, thereby lowering costs in the process.
As you weight the options for equipment, be assured that our carts, workstations, portable power supplies and accessories are designed and built to be rugged and work in tough environments. Contact us for more information about your unique operation.
Check out our NEW Interactive Warehouse Module: