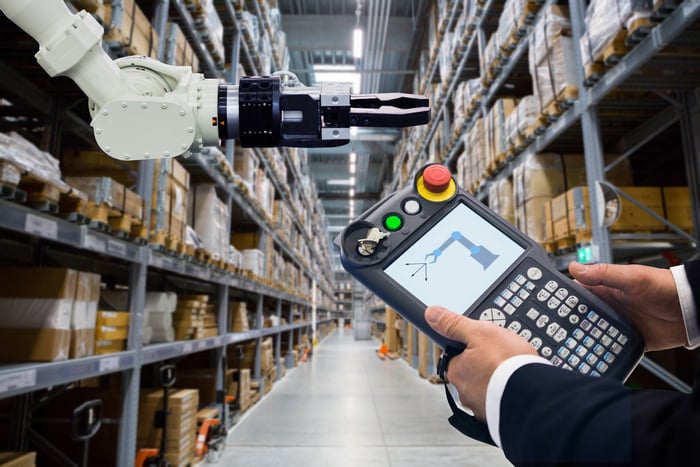 If you're using a paper and pencil system in your operations, you're not alone. Forty-eight percent of facilities are still conventional in receiving, picking, inventory replenishment, and storage (non-mechanized).
While a manual process is flexible, it's also labor-intensive and prone to errors. Time to incorporate some high-impact, lower-cost investments that pay off fast.
Automation is highly effective as a way to optimize warehouse processes and make your current infrastructure and workers more efficient – and more accurate. But long times-to-impact and hefty price tags are often attached to some of these solutions.
Radio frequency (RF) technology, coupled with an industrial cart, is an exception to that rule. This method of data capture with mobility eases you into the benefits of automation without a big investment in time, budget, or fancy software. Let's take a closer look at how.
RF Scanning vs. RFID: What's the Difference?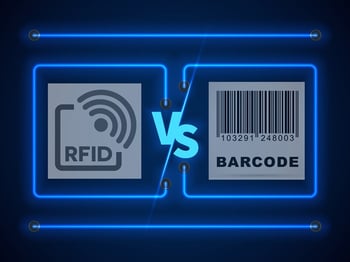 Before we dive into the details, we want to clear up a common point of confusion when people refer to RF technology. There are two types – RF scanning and RF identification (RFID). Among the differences are the technology and cost to deploy.
With RF scanning technology, workers capture data using a handheld scanner to "read" barcodes. The equipment is straightforward and includes RF scanners, barcodes, printers, and the underlying software.
An RFID system, rather than physically scanning barcodes, uses tags and antennas to transmit information (such as inventory) wirelessly to a receiving device to capture information such as inventory. RFID automation is more advanced, with higher costs associated with more complex integration and equipment.
Here, we are discussing RF scanning as a cost-effective and fast route to automated data capture to improve warehouse efficiency.
How RF Scanning Works
Similar to the RF solutions you see in retail stores at the point-of-sale, a printed barcode on an item is scanned using a handheld device that reads and captures the barcode's digital data associated with that item's information – such as stock code and price – and sends that transaction information to the store's inventory system.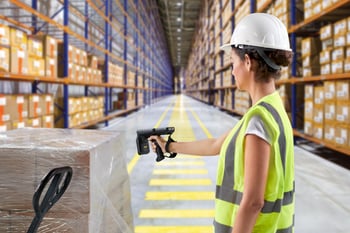 In the warehouse, RF software enables you to customize and generate printed barcodes to identify stock items down to their color, lot number, their exact location in your warehouse (aisle, shelf, bin), and other item-specific information. Today's warehouses routinely have these systems for scanning and printing move with the worker to improve efficiency and accuracy, while saving back and forth movement that wastes time and money.
The software is integrated with your warehouse management system (WMS) to capture that barcode data when it is scanned at various points from receiving through shipping.
RF scanning enables faster, more accurate picking, and putaway can be used to track items as they are packed and palleted for shipping, and to confirm inventory in real-time. When it comes to cycle counts – the bane of many facilities where work has to stop or overtime is required to get them done – RF scanning can eliminate the errors, hassle, and almost the entire cost of the process.
Introducing Automation in Your Warehouse
Eighty-five percent of modern warehouses in the U.S. have some type of WMS in place. While off-the-shelf RF scanning equipment (scanners, printers) can be purchased quickly, integration of the RF software with your WMS can take time, especially for companies with limited IT resources.
The cost and time to integrate RF technology with industrial powered carts are offset by bottom-line benefits of the automation it introduces, including limited time and paper waste, and improved accuracy and productivity. Scanned data can be collected and used to update other aspects of your WMS such as inventory levels and item location.
Mobilize Your Workforce
A wireless technology, RF works anywhere within your facility. When paired with powered industrial carts, such as the line of products from Newcastle Systems that can hold and power both the RF scanner and printer, a worker has everything he needs to get the job done – at the point of use – thereby increasing productivity and reducing extra steps at the same time.
Room for Improvement
RF scanning coupled with mobility is a foundational step to automating your warehouse operations that offer associated benefits that optimize warehouse processes. Take advantage of technology like this to improve operations quickly without large capital investments.
For more ideas on how to improve your warehouse efficiency, download our eBook,
7 Ecommerce Operations Secrets That Deliver Big ROI.