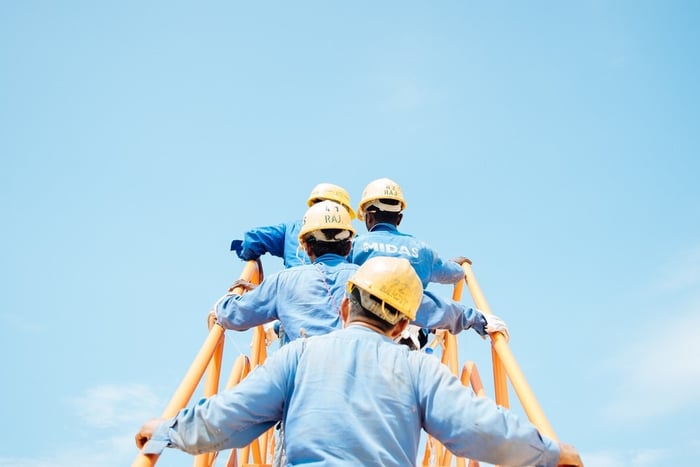 In October, Newcastle Systems' own Kevin Ledversis was on a team of presenters in a webinar that dug into the challenges managers are facing with labor issues – sourcing, hiring, training and retaining in addition to things like performance and pay. We've covered labor and staffing as a regular topic here over the years, and think the data that was assembled for this webinar is worth sharing widely.
The Macro Trends Impacting Labor Practices
First, a few data points to provide some context for what is impacting the industry right now: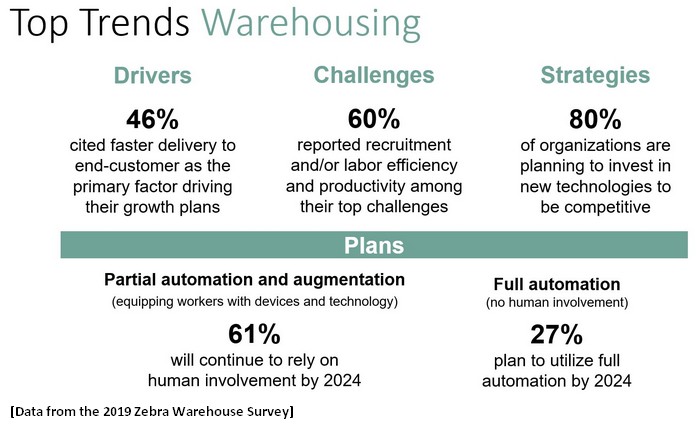 The biggest takeaways here:
The bottom two numbers are perhaps the most revealing – a full 88% of all businesses surveyed are planning on partial or full automation of processes by 2024
Labor recruitment and efficiency is cited as the biggest challenge for all respondents, with productivity ranking high on the list as well – presumably in part because of the challenges that come from both labor shortages and having to work with newer, unskilled people due to the growth that has absorbed all the pre-existing talent.
This reflects similar concerns in our own annual customer survey, where Labor challenges is always a Top Two concern for respondents.
When asked about "the optimal balance of automation and/or human labor" in operational processes, the answers were very consistent with what the actual plans were in the previous question, with 89% indicating some level of automation (and in this case, detailed to break out "augmentation" as an option under automation).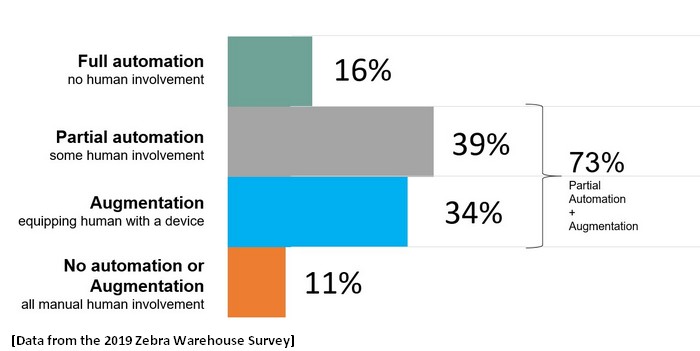 Regional breakdown of these results varied only slightly, with "augmentation" being the only option with a gap over 9 points (27% - 38% between APAC and North America).
But there are multiple factors in place here that drive these responses. Technology has always been seen as a factor in improving technical KPIs like efficiency, accuracy, speed, etc. But in this survey, technology is now being seen as a solution to labor issues too – but NOT in the way you might think (which is to use technology to reduce reliance on human labor). 79% of organizations in the survey agreed that "The warehouse environment will be considered a more desirable career path because of the technological transformation taking place" and "Implementing warehouse technologies and devices would help attract and retain workers".
This is a remarkable data point in that managers are now seeing access to technology not simply as a means to improved productivity, but as a means to improve organizational health through worker retention and career advancement.
Employee Engagement Matters
What is it that influences individuals to stay or go, to enjoy the work or even to apply in the first place? A look at a few of the vital signs of the current state of warehouse employment is a good background to start with, as the chart here shows: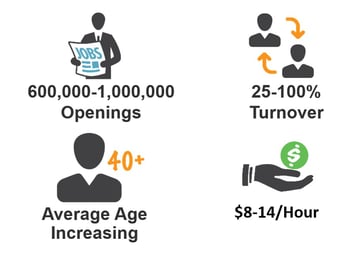 Turnover is high – as high as 100% in some organizations.
Wages are still not competitive with other service sector jobs.
The average age of warehouse staff is increasing, as younger workers are choosing NOT to join the industry due to a combination of wages or the perception of the work involved.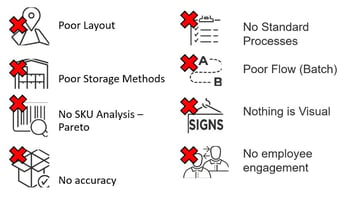 A more detailed look at influences on labor performance and quality include those shown in the graphic below. While we've seen how organizations now see how new technologies and tools can help solve for some of these, the remainder are all connected to one common theme – lack of employee engagement. Let's be honest, lack of standard process, poor workflow, inconsistent or non-existent signage, etc. are all aspects of poor engagement. Managers who look at their teams as a group whom they support, rather than they other way around will find it easier to address all the engagement-related challenges.

And why does engagement matter? It's not a lot to ask as an employee to be appreciated beyond the affirmation that comes with a paycheck every two weeks. And that doesn't necessitate a constant stream of "thank you's" or pats on the shoulder. It's simply a matter of making people feel like they are being heard, and that their input, ideas and feedback matter.
How much does it matter?
Data indicates it might matter more than ANYTHING else you can do in your business. If your management came to you in January and said that your budget for new technology was going to be ZERO for the coming year, you would feel the sting of losing some improvements on traditional KPIs, along with the disappointment of not enjoying a few new toys for the gadget and technology lovers. But to commit to a bigger program of engagement, you could still achieve results like this:

How many other investments can you make in any other area of your business that could get you even half of these results?
The lesson? Understand engagement. Start with your managers and give them the tools and training to make sure they know how to engage with their teams.
What Do The People REALLY Want?
Finally, a few points about what workers really want from their employers. Take a look at the following charts: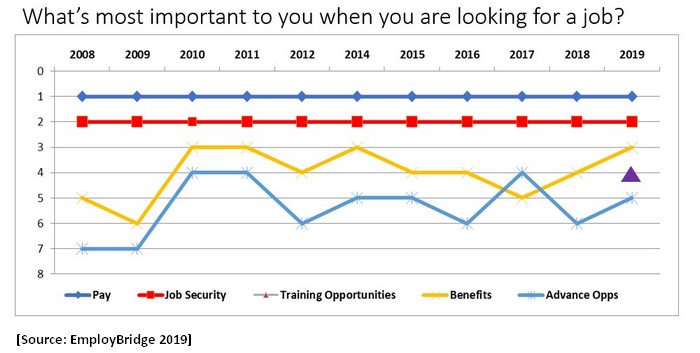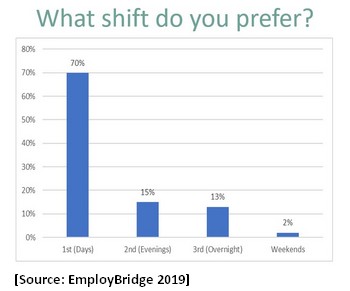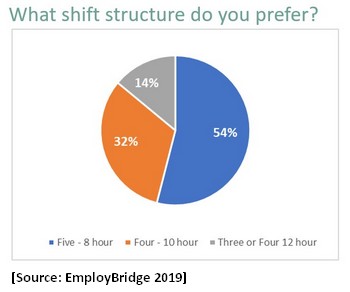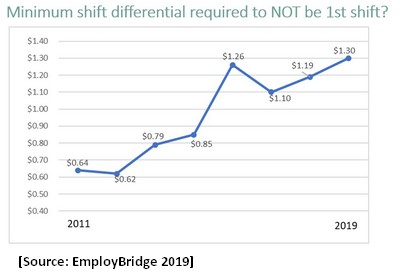 Nothing in the data here should be very surprising. Despite a couple of decades of rapid changes in business and at home in the digital era, a few basic truths remain unchanged:
Pay and Job Security are the most important factors for workers.
If they have a choice, an overwhelming numbers of them want to work regular hours (1st shift).
Just over half still prefer a 5 day week.
And if they HAVE to work an alternative shift, they'd like to be compensated for it.
While none of these things are new, nor surprising. There are recommendations for how to make meeting those demands successful for your business as well as the individuals job satisfaction. Take a look at the full webinar for a more in-depth look at what works – and what doesn't.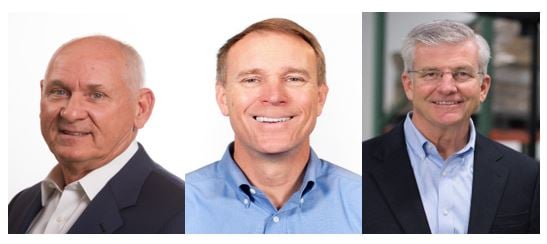 Contributors (left to right):
Mike Maris, Zebra Technologies
Kevin Ledversis, Newcastle Systems
Brian Devine, EmployBridge
Webinar Sponsors: