The New England WERCouncil
invites you to join us for a VW / Audi Port Tour
North Kingstown, RI
Wednesday, June 6th
7:45 AM - 11:00 AM
A Truly Unique Opportunity to Tour a Fully Functioning Warehouse.. that just happens to be outside the 4 walls!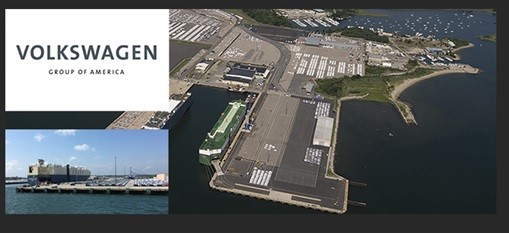 Did you know?
Did you know that the first Volkswagen was sold in the United States 70 years ago? In 2017, Volkswagen and sister brand Audi delivered over 550,000 vehicles to US customers. With only two models produced domestically, Volkswagen imports 83% of its vehicles from Europe and Mexico and distributes from one of five domestic ports.
Take a tour!
Join us for this unique tour of the largest domestic VW port located in North Kingstown, RI. Located on Narragansett Bay, this port serves over 350 Volkswagen and Audi dealers across 17 states and receives/processes/ships 150,000 + vehicles annually. You'll witness first-hand the flow of vehicles from vessel/railcar discharge to accessory installation, repair & quality review, and final release to truck transport. You'll also learn how this outdoor warehouse stores, secures and processes 150,000+ vehicles each year.
More follows!
Following the tour, we'll provide complimentary shuttle service to North Kingstown Golf course located about 10 minutes from the VW facility. We'll help make a mediocre Wednesday fun AND productive as you mingle with other warehouse professionals at our golf scramble beginning at 11:30 am. Lunch provided too!
Agenda:
7:45 AM - 8:15 AM Registration & Networking Breakfast
8:15 AM - 8:45 AM Presentation
8:45 AM - 10:30 AM Port / Warehouse Tour
10:30 AM - 11:00 AM Wrap-Up / Q&A
11:00 AM - 11:30 AM Complimentary Shuttle to Golf Course
11:30 AM - 3:30 PM Networking Golf Scramble - Food / Drinks / Prizes
Location(s):
VW Port Tour (7:45 AM - 11:00 AM)
Quonset Annex
181 Cripe Street
North Kingstown, RI 02852
-----------
WERC Golf Scramble (11:30 AM - 3:30 PM)
North Kingstown Golf Course
615 Callahan Road
North Kingstown, RI 02852
Questions:
For questions regarding registration, please contact the WERC Office at 630.320.5807 or jleon@werc.org.
Registration:
RSVP Deadline: Wednesday, May 30th at 3:00 PM
Pre-registration is required through the link below.
Space is limited to the first 30 registrants.
Speaker and Host reserve the right to decline admissions to any direct competitor on the attendee list.
There are no refunds and/or credits for cancellations of this event after the RSVP deadline date.