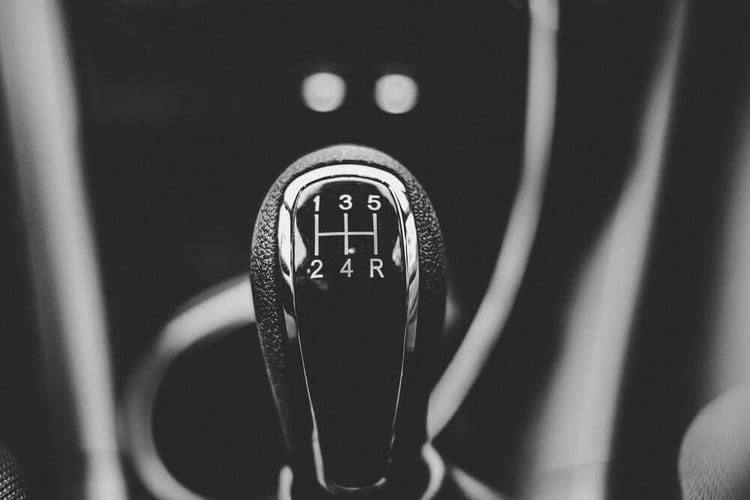 If you are like thousands of other businesses around the world this year, you probably can check off at least one of the boxes below:
We had to figure out how to do E-Commerce for the first time.

We previously dabbled with E-Commerce, but suddenly had to get good at it.

We've been doing E-Commerce for a while, but this year broke all our records.

Our Returns Process is messy, expensive and hard to manage to customer expectations.
If you've checked off either of the first two boxes, you probably needed to check off the last box too.
The Other Side to Your E-Commerce Spike
2020 has been a whirlwind year for most warehouses and many types of manufacturers. Given that the "new normal" will long look nothing like "normal", it's time to catch up on some of the things many warehouses were not expecting to have to be good at this year.
We may have been patting ourselves on the back for getting a handle on efficient fulfillment and shipping of E-Commerce orders, but while we were high-fiving each other for the beautiful site of the truck departing from the shipping dock, another truck was arriving at an unusual hour at the Receiving dock, and it's not always something to celebrate!
It's time to get a handle on "Returns Management", a major element of what is referred to as "Reverse Logistics".
What is Reverse Logistics?
Reverse logistics is essentially your supply chain in a mirror – everything is reversed. Instead of goods going from the manufacturer to distributor to retailer to customer (or some version thereof), it's about the goods coming back from the customer and potentially all the way back to the manufacturer.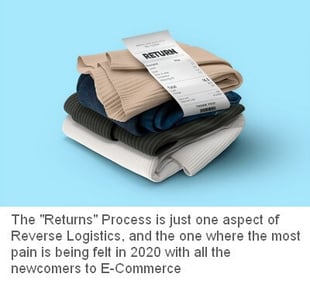 Examples that are part of a "Reverse Logistics" process include:
Consumers returning products from where they bought them – either by shipping them or in-store.

A warehouse or production facility returning a shipment, or part of a shipment, to a manufacturer because some or all of it was faulty and did not pass quality assurance.

A retail store returning cases of a product to a distributor or manufacturer because they did not sell.

A reseller collecting used devices or items to refurbish for resale or to return to the manufacturer to refurbish for resale.
Think about your business – what comes to mind that would be included as "Reverse Logistics"?
Get the Basics Right
What do you need to make it easier? Here's a basic outline of some of the process steps and equipment you should consider investing in to ensure you can be as efficient "in reverse" as you are going forward.
1. Start With Policy
The most important first step is having clear policies in place regarding returns, quality assurance, etc. Why do companies like LL Bean and Zappos let you return things anytime for ANY reason? Because it's simple, and "simple" = "customer-friendly" = "profitable".
The easier you make the return process for your customers, the easier it is for your staff who process them. Having a myriad of complicated rules that determine what can and can not be returned, when, etc. and have restocking fees, etc. will slow you down.
Finally, can your policy be codified in your software? Every little bit helps to grease the process because when product is coming back in, cash goes out and the more obstacles you create to doing that the more expense that gets added to the process.
2. Ship It Ready To Come Back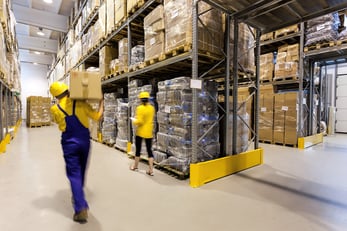 What? No, we don't want to undermine confidence in the product, but when your product ships all the means for returning it should already be included. At a minimum, "How to Return" instructions sent by paper in the package or follow-up email, and the means to print a return label and packing slip to identify the product in the box. The paperwork should include a barcode of the transaction ID so it is easy identify the product, the order it came from and the customer and the return shipping label should be pre-formatted with everything needed to return it where it belongs and ensure it is paid for and tracked in the shipper's system.
3. Dedicate Space and Workstations for Returns
If you have the space for it, dedicate an area for returns processing. While it might normally seem like it overlaps with Receiving, the processing element is far less linear and more complex. For that reason, a dedicated bay, preferably on an end where there is space for workstations, is ideal. You won't be getting pallets of identical cases, but bins full of odd-shaped packages that don't stack well, etc.
A basic checklist of process steps and tools might look like this: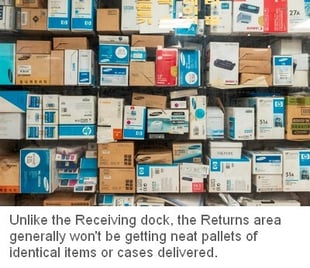 Packages arrive at workstation in large rolling cage or bin.
Scanned in (if not already), then opened
Confirm item received, check quality – Resaleable as New? Used? Scrap?
Repackage and label as needed (depends on your business), sort by destination assigned in 3.
Dispose of waste as required
Log any remaining required data
Equipment – there are lots of options to setting this up. Barcode scanners, voice technology, or even just tapping into the keyboard if necessary.
Large items? If you are selling large bulky items that don't lend themselves to sitting neatly on a workstation then a mobile workstation may work better – as you can roll it around the items and process them right on the dock with the entire workstation powered and mounted on board.
4. Other - Storage Solutions and Software
Finally, based on how you classify the quality of the returns you'll need dedicated space for those items not immediately going back into picking or reserve inventory and set aside for a surplus sale or scrap. It's location and value are still important and need to be accounted for.
For that reason, your WMS software matters, so research ahead of time if you have the options to add a module to support reverse logistics processes or not. For those without, a dedicated Reverse Logistics platform may be a good option to supplement what your WMS is missing.
The Benefits of Being Good in Reverse
Like the rest of your business, the promises you make to customers is only as good as your ability to deliver on it. Even if your returns policy may start out as being less than customer-friendly, that's no reason not to build a world-class reverse logistics process. When you do, it will get easier for the customer-facing parts of the business to offer better terms with higher confidence, and everyone benefits.
Finally, like many other parts of the fulfillment process, if you know up front that you are going to be far from being efficient at doing it, consider making this a potential point for utilizing a 3PL. Reverse Logistics is generally a nice compartmentalizable process that lends itself well to third party assistance, from which you can learn while you determine when and how to re-integrate it back into your own operations.
For Additional Reading:
The Importance of Reverse Logistics in Your Supply Chain
The Hidden Costs of Reverse Logistics