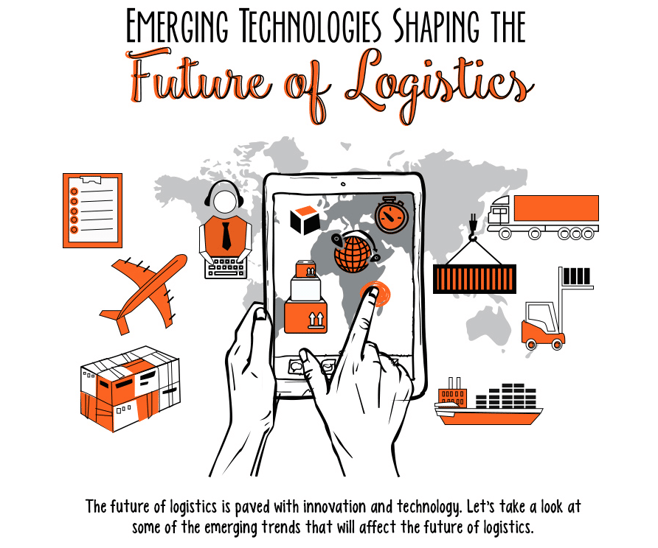 >Scroll to Bottom to See Full Infographic<
The future of logistics is paved with innovation and technology. Let's take a look at some of the emerging trends that will affect the future of logistics.
Facts and Figures
The size of the logistics industry means there is a constant pressure to source new and innovative techniques to improve its efficiency
The global logistics market is estimated to be worth about $4 trillion. This represents 10% of global GDP.
The global transportation services market is the fastest growing sector with 7% annual growth since 2011.
The United States accounts for 42% of the global services sector.
The transport industry is expected to generate revenue of $3.8 trillion in 2016.
The Logistics Technologies of the Future
An industry this size needs to consistently strive to become better as a whole. These stats are based on research according to 3PL Selection and Contracting Survey conducted by EFT.
3D Printing – The Current Environment
According to 3PL Selection and Contracting Survey conducted by EFT, over 40% of the manufacturers and retailers questioned expect their logistics company to have some knowledge/expertise on 3D printing.
2% of manufacturers and retailers are already using 3D printing in their businesses but only 1.5% can provide expertise in this area.
Role in Logistics - Mass Customization and Decentralized Production
3D Printing promotes local and regional production and that the next 20 years will see 3D print centers spring up close to sales markets
3D printing makes it possible to accommodate individual requests during production.
Last-mile Shipping Will Increase
Goods will no longer need to be shipped halfway around the world, because they can be printed out close to the consumer.
Routes will likely shift– fewer finished products will be shipped from far away. Meanwhile, the importance of local production sites close to consumer markets will increase, which will initially result in an increase in last minute shipping.
No longer Necessary to Store Replacement Parts
Replacement parts will be stored as data models in virtual warehouses and printed on demand
3D printing makes it possible to keep seldom-used replacement parts in digital form and print them out on demand
The Internet of Things (IoT)
The Current Environment
25% of logistics companies are currently using machine to machine (M2M) technology and 46.62% plan to deploy them in the future.
When asked about the impact of IoT on logistics and supply chain management 47% said they believe it will have a tremendous impact while 49% said that it would have some impact. Only 3% said that it would have no impact.
Role in Logistics
Connected Production Floor – IoT enables managers to understand what is occurring at a given moment in a factory environment – the performance of machines, ambient conditions, energy consumption, status of inventory, or the flow of materials.
Enhancing In-transit Visibility – The IoT brings more order to the many players, and thus, many moving parts in the logistics industry.
Equipment and Employee Monitoring – IoT can monitor equipment and people and increases their safety and security. IoT can predict imminent problems and potentially dangerous developments in advance.
UAV's
The Current Environment
36% of respondents believe that there will be some form of drone delivery in 5-10 years and 6.3% believe that it will be commonplace in 10 years.
Interestingly 27.31% of people believed that the chance of drone delivery as a reality in the next 5-10 years is very slim and 5.88% think that drone delivery will never happen.
31% of manufacturers and retailers want to see logistics companies use drone for product delivery.
Role in Logistics
1. Urban and Last mile
Drones could provide major relief for inner cities, taking traffic off the roads and into the skies.
So far, payloads are limited but a network of drones could nether less support first and last-mile logistics networks.
2. Rural Delivery
The potential of UAV technology is also evident in rural locations with poor infrastructures or challenging geographic conditions.
Google has been working on Project Wing and it is already currently testing UAVs for rural deliveries in Queensland, Australia.
3. Surveillance of Infrastructure
To reach the next level of operational excellence, logistic companies and their customers may – at some point in the future – use UAVs to support tasks such as asset tracking, monitoring risk hotspots, and location missing employees.
Driverless Vehicles
The Current Environment
42% of manufacturers and retailers would like logistics companies to have some knowledge and expertise of driverless vehicles.
However, 0.75% can provide expert knowledge and service while 1.5% of them have comprehensive knowledge and expertise and plan to provide the service.
78% of logistics companies have some knowledge, and 6.02% plan to have knowledge and services.
Role in Logistics
Cost Savings – A study by AXA UK estimates that driverless vehicles could save logistics industry 34 billion pounds.
Why These Technologies Must Be Embraced
There are dozens of trends that are affecting or will affect the future of logistics including:
1. Growth Patterns
Growth in the logistics industry is no longer driven by exports from Asia to North America and from Asia to Europe. It will come from elsewhere and will be more unpredictable.
Economic and population growth will be increasingly centered in cities. Infrastructure is becoming a major determinant of growth.
2. Flexibility
Meeting consumer's requirements as multiple locations with multiple transport modes at different times requires a flexible supply chain that can adapt to unexpected changes and circumstances.
3. Near shoring
As labor costs in Asia and transportation costs rise, increasing amounts of manufacturing are being brought closer to the end user.
4. Multi-channel Sourcing
End-consumers increasingly source via multiple channels, ranging from brick and mortar shops to e-commerce.
The logistics industry needs to support multi-channel strategies of their customers.
5. Information Technology
The growing complexity and dynamism of supply chains requires increasingly advanced Information Technology solutions.
6. Continuity
To be able to secure speed to market and to reduce risk of delays, alternative transport modes and routes are required to support the continuing trend of outsourcing of logistics services.
7. Sustainability
Customers increasingly prefer products that are made and sourced in "the right way" minimizing business' social, economic, and environment impact on society and enhancing positive effects.
8. End-to-end Visibility
Complete visibility of the entire supply chain aspires to achieve true demand-driven planning, allowing efficient responses to changes in the sourcing, supply, capacity and demand.
Infographic Created by 2Flow – Outsourced Logistics Solutions