"That Looks Cool! Wonder How I Can Use It?"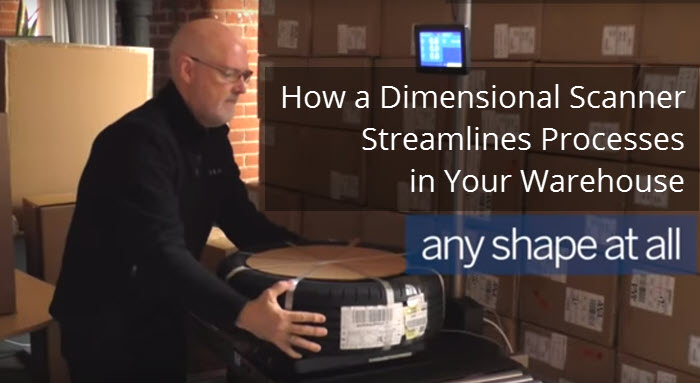 For the true gadget lovers, we have the experience of being in a store full of gadgets and machines and occasionally see something that compels us to say, "I am not sure what it is, but how can I find a way to use it?"
If you haven't seen one yet, dimensional scanners definitely fall into that category. No one will be surprised if a true distribution center process nerd brings it home one day for personal use.
What is a "Dimensional Scanner"?
A dimensional scanner is a specialized equipment that will scan and record the dimensions of an object - of any shape. When paired with a scale, the complete shape, weight and dimensions of any product can be recorded to a database and be the source of efficiency in multiple areas of the business.
...but how can we use a dimensional scanner?
How Each Process Benefits from a Dimensional Scanner
Receiving
For a typical warehouse or DC operation, we will start where the day normally does - in receiving.
All other benefits of the scanner are achieved more easily when a dimensional scanner is used to record new products coming into the facility. Once each product has that information as part of its record attached at the product or SKU level, it can be leveraged in other areas as well.
Inventory and Replenishment Storage
Knowing the dimensions (and weight) of a product can vastly improve the space utilization of a facility by virtue of slotting optimization software that can identify the most appropriate space to store the product.
As a result, alternating the height of your shelving and even the type of shelving based on the variety of product dimensions can amplify the benefit and maximize the use of your space.
Picking
Your picking process can also reap the benefits of dimensioning scanners, even across numerous varieties of picking methods.
Whether your bins are in shelves or on carts, dimensional scanners can provide guidance to the optimal bin size (that maps to the required average quantity for a single wave or batch) or like storage, options for shelving.
Packing
Perhaps the most important and potentially valuable use of dimensioning data is how your packing station won't be the same once you once you implement a dimension measurement system and start using the ideal size box for the products intended for the shipment.
For direct-to-consumer operations, corrugate and dunnage costs can be reduced by as much as 20% or more. And with the packing slips identifying the box for each order, packing rates are higher.
Shipping Costs - Reduced Costs up to 20%
The most obvious case, and already well known (we hope), is the savings from shipping costs, exacerbated by shipping companies moving to dimensional pricing.
Smart operators have already been doing this for years and already taking advantage of the new technology. However, for multi-SKU shipments in a single carton, you will only maximize your benefit on shipping rates if you are leveraging your dimensional data in packing first.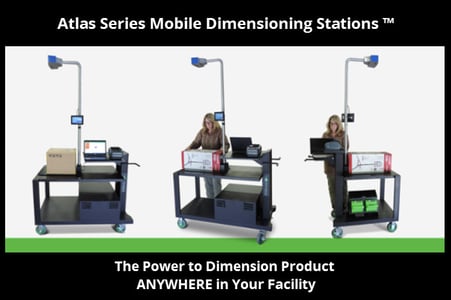 How Will You Use It?
Aside from the great examples above, dimensioning data can be used to optimize outgoing pallet assembly where there are multiple box sizes and shapes. The same logic applies to loading a truck or container.
Even more interesting? We have seen one company use dimensional data to identify bin sizes for a required process to irradiate specialized products before they are shipped.
With all these established applications for dimensioning, where do you see your business improving by leveraging dimensional data?
Atlas Series Mobile Dimensioning Stations™
In case you missed it, Newcastle Systems has a new product and has been nominated for a "Product of the Year Award."
The Atlas Series Mobile Dimensioning Stations™ were designed to enable quick and accurate dimensioning directly at your product location. The rugged Atlas Series consists of 30" and 48" long workstations that hold and power the QubeVu DimStation™ and other hardware including scales, laptops/thin clients, and printers up to 12+ hours at a time or 24/7 operation.