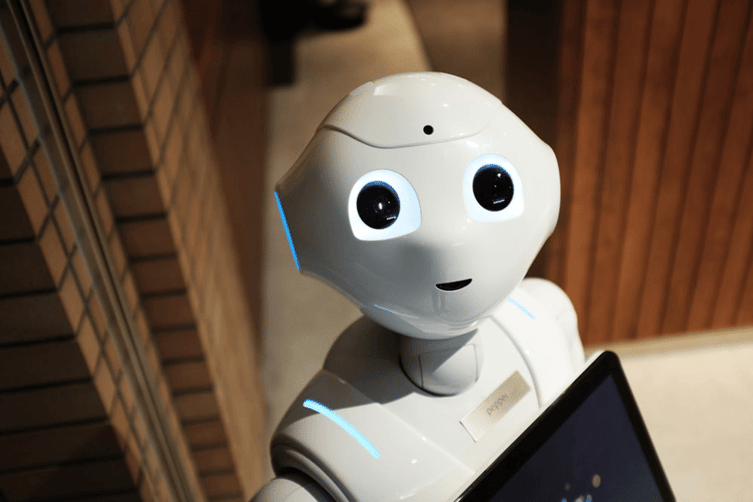 With the holidays now a month behind us, the big of pile returns finally processed, the financial books closed for 2019, and your planning for 2020 (hopefully) completed, it's time to take a look at 2020 and share a few thoughts on what we see as some trends to expect you'll hear about this year.
Like some other technologies do, we are always ready to see our own named called if "mobile powered workstations" appears as one of these on a list each year, but we will not put it on our own and will leave that to a more objective set of experts.
There are dozens of possibilities depending on any number of factors, but here are five that we like for the coming year:
1. More Ways to Improve Speed
In the last few years there has been a lot of attention paid to same-day fulfillment and overnight shipping as the main focal point for shortening the time to bring product to customers. But in 2020 some other process points that deserve your attention will get a broader look in the industry. In this month's issue of Modern Material Handling, one innovation that is getting called out as one to watch is an underutilized feature in Warehouse Control Systems (WCS) that allow you to interject rush orders directly into an active pick wave. Apparently fewer than 30% of companies engaged in E-Commerce are using intelligent wave or batch picking. Given the inevitable need for nearly all businesses to become better at E-Commerce, look for a big jump in DC's bringing in more advanced WMS systems or utilizing previously neglected features or modules. According to the article, three WMS systems to watch out for with this capability would be High Jump, JDA and Manhattan.
2. RFID – Your Time Has Come, Again.
Our own team had the privilege of exhibiting and attending the Zebra Sales Kick-Off this year which was held in Reno last week for three days. After focusing largely on a theme of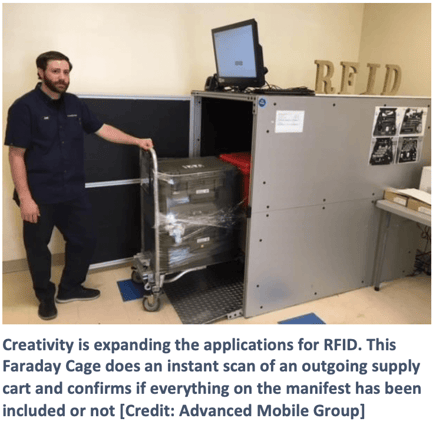 "modernization" for a couple of years in an effort to speed the migration to Android devices after the sunsetting of all Windows OS variants, there was a strong case made for believing that 2020 would finally be the tipping point for a groundswell of adoption of RFID. After two decades of "wait until next year", 2019 saw tremendous growth that suggests the beginning of the mass adoption in some industries.
At last year's RFID Journal annual conference, editor Mark Roberti listed five conditions required for mass adoption of new technologies:
A problem no other technology can solve
A global standard
The "whole" product (integrated solution)
Critical mass of end users
A gorilla the market can embrace
According to Roberti, Retail and Healthcare are the closest to checking all the boxes, manufacturing, not quite. But we're willing to bet that manufacturing will be closing the gap soon as the pervasiveness of quality control spreads throughout the production line on a part-by-part basis in ways that only RFID can manage.
3. Taking One Back for the Team
If we had a magic wand, we would want to go back in time twenty years to the beginning of the E-Commerce era and spend a week with the operations managers of the country's biggest catalog companies, documenting all the ways they had already figured out things that the rest of the world would need to reinvent in the digital age. One of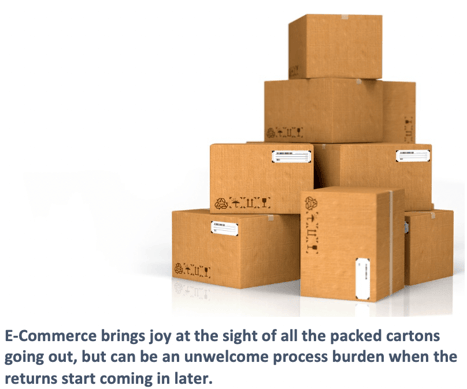 those is the Returns process. The growth of E-Commerce has somewhat of a domino effect on a DC when a business that previously only served retail customers is now serving customers directly.
The decision to ship directly to customers has a ripple effect because more than ever customer satisfaction matters and every part of the business plays a role. Inventory counts need to be more accurate, more carton sizes are required, quality control becomes more sensitive, and service needs to step up a level – or two. What this leads to is the "guarantee" which regardless of the level, inevitably leads to more returns. A LOT of returns depending on the industry.
What to look for in 2020? Look for solution providers to step up more and help design reliable processes where often there are none at all, and to marry that with customizations in WMS systems to support it. According to the same MMH article referenced earlier, technology vendors are under pressure to improve the precision of their data to account for returns. This is in part because a poor returns process results in lost sales as saleable quality items that come back to the DC need to be present in the system with their location precisely identified if they are going to be able to be sold again. If a business has a return rate of 10% (which is on the low side), and 70% of those items are saleable, that would result in 700 units out of every 10,000 that would need to get recycled into the inventory system in order to avoid a large loss to the business.
4. Cutting the Cable with Mobility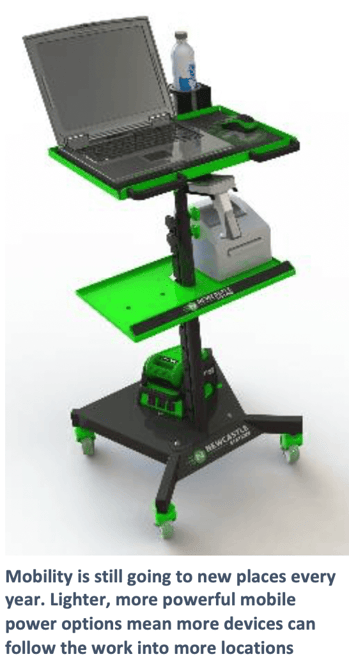 With the proliferation of mobile devices continuing to grow geometrically (see our recent article on Mobile Device Management Systems) and the improvements in battery technology that bring lighter, more powerful power sources to the market every year, there are more and more operations that are looking at ways to cut the cable and go mobile. Now that almost anything can be put on wheels and take its power source with it while being connected to wireless networks that can extend to anywhere inside and outside the facility, managers are finding more and more items that can go mobile because of the numerous benefits:
Reduces labor hours - Time wasted by walking back and forth to the equipment is a very large expense that can be eliminated when print-on-demand can be implemented either on-person with a small clamshell using an internal battery or on a cart with an independent power source for
Require fewer devices - because they are more accessible in a wider area, one device mounted on a mobile power source can do the work of two or more. For example, a testing device used on a production floor for quality control can be easily moved around to multiple lines if necessary, meaning one worker with one device can conduct testing where two or more may have before.
Improve Flexibility – even large devices, like dimensional scanners, scales, etc. can be made mobile which allows for flexible configurations of staging areas, docks, and more as the layouts are no longer dictated by the location of power sources, something that is already a valuable tool for fast-moving 3PLs
5. End-to-End Solution Providers Displacing Legacy "Resellers"
Finally, one additional insight we see is what will be a higher demand for solution providers who can be a true value-added presence to solve specific customer problems, and not just be a pass-through retailer for the equipment. Because only does the complexity of software solutions require more expertise, but the ability to customize them for client-specific problems means solution providers also need to be process experts who can work with their clients analyzing a process from the ground-up, re-designing the solution and implementing the solution with the appropriate customizations.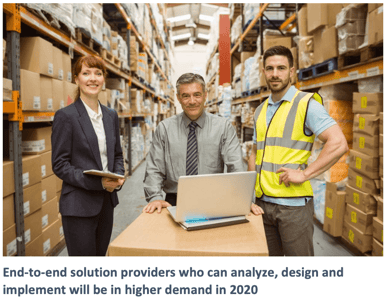 The MMH article points to a couple of examples that are very relevant. Interfaces, for example, can be customized as part of a way to enhance a process more productively. WMS systems also already have the tools for more pro-active providers to create wizards and coaching tools to copy templates and then replicate that process across additional warehouses rather than leaving them to manually key in data or transfer data files via Excel.
Like many other parts of the business that have gone digital, DCs will benefit from outside expertise to implement the solutions that combine new hardware with all the new functionality now available in the software systems like WMS solutions. The simple transactional nature of "reselling" will be less relevant except to some enterprise businesses with a plethora of in-house expertise.
To see the complete article in Modern Materials Handling magazine and their six trends click here.