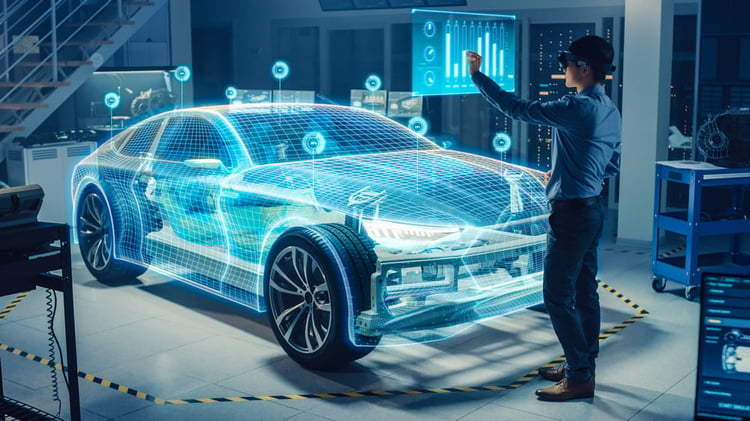 From computers to cars, children's toys to household products, nearly everything we use daily is produced by manufacturers. It's not surprising that the manufacturing industry is considered one of the foundations of a thriving economy.
Fortunately, manufacturing has evolved over time from using human-powered methods to those more reliant on machines. The Industrial Revolution saw significant advances in manufacturing. But today's technology solutions are driving even more significant gains. Here are some of the latest technology trends and innovations shaping the manufacturing industry.
1. The Industrial Internet of Things (IIoT)
You've probably heard of the Internet of Things (IoT), where connected devices (smart watches, smart door alarms, fitness trackers, etc.) collect data and transmit it over the Internet. The Industrial Internet of Things (IIoT) is similar, but the devices are used in an industrial setting to enhance the manufacturing process.
Sensors are an ideal example of IIoT applications. These solutions can be installed on a factor's machines to help optimize performance, reduce machinery downtime, and improve machine maintenance or repair processes.
2. 5G and Edge Computing
The latest generation of mobile data networking (5G) is enabling manufacturers to seamlessly connect to their IIoT devices and sensors, allowing them to access real-time data within the factory. Many refer to this as "edge computing."
A manufacturing plant can create its own private 5G network. This gives the plant the ability to gather and act on data on the factory floor in real time, which can reduce downtime and improve efficiency. These solutions allow manufacturers to implement machine-to-machine communication and other advanced factory processes.
3. Automation & Robotics
Thanks to artificial intelligence, machines now have the ability to take on more complex tasks in a factory. The advantage of using automation is that robots don't get tired and they can perform some of the more dangerous tasks, making workplaces safer.
Robots and cobots (robots that work alongside human workers) are being added to manufacturing production lines. They can lift heavy parts, perform repetitive tasks, and do intricate jobs that are prone to human error.
4. 3D Printing
As 3D printers have become more affordable and easier to operate, manufacturers are beginning to look to this technology for a variety of purposes. First, 3D printers can create specialized and personalized parts used in the manufacturing process. 3D printing is also useful in prototyping, which helps get new products to market faster. Finally, many businesses are using 3D printers to produce parts required to repair machinery, reducing factory downtime.
5. Predictive Maintenance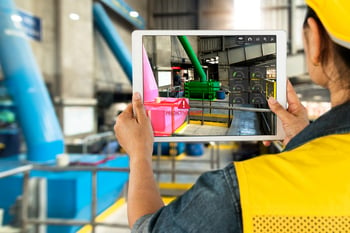 Machinery is vital to business success in a manufacturing environment. This means every piece of machinery and technology in a plant must be meticulously maintained to prevent premature failure.
One trend in manufacturing that is helping businesses avoid shutdowns is predictive maintenance. Sensors and artificial intelligence (AI) combine to collect data from machinery. They analyze things like temperature to detect irregularities and alert staff of areas needing attention before the parts fail and impact operations.
6. Wearables
Another trend in manufacturing is a drive to make work easier, safer, and more efficient. Many manufacturers are implementing wearables and leveraging industrial AR/VR to guide technical work by delivering instructions to employees in real-time. These headsets and other wearable devices can also be used for manufacturing training purposes or to guide machinery repairs and maintenance tasks.
7. Digital Twins
It can be time-consuming and costly to shut down everything in a factory just to test a new system. What if it doesn't work as you expect? Will you have to extend the shutdown to try something else? A new technology trend called "digital twins" provides an ideal solution to this problem.
Using digital twins, a business can simulate any object or physical process. In manufacturing, a digital twin could be used to simulate how new equipment might work on the factory floor or show the impact of changes in the supply chain. If the simulation is a success, a real-world change might be in order.
8. Factory Digitization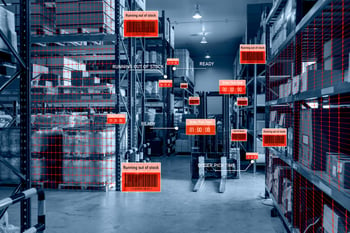 Downtime and inefficiency in factories are incredibly costly. The COVID-19 pandemic acted as an accelerant for more businesses to invest in digital innovation. One of the biggest aspects of Industry 4.0 is using data analytics to improve operations.
By creating connected systems within a factory, manufacturers can collect data and analyze it in real-time. This allows for faster process changes and decision making as well as the ability to take advantage of various business opportunities.
9. Sustainability
Manufacturers have become more aware of their environmental impact, given that energy consumption in the manufacturing industry accounts for roughly 23% of greenhouse gas emissions. Thanks to more emphasis on corporate responsibility and greater demand from consumers for sustainable practices, manufacturers are focusing their efforts on:
Reducing water and energy usage in facilities

Reducing waste in the manufacturing and packaging processes

Building more environmentally-friendly manufacturing facilities

Producing more sustainable products
10. Reshoring
When the COVID-19 pandemic hit, normal supply routes were suddenly closed or faced with significant bottlenecks. Many companies were able to pivot alternatives and have discovered the benefits of bringing overseas supplies and manufacturing back to their home countries.
This trend of "reshoring" has led to more manufacturing being moved away from China in recent years and is likely to continue. The practice simplifies the supply chain, reduces reliance on foreign nations, and boosts economic advancement at home.
Manufacturing has always been about innovation. As the industry produces necessary and desired products, it also creates jobs, builds economic capacity, and fosters new growth opportunities. The latest technology trends and innovations in manufacturing are enabling greater efficiency, productivity, visibility, and profitability for businesses.