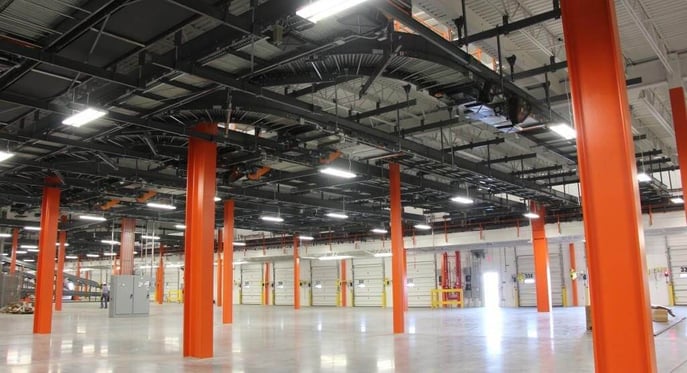 A few weeks ago in Part I, we looked at the bigger picture of Dock Design – the facility itself and the advantages and disadvantages of the different possible configurations for your docks and their bays (See the full article here). This week we'll walk through some of the key elements in outfitting your dock that ensure optimal productivity for your facility and your shipping partners.
While no single article or white paper can be a complete guide, we'll include recommendations for best practices for all the major elements as follows:
Layout and Workflow Near Your Docks
Bay Door Types and Configuration
Safety
Equipment Choices
Other Recommended Features
Workflow and Layout Considerations
The first and most important consideration in equipping your dock is not about your docks at all, but on the spaces adjacent to them. The space closest to each dock should be reserved for the process areas that each dock is most closely connected to.
Receiving Dock: Incoming shipments will either go right into storage, or more likely, be subject to some kind of inspection or quality control process before being organized in preparation for storage. Reserving space for inspections and ensuring the shortest distance from this dock to the storage racks is paramount. Pallets being broken up here will usually require a labeling station for the cartons coming off the pallet – either to identify their contents, their destination storage bin, or both.
Shipping Dock: Your packing stations should be located closely to your shipping dock to minimize the distance and time required to get there. Ideally, some part of your picking area would not be much further away for the same reason, especially for single item packages or full cartons that can go directly from picking to shipping. While a B2C E-Commerce business will likely be labeling packages at the packing station, the Shipping Dock may also be laid out for additional labeling and staging of shipments either by palletization or sorting by destination, for example.
Pro Tip: Extendable conveyors are a great asset to have at either dock when you are working with loose cartons and not full pallets. They are not only more productive eliminating walking in and out of the truck, but have great ergonomic benefits for the dock team doing the loading and unloading. And if you have a dock shared by Receiving and Shipping that divide use by time of day, you can re-purpose the same conveyors for both processes.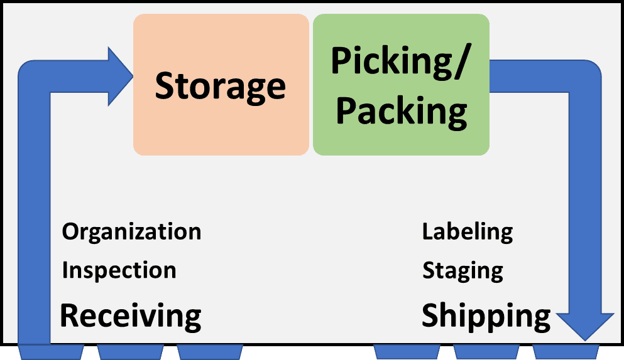 Bay Configuration and Equipment
Equipping your bay doors actually has a lot of elements involved, as it's not just about a good garage door. Key pieces of the bays include:
Lighting: While you might have good natural lighting on the side of the warehouse where your dock is, you shouldn't rely on it for lighting. Safety and accuracy requirements mean you should have good lighting dedicated to the individual bay, and not just the same overhead lights in the rest of the warehouse. Set up for a future where your operation will be working 2-3 shifts and the dock will not have any natural light to work with. Since labeling and sorting may be taking place in that area, illuminate accordingly!
Dock Levelers: Not all trucks come in at the same height, not have the same clearance. Levelers eliminate the gap with the dock and make it easy to drive a lift in and out of a truck or container, or bring other mobile equipment like extendable conveyors into the truck. Good levelers provide many additional safety features to prevent accidents. Accessorizing with trailer locks, mirrors and bumpers can maximize the safety of each bay.
Dock Seals and Shelters: Depending on your environment and the environmental controls in the facility, outfitting your bay with dock seals and shelters reduces temperature changes, keeps out the elements. Shelters should extend at least 4 feet (122cm) beyond the edge of the platform to ensure weather-proofing.
Safety Barriers: Safety barriers installed at each bay should be required, especially in busier facilities where frequent arrivals/departures mean the bays could be open all day creating potential safety issues. These are not just a visible barrier, but anchored and reinforced and with 5,000 – 30,000 lb (2,272 – 13,626 kg) of stopping power.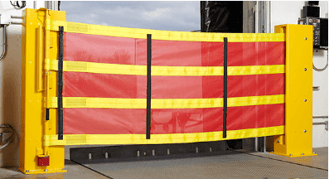 Power Supplies: Having adequate power supplies available for equipment deployed in the dock area means less traffic from walking in and out of the dock area to print/collect labels and manifests as well as less potential hazards from extension cords that may be littering the workspace. Power available in the walls on each side of the bay, overheard retractable cords, or mobile power in the form of a powerful, lightweight lithium battery can create a safer and more productive dock environment
Safety
About 25% of all warehouse injuries occur around the dock. So while there are tidbits of references to safety through every part of this guide, we are calling it out here to recommend that "dock safety" get it's own project-level status and is reviewed holistically across the entire dock area. Aside from recommendations already made (like barriers), additional safety measures may include:
Front and back lights on all lifts
Creating a safe zone around the dock area
Installing stop-go safety lights
Regular inspections to keep dock areas clean
Staff safety training focused on protecting pedestrians
Ramp access to a door (not a bay) for emergency exits and for shippers with small trucks to access the facility with dollies and hand trucks.
And like many other functions in the warehouse, OSHA has a set of specifications available as a guide for additional standards you may want to maintain.
Equipment Innovations
Finally, there are some non-standard equipment options to consider. One major innovation in the last decade has been "mobile printing", which allows the Receiving team to bring their entire workstation to the Receiving dock, powered by a battery pack which can keep the equipment powered for an entire shift. This allows the staff to tackle the intake and labeling of incoming pallets quickly so they can be moved to storage faster. Because it eliminates cords, walking to printers, and the need to carry a mobile computer by hand, it improves ergonomics and reduces fatigue as well. Like extendable conveyors, a mobile print station can be repurposed to print shipping labels and manifests at the shipping dock as well. This video demonstration shows the versatility and speed with which a mobile printer can process a pallet coming onto the dock and dispatch it to storage.
One additional innovation of note, which is not necessarily new but only recently gaining significant traction, is the deployment of a dimensional scanner and scale at the Receiving dock, usually in an inspection area, so that new, incoming SKUs can be scanned into the WMS and record a products complete dimensions and weight. It can speed the determination of where products get slotted or binned, as well as provide precise calculations for packing to automatically determine the appropriate carton for packing based on the combination of products being shipped together. Placing this device at Receiving (or Inspection) means avoiding a more burdensome process of having the products retrieved from storage later and returned again after scanning.
The Most Valuable Space You Have
If you measured the value of each of your process areas by the value of the activity that passes through it, your dock areas would be the most valuable part of your facility. A well-designed and maintained dock area will have an influence on every part of the warehouse. If it falters for lack of good design leading to bottlenecks and mistakes, every other part of your workflow will be influenced negatively. And most importantly, the best designed warehouse will still not perform to expectations if it is not staffed properly with motivated, well-trained people.
Other Resources
There are some areas not covered in this guide, but here are some other resources that may provide a good starting point for you:
Yard Layout and Traffic Flow: The amount of space and its layout OUTSIDE of your facility is equally important in ensuring your shippers get in an out efficiently as well. https://www.beatonindustrial.com/loading-dock-equipment/loading-dock-planning-and-design/
OSHA Expertise: Safety consultants are often the best resource to understand OSHA requirements. Here is an intro to loading dock safety by one of them here: https://www.safetybydesigninc.com/loading-dock-safety-rules-how-to-stay-osha-compliant/
Home Depot Fulfillment Center, Perris, CA [Photo credit: Oltmans Construction Co.]