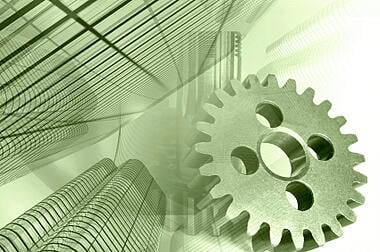 The manufacturing sector has changed—bringing both opportunities and challenges. Neither business leaders nor policy makers can rely on old responses in the new manufacturing environment.
You can read books and articles on "lean manufacturing" and the "theory of constraints", but the challenge lies in transforming these philosophies of
manufacturing efficiency into the practical reality of running your shop.
Manufacturing software alone will not make you an efficient manufacturer. You
must use the software in specific ways to achieve the dramatic efficiency gains
that are possible.
What is "lean manufacturing"?
"Lean manufacturing" is an operating philosophy, originally developed by Toyota,
which optimizes efficiency by reducing waste throughout all facets of the process
workflow, frequently using "just in time" techniques. Integral to the lean
manufacturing philosophy is the practice of "continuous improvement."
What is the "theory of constraints"?
The "theory of constraints" is a management philosophy developed by Dr.
Eliyahu M. Goldratt that explains that the maximum throughput of any shop is
governed by a key "constraint", which is a machine, process, or work center with
finite capacity through which most manufactured items must pass, directly or
indirectly. To maximize throughput, the constraint should be kept as fully utilized
as possible.
Manufacturing business decision-makers are pursuing a range of technology priorities to improve employee productivity and enhance operational efficiency in a cost-effective manner.
Focus areas for decision-makers to improve operational efficiency includes the following:

Operational
> Improved employee communication and collaboration.
> Improved machine and equipment uptime and availability.

Supply chain

> Improving reaction time to major events.

Asset management
> Monitor and track availability, location, and condition of assets.
> Accurate data and insight into asset location, availability and condition.
> Alerting when a machine or piece of equipment is idle or needs maintenance.
> Automated update of machinery status or asset location in the system.
> Enabling staff to log in, search, and view asset location and other details.

Business process data
> Real time access to mission critical data and information.
> Increased accuracy of data captured on processes an on forms.
> Accurate data capture and reduced errors.
Base: 75 North American business decision-makers from organizations in the manufacturing industry with 1,000 or more employees. Source: A commissioned study conducted by Forrester Consulting on behalf of Motorola Solutions, May 2013
10 practices of efficient manufacturing that apply universally to all industries and companies:
1. Follow the workflow
2. Process in real time
3. Commit to accuracy
4. Refine your settings
5. Issue just in time
6. Pull jobs through the shop
7. Focus on the bottleneck
8. Manage your inventory
9. Cost for efficiency
10. Continue to improve
Apply the 10 core practices for significant gains in efficiency. These improvements can occur in a relatively short period of time. Using these core practices involves large scale changes to your process workflow that can yield dramatic results.
What types of processes should be examined?
Any process that has a potential effect on total efficiency is subject to examination. Each company has hundreds of processes to examine. Here are some generic examples of processes to examine:
• Where is it most efficient to locate computers for access by work center supervisors, material handlers, and shipping personnel?
• Where can raw materials and components most efficiently be staged in each work center?
• What is the most efficient layout for the flow of materials vis-à-vis the receiving area, warehouse, work centers, and shipping?
• What are the averages wages for each position in the operations?
The Bureau of Labor Statistics offers updated reports for workforce statistics, wages, production hours in the manufacturing sector. The latest industry averages of hourly earnings and weekly hours, as well as weekly earnings by union membership status, are shown. In addition, recent hourly and annual earnings are shown for occupations commonly found in manufacturing. It also contains information on the average cost of benefits paid by employers, as well as recent rates of change in wages and total compensation.
Adopting a lean approach starts with a simple question: "What's essential?" Whether companies are simply trying to survive or they are conducting an annual assessment of their productivity, they need to determine that every activity they engage in is essential in the value chain to providing a competitive product. This involves analyzing each phase of the product lifecycle — from innovation, to design and development, to testing and, eventually, manufacturing — and removing the waste from those processes. We often overlook the actual process of bringing a product to market even though that process might takes weeks, months or years in advance of actual implementation. To inject efficiency at the outset we need to look back at the product lifecycle and ask: "What's essential?"
We believe that powered workstations are essential for manufacturing plants, warehouses and distribution centers. Newcastle System's innovative technology has helped hundreds of companies improve efficiency with low risk. If you are interested in learning how, download the Mobile Power Solutions Product Overview here: