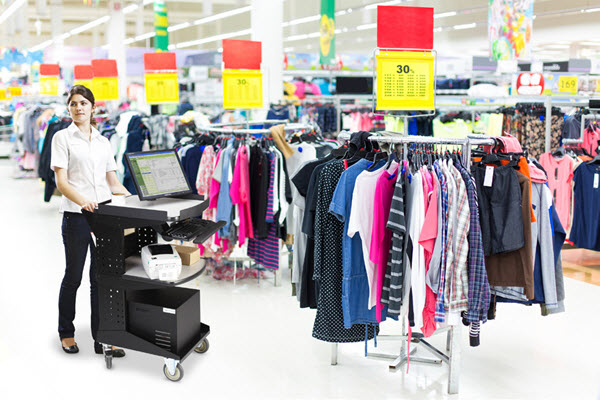 In today's competitive environment, your business should be working smarter, not harder. Not only are businesses competing to satisfy consumer demands, but they are also in competition to attract and retain the best workers. This requires that your business find a way to become more efficient without placing unreasonable expectations on workers.
Enter mobile power in the workplace. Powered industrial carts are complete mobile workstations that improve efficiency and boost employee morale almost instantly. They can be used anywhere in the workplace and offer a variety of benefits, such as doubling productivity, reducing erroring, and trimming payroll. And they can work for just about any business. Here are just four industries that benefit from mobile power solutions.
1. Retail
Mobile POS stations, inventory management, and queue-busting are just a few of the benefits these retail companies have realized from mobile power.
Sporting Goods Retailer
A leading sporting goods retailer with 46 retail stores across North America struggled to maintain inventory using a manual scanning system that required workers to use handheld scanners and walk back and forth inside the store.
The company implemented a series of mobile workstations equipped with inverter/charger systems and a 100AH battery with a wireless internet solution. Workers could use laptops on the mobile carts for inventory control and print out new pricing labels on the spot. Stockouts dropped by over 60%.
Major Foodservice Supplier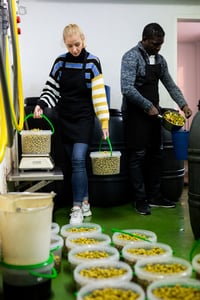 A leading members-only wholesale cash and carry foodservice supplier in the U.S. faced a mobility issue in its deli department. Workers need to move large pallets of cut cheese and meat to stationary scale and printer and then repackage those items with printed labels containing prices and dates.
Instead of making unnecessary trips that require heavy lifting, the company implemented a series of mobile-powered carts that included a specialty scale, an "on-demand" label printer, and rechargeable batteries.
2. Medical
These healthcare companies are using mobile power to get solutions closer to the providers and patients who need them.
Healthcare Technology Company
Steris Corporation, a leading global developer of health sciences technologies and products, was facing mobility challenges in its receiving department. Specifically, the department was required to take precise weights of all incoming articles and document data using a stationary scale and label printer, necessitating a lot of walking back and forth. This resulted in wasted time and some errors.
The company implemented mobile workstations that also included their specialty scales and label printers. This eliminated the wasted footsteps and drastically improved accuracy.
Medical Device Manufacturer
Cogmedix is a medical device manufacturer with a major state-of-the-art facility located in Worcester, MA. The company decided to move to a paperless processing system, which would reduce the time to process work orders and improve overall efficiency in the plant.
The company implemented a unique mobile workstation called Apex, which adheres to all government guidelines. It also contains two rechargeable power backs, two LCD screens, a computer, and a label printer. This solution offers employees more flexibility and has boosted productivity throughout the facility.
3. Manufacturing
Manufacturers are leveraging mobile power to support lean manufacturing principles and improve production floor processes like raw materials receiving, quality testing, finished goods labeling, and more.
Auto Parts Manufacturer
Magneti Marelli Powertrain USA designs and produces high-tech automotive, marine, and surface vehicle component systems and modules like electronic throttle systems and fuel pump modules. The company's challenge was to improve shipping accuracy when products leave the manufacturing facility so that customers receive the correct parts.

The company decided to use mobile carts to reduce worker and inspector footsteps in the factory during the order fulfillment process. The mobile workstations include a computer, industrial printer, barcode scanner, and mobile power for an entire shift, allowing inspectors to scan and print labels on-demand without taking unneeded steps.
Steel and Recycling Equipment Fabricator
Hol-Mac Corporation is one of the largest privately-held companies in the Southern U.S., serving major customers like Caterpillar and John Deere. The company has four manufacturing facilities in Mississippi, and it needed a mobile-powered solution that could hold up to harsh environments to conduct quality testing wherever required.
The company implemented high-quality, durable mobile powered workstations equipped with steel swivel casters for mobility. The workstations were not only portable, but they could also power up to four devices for roughly 8-12 hours of use. This improved efficiency in shipping & receiving, manufacturing, and quality assurance.
4. Warehousing and Distribution
Mobile power in warehousing and distribution centers helps these companies more efficiently control inventory and fulfill orders.
Leading Industrial Supplier
MSC Industrial Supply Company is a top value-added distributor of metal-working and maintenance and repair and operations (MRO) supplies. They operate five North American fulfillment centers carrying over one million industrial products. The company had developed its own mobile carts, but it suffered from durability issues.
MSC began using more durable mobile-powered workstations equipped with laser printers and rechargeable power that could last up to 12 hours. The carts are being used throughout the country and have delivered a return on investment (ROI) of less than six months.
eCommerce Retailer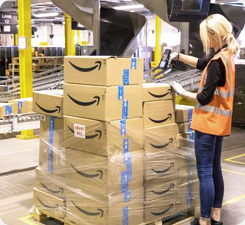 Amazon, the world's largest eCommerce retailer with nationwide warehouses that measure up to 1.2 million square feet, was facing a challenge related to incoming product discrepancies. This is a fast-paced environment, and too much time was being wasted researching why quantities on packing slips weren't matching or barcodes were missing.
The company implemented over 800 "Mobile Problem Solve Carts," which are mobile workstations containing a 200 AH battery system, laptop, Zebra label printer, and scanner. These portable workstations can travel anywhere in a facility to improve productivity and eliminate wasted time.
Whether you're a retail/eCommerce seller, healthcare provider, manufacturer, or warehousing and distribution company, or a business in some other industry, mobile-powered carts provide the power you need where you need it. They boost efficiency and reduce unnecessary or repetitive tasks, which makes it easier for your business to attract and retain high-quality talent. The benefits of these solutions not only improve the customer experience, but they also produce better overall results for your business.