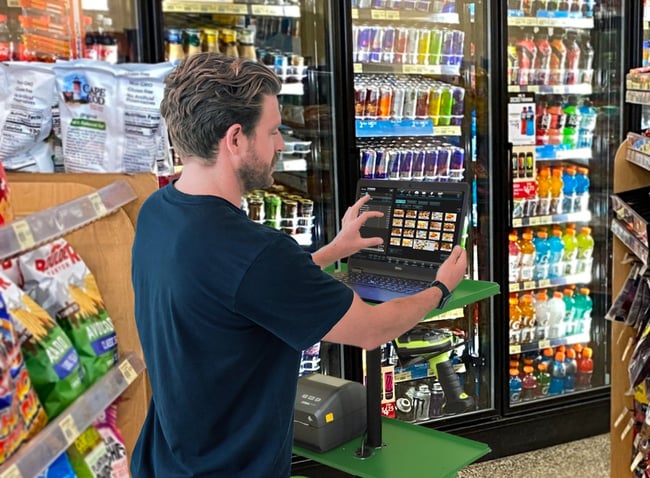 The retail industry took some big hits during the COVID-19 pandemic. Consumers were forced to remain at home, and most focused their attention on eCommerce alternatives. While those remain popular, people still like to shop in brick-and-mortar stores for a variety of things like clothing and household goods.
According to the National Retail Federation (NRF), many consumers have returned to pre-pandemic shopping patterns, including frequenting physical stores. Store openings in 2022 significantly outpaced closings. But businesses are making significant changes to how they do business, such as the way they store inventory, fulfill orders, and tailor the customer experience. In many of these areas, technology solutions like mobile carts are playing a leading role.
5 Ways the Retail Industry Can Use Mobile Carts
Here are five ways the retail industry can use mobile carts to improve efficiency and better serve customers.
1. Queue Busting
Consumers have hefty expectations when it comes to their experience with retailers. Many consumers realize they can obtain many products online but still want the in-store shopping experience. However, they won't stand for being overly inconvenienced.
According to one recent study, 86% of U.S. consumers surveyed have walked out of a store in the last 12 months due to long lines. You can prevent customers from leaving your store empty-handed by using mobile carts to supplement regular checkouts. When lines get too long in your store, simply open up a new mobile checkout on the side to shorten wait times.
2. On the Floor Retail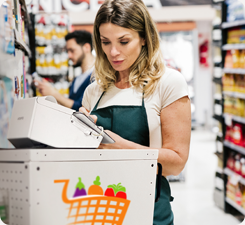 Similar to the above, some retailers are using mobile carts to offer a more complete buying experience regardless of crowd size. When a customer shows up in your store, an associate can use a mobile cart to look up sizes and colors or otherwise check inventory stock.
A mobile cart can do even more to improve the customer experience. With the right software solutions, it can suggest additional items for customers and even provide an augmented reality experience. And when a customer is ready to make a purchase, the point-of-sale system can complete the transaction on the floor.
3. Pop-Up Shops
Mobile pop-up shots come in various shapes and sizes. But mobile-powered carts are an ideal solution for these unique sales activities. Basically, a pop-up show is a mobile shop that a brand uses for sales and marketing activities in urban and pedestrian areas, events and festivals, commercial venues, business or recreation parks, etc.
Both eCommerce and brick-and-mortar stores use these strategies to reach more customers and boost brand recognition. A mobile-powered cart is an ideal way to process orders and use other forms of technology (scanning, printing, etc.) during these activities.
4. Inventory Management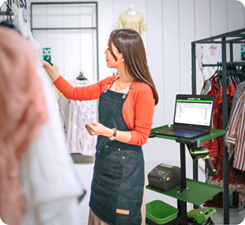 For the retail experience to operate on all cylinders, your store needs to know what products it has in real-time, have the right amount of products in stock, and have everything clearly marked. Fortunately, mobile-powered carts can help with all of these tasks.
Whether in the warehouse or at your retail location, mobile carts can make your inventory management operations more efficient. On the floor, your associates can move the cart around as they work to print price tags, shelf labels, and signs.
5. Multichannel Fulfillment
A growing trend in retail and eCommerce is multichannel fulfillment, which blends the two channels, giving consumers more options in how they purchase and collect their merchandise. For example, a "Buy-Online-and-Pickup-In-Store" (aka BOPIS) strategy has become popular.
BOPIS requires that retail stores act as mini-warehouses capable of real-time inventory management and fast order fulfillment. Having mobile-powered carts on hand can help retailers handle BOPIS and other multichannel operations more efficiently.
Mobile Cart Solutions for Your Retail Business
Retailers have several options for mobile-powered cart solutions. Depending on your needs and goals, Newcastle Systems offers a full series of carts that are simple to deploy, made of tough materials, and equipped with long-lasting lithium batteries.
LT Series
The new LT series is our lightest and most economical cart system. It works well with light printing and scanning applications for up to 8+ hours at a time.
EC Series
This is an entry-level mobile-powered car that is suitable for smaller electronic equipment and basic tasks. It will keep your employees working efficiently for up to 8+ hours at a time.
NB Series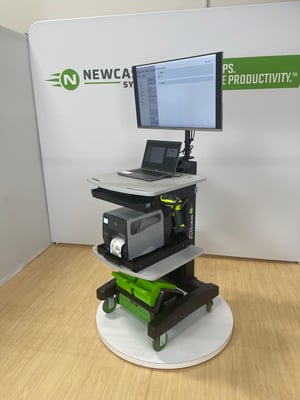 Our most popular and versatile product, the NB Series mobile cart, is available in several sizes and configurations. It has the ability to run up to four devices at once for 8-12 hours of use.
PC Series
This rugged, heavy-duty mobile-powered cart can hold up to 400 lbs. of equipment, which may be ideal if you want to use it for an outdoor pop-up shop.
APEX Series
These are compact yet easy height-adjustable carts that can accommodate any user. They can hold a laptop, up to two LCDs, a printer, and a scanner, with power for 8-12+ hours at a time.
QC Series
This robust mobile cart system can hold multiple touchscreens or LCDs, scanners, barcode printers, tablets, and laptops. It is excellent for inventory or quality control operations, with enough power for 8+ hours at a time.
From a store's front end, where customers shop for products, to the back of the distribution center, mobile carts can make a difference in the retail industry in terms of efficiency and productivity. These simple, scalable solutions allow workers to get things done quicker and more accurately and serve the needs of consumers who are eager to spend their money.