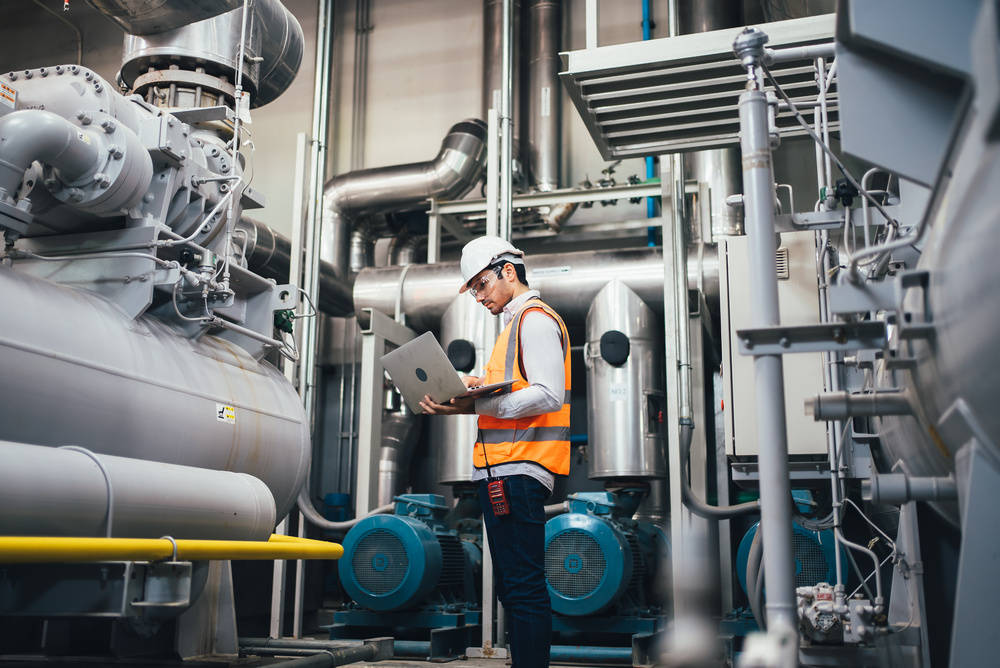 Nearly a century after inventory Alexander Graham Bell made the first telephone call in 1876, the first mobile call was accomplished. Since then, mobile technology has allowed us to stay in touch from anywhere.
Beyond the convenience of making calls, mobile devices and technology paired with the internet have given manufacturers the tools to manage and monitor their processes in real-time, changing the way we work. Here is why your production floor needs mobile technology and some mobile solutions that are making an impact on this industry.
The Adoption of Mobile Technology Continues to Grow
Mobile technology has penetrated just about every industry, including manufacturing. LNS Research Spotlight reveals that manufacturing professionals have access to more real-time data than at any point in history. Currently, 65% of operations managers have access to instant performance data.
Artificial Intelligence-enabled apps are one indicator of the explosive growth in mobile technology. In 2019, global AI in manufacturing was valued at $1.82 billion. That figure is expected to grow to $9.89 billion by 2027.
Why Your Production Floor Needs Mobile Technology
As of 2020, only about one-quarter of manufacturers had implemented digital transformation programs beyond pilot stages. If your production floor hasn't adopted mobile innovation initiatives, here are some of the ways these solutions can help your business.
1. Better Communication
As mobile devices have become more affordable, many manufacturers have started relying on them as a primary means of communication. Compared to traditional options like faxes, pagers, and paper, mobile allows the instant communication of messages throughout a facility, whether they are on the production floor, in the warehouse, or in the office. The chat or push email service available on most smartphones allows this real-time collaboration.
2. Better Plant Operational Efficiency
Operational efficiency is everything on a production floor, and mobile technology can improve your performance. For example, a mobile-based system can integrate your work orders into smartphones, eliminating the need to return to physical workstations repeatedly to fill out paperwork.
3. Better Field Data Collection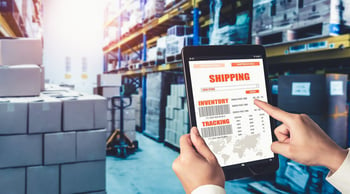 Mobile devices allow your team to collect a wealth of useful data, such as worker and equipment performance, production status, safety statistics, etc. Mobile-based checklists and survey forms can be created to help workers collect data around set parameters, and some data collection will be automated based on your underlying systems.
4. Better Product Diagnostics
Having failed components on a production floor can compromise efficiency and lead to hazardous working conditions. There are now mobile maintenance applications that enhance the ability to perform diagnostics and repairs on products and equipment. Workers can take photos of components and order parts from the production floor. They can also use mobile technology to receive step-by-step instructions for maintenance, installation, and repair of equipment.
5. Better Emergency Preparedness
Mobile technology allows workers on a production floor to respond more quickly and appropriately to emergencies. Instead of having to hurry away from workstations to find a supervisor, workers can use smartphones to get the rapid response necessary for medical, chemical, machinery, and other emergency situations that can save lives, time, and money.
6. Better Quality of Reporting
Mobile devices can ensure your operations get quality and consistent data reporting through the application of standardized templates for forms, inspection checklists, and work orders. Your business can use various applications with drop-down lists instead of inviting open-ended text that invites errors and potential bias.
Some Mobile Solutions Your Business Can Use
There are many arguments to be made for manufacturers to switch to mobile-powered devices. But, what are some of your options if you wish to leverage this technology? Here are some mobile solutions your business can use right now.
1. Artificial Intelligence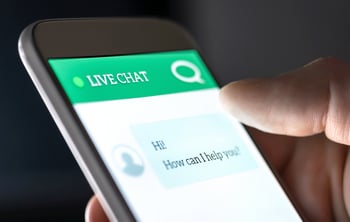 For the past five years, mobile industry trends have been focused on artificial intelligence (AI). Some of the popular use cases in manufacturing include:
Voice recognition apps

Chatbots

Facial and motion detection apps for surveillance systems
Some mobile apps can now recognize voice commands, anticipate user actions, make decisions and recommendations, and analyze visual and textual data.
2. Augmented Reality and Virtual Reality
An increasing number of apps used in industrial environments now incorporate augmented reality (AR) or virtual reality (VR) features. Applications that use AR/VR are useful for things like equipment diagnostics and repair, navigation, analytics, design, and quality control.
3. Mobile IoT Apps
The Internet of Things (IoT) is another technology advancement that you will commonly find in industrial environments. Apps that incorporate IoT are useful in bridging the gap between people and mobile devices. These applications are useful for remotely managing connected machinery and devices, allowing users to:
Operate devices (turn it on/off, change parameters, and set notifications)

Monitor sensors and readings of machinery or devices

Generate reports, build charts, and analyze data
4. Mobile-Powered Carts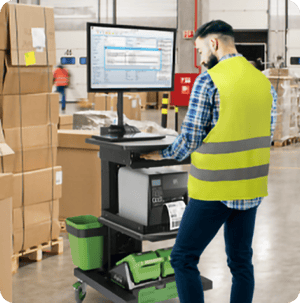 Workers in manufacturing can spend a lot of time walking back and forth to get instructions or pull the right materials. Mobile-powered carts are solutions that can double your productivity, improve safety, and even boost job satisfaction. Because they are mobile, you can move them anywhere in the factory they are needed. They can also connect wirelessly to other mobile apps and devices used by your employees, improving the overall quality of your operations.
5. Wearable Technology
Wearable devices have become commonplace in manufacturing plants and on warehouse floors. When workers are provided with wearables, such as mobile headsets paired with a mobile app, they can work hands-free. This allows for more efficient work and fewer errors. Other mobile solutions include healthcare monitoring devices for harsh environments and smart glasses to provide hands-free access to data.
Businesses in just about every industry now rely on mobile technology to some extent for monitoring and/or production purposes. Given the accessibility of these solutions, it makes sense that manufacturers would leverage them to improve efficiency, cut costs, and gain the competitive advantage they need.