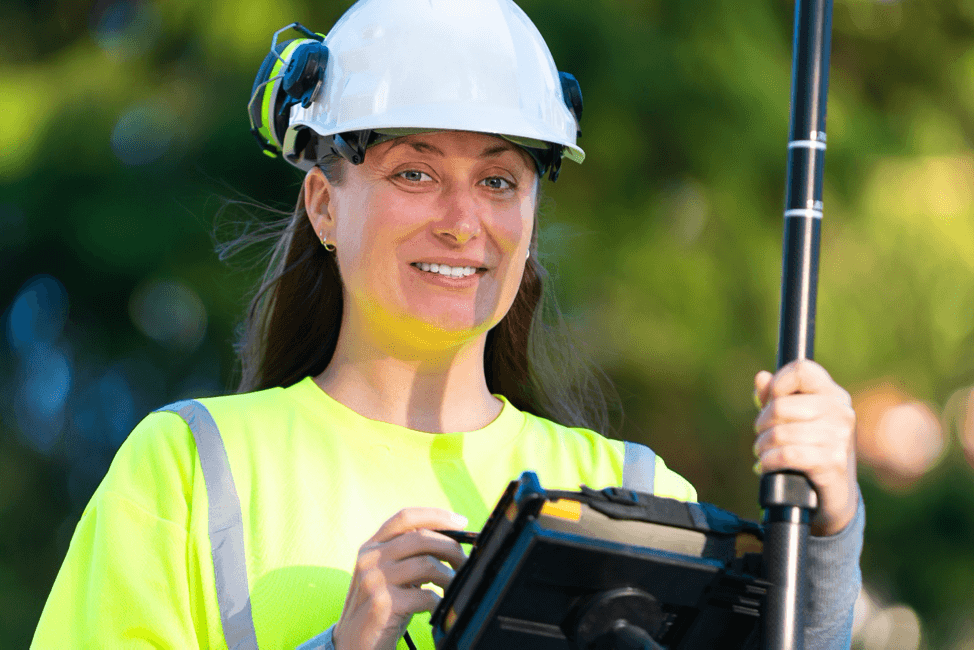 How Does Your Warehouse Compete for Workers?
Who loves working in the warehouse industry? We do of course. But apparently YOU do too. Perceptions of outsiders regarding work in the industry sometimes suffer from a common dislike of work that is "dirty" or requires a level of physical exertion or discomfort not common to an office environment. While some parts of the industry still live up to what is generally an outdated image of the modern warehouse environment, the modern distribution center is thankfully a much safer, cleaner and generally stable work environment in most industries. This is from a combination of many things, including regulation, technology and automation, and perhaps most importantly – competition.
If there is one thing that drives an improved work environment it is competition for labor. And over the course of a ten-year economic expansion, labor has been a constant source of attention for the industry as good talent has become more scarce and great talent has become hard to retain.
Love of the work. Building a great team. Providing Careers. This is what we were thinking about when we were digging into the 2019 Salary Survey published in September by Peerless Research Group for Modern Materials Handling. How does your business compare with the survey averages? This year's data (with 348 respondents) tells a story about the industry that goes beyond simple dollars and HR-focused numbers. It shows that this industry can provide great careers that were once thought to be unattractive.
Satisfaction Levels are High
The one thing that stands out in responses to the 30+ questions is a definite sense of high satisfaction with a career in the industry:
70% indicated they were "Very or Extremely Satisfied" with their careers in material handling, with only 3% registering any level of dissatisfaction. 85% reported liking their current job, which is down from 92% in 2018, but 92% would still recommend the profession to others – which indicates that they admire their profession but some may be ready for another job.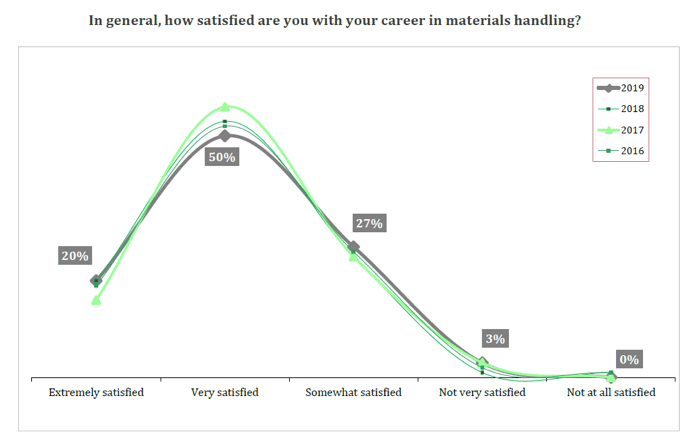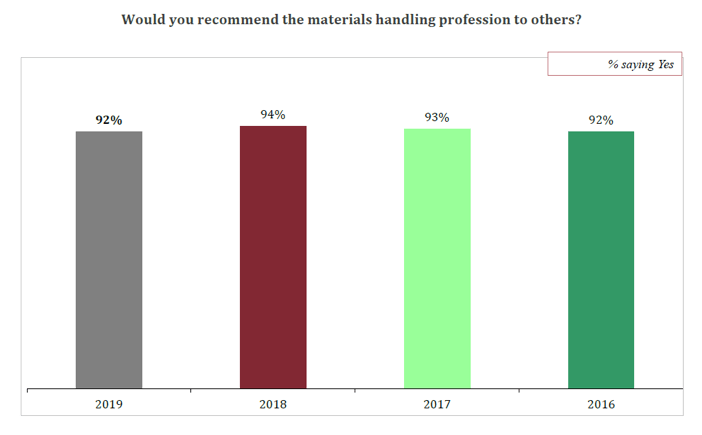 Factors in Compensation Levels
There are some areas where the industry mirrors more typical careers in offices far away from the warehouse floor. There is a close correlation linking compensation to education levels, much as you would expect to see in other white-collar industries. While the data suggests that there are the typically large advantages to having completed a college education or higher, average pay even for high school graduates exceeded $85,000 in 2019 (Even as among the survey respondents, 26% had no supervisory role). We wondered if this was perhaps a result of longevity or some company cultures that do a great job of promoting from within, but the data breaking out length of service in the industry shows a similarly high compensation for every range of experience except for the >30 yrs which was much higher. This suggests that even with a high school education, talent in the materials handling industry can gain success "on the job" and improve on pay with greater job mobility as opportunities have grown exponentially in the eCommerce era.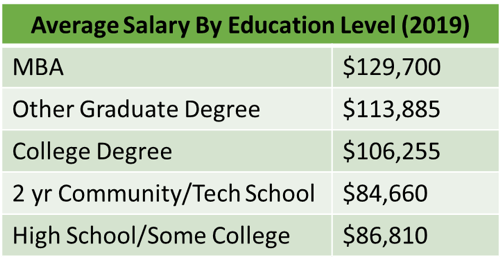 Likewise, pay tends to go up with the size of the company's revenues and/or number of employees.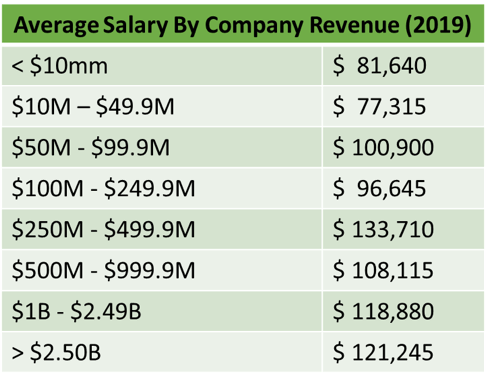 Trends in Salary
As expected in a strong economy, salaries on average increased, but there was a decline in average salary for top level company management, though this could also be a result of who responds to the survey every year. Middle management positions in Engineering, Plant Management and Supervisory roles generally held together in a tight band with average increases all within 3.1-3.6% per year since 2016, thought Engineers did significantly better in 2019 (8.5%) than their counterparts in other middle management roles (1.4% and 3.3%).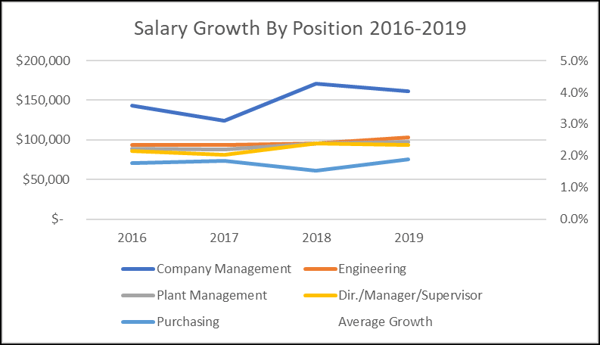 The relatively moderate average increases over the last four years suggest that while the pressure on the labor market in the industry has been great on finding and retaining floor staff, this has not translated into fast wage growth for management positions. This may be due in part to larger companies benefits, but also the fact that finding talent for many supervisory roles can be done in-house, allowing for better control over salary growth. The exception for engineers may be an indication of that since it is rarely something that comes from OJT and within the ranks.
With 74% of respondents reporting to have received a bonus in 2019, there are other ways to compensate outside of salary. However, 2019 data suggests this was flat relative to 2018 with a decrease of 16% in the average for all, but an increase in the median bonus of 20%, suggesting an additional data point that there is more pressure on retaining some lower level management and staff positions via compensation.
Stress and Career Growth
We all get stress on our job to SOME extent, but how about you? One thing that has changed little in the survey over the last four years is the level of stress compared to two years ago.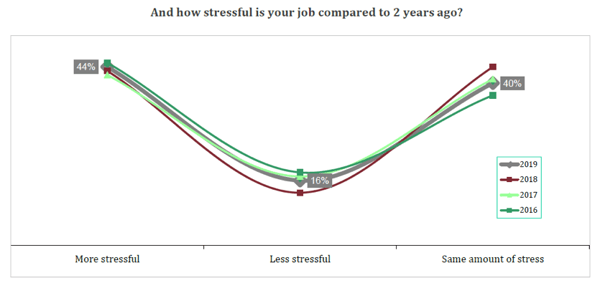 But the leading causes of stress are interesting – if also every consistent. "Workload" and "Not Enough People" have generally ranked 1-2 every year, with over 40% reporting that as their main source of stress. In a highly transactional environment like a warehouse where there is constant pressure to increase velocity without increasing staffing and with a labor shortage in the background, this seems logical.
With nearly two-thirds of the respondents indicating they were open to considering another job either through passively or actively searching or being recruited for one, we have to wonder if they are really happy in their jobs. But given the reason are mainly for 1) compensation and 2) looking for either new challenges or advancement opportunities confirms our sense that people are in a career they enjoy, with only 6% indicating they wanted to change careers.
Why Do You Do This Again?
The survey shows a generally healthy trend for the industry, and confirms a lot of what we have talked about in other articles with the constant pressure to find and retain quality people. Rapid growth in the E-Commerce era has put pressure on businesses everywhere to raise their game in terms of creating good careers in an area of the business that was once ignored or considered to be only a cost-center. With customer satisfaction requiring a top-notch facility to keep up with the speed of business, that is no longer the case and people building careers in materials handling (an average of 19.3 years in 2019, 10 with their current employers!) have more opportunities than ever to advance their careers within their companies or with others also seeking experienced, talented managers.
What career path do you see for yourself and your teams in your facility? Understanding what those opportunities are and nurturing them may be a key to creating a retention strategy that works.
NOTE: All data referred to in this post or displayed as charts or graphics is credited to the 2019 Salary Survey for Modern Materials Handling by Peerless Media Group. The survey was conducted in July/August 2019 among MMH subscribers and received 348 respondents. For their own take on the data please visit their analysis here.