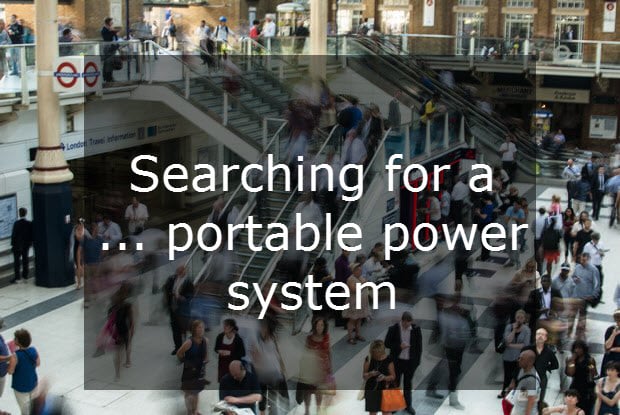 Capable of simultaneously powering several electrical devices to carry out many tasks, a portable power system is ideal for a multitude of applications:
In an office:
A portable power system can power computers, printers, mobile/cordless phones, photocopiers, etc.
In a manufacturing plant or distribution center:
It can power computers for remote data entry/retrieval in addition to devices such as barcode scanners and label printers for quality control, stocking, order-picking, shipping, receiving, etc.
In retail:
A portable power system can power computers and other devices to facilitate inventory management and labeling; LED signage; and electronic cash registers and creditcard processors for "line-busting" and for sidewalk sales, garden centers, etc.
At outdoor events:
At events such as weddings, reunions, concerts, fairs, graduations, retreats, rallies, etc., it can power amplifiers, lights, LED signage, etc.
At home:
During power outages, it can power lights, alarm systems, garage doors, computers, printers, televisions,
radios, CD/DVD players medical devices, mobile/cordless phones, fans, sump pumps, fish-tank lights/pumps, etc.
In transportation:
It can power mobile kiosks for ticket printing, baggage checking, passenger screening, etc.
In education:
In classrooms, auditoriums, amphitheaters, etc. audio-visual equipment can be powered by a PPP.
Personal recreation:
It can power electric grills, lights, and CD players for tailgating, beach parties, camping, etc.
---
PROVEN TRACK RECORD
Although portable power supplies are relatively new to the market, the technology is not brand new. It has proven its effectiveness in several applications.
For example, Restaurant Depot, a members-only wholesale supplier of food, equipment, and supplies to restaurants, designed a portable power equipped cart that is already used by more than 80 businesses. The cart, which contains portable power with a 100-AH (seal lead acid) battery, powers an electronic scale and label printer for eight hours at a time and is recharged overnight.
This solution eliminates the need for deli workers to move large pallets of meat and cheese to and from stationary workstations to be weighed and labeled. Date codes and price tags can now be created and applied "on-demand".
Amazon.com, the world's largest retailer, took the concept a step further as part of a company-wide process improvement initiative. As a fast-paced progressive organization with high quality standards, members of the receiving department need to resolve incoming product discrepancies very quickly. Typical discrepancies include quantities that do not match packing slip/purchase order or products that don't have a barcode label on them. Management realized that they needed to eliminate the wasted time its receiving personnel spent walking back and forth to computers (to research discrepancies) and fixed label printers if a new barcode label was required. Amazon's solution, which they have named, "Mobile Problem Solving Stations," consists of portable power package with a 200 AH battery which powers a laptop, label printer and scanner for 24 to 36 hours at a time.
Amazon's carts, more than 1,000 of them, are in use at more than 20 of the company's fulfillment centers in the United States and the United Kingdom.
The Mobile Workstation with Portable Power:
A portable power equipped cart with a wireless computer is really a mobile workstation. Capitalizing on the benefits of auto-ID technologies, it integrates the facility's software with devices on the cart to establish a mobile on-demand label printing station, a mobile shipping/receiving station, and so on. In many enterprises, countless hours are wasted as employees walk to and from a desk bound computer where they log information into a database, print labels/orders, etc. Often, these employees are merely keying in or confirming data they have previously written on paper at the work site — a classic redundancy of effort.