An expansive facility dedicated to shipping and receiving, warehousing, or order fulfillment and distribution continuously looks for ways to improve efficiency and productivity. Positive improvements in these areas can start small and expand outward like ripples in a pond.
For companies with warehouse operations at the core, dramatic improvements to efficiency and productivity of the workforce happen by adding portable printer carts. When the carts include portable power supplies, the staff celebrates and productivity can improve 50%.
Rather than having lists, labels, order picks, and inventory data produced at a stationary printing location, the staff works while on the move which reduces unnecessary downtime eliminating wasted steps.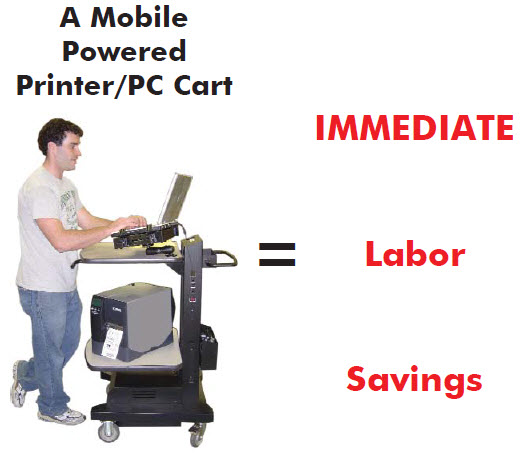 Portable printer carts can be completely customized. Whether you have a high volume operation or you only handle a few printing tasks a day, carts can be designed to fit your existing equipment and easily integrate into your current operation. You won't have to deal with potential delays or downtime as a new process is put in place. Training is based on common sense and no special skills are required when turning a stationary printer into a mobile one.
When you convert a stationary printing station into a mobile one, power cords are unnecessary and there is no need to hunt for a nearby power outlet. Wireless technology can network your portable printer cart to your company's computers and other data assets. Portable printer carts with an on-board power supply lasts for hours and extended life power supplies or additional battery packs are available. The ability to keep portable printer carts powered all day prevents lost time while you wait for batteries to recharge during back to back shifts.
Printer carts are not only ideal for companies with large warehouse operations. Any business with employees who need to access a printer or printed resources while away from their desk can benefit from these innovative workplace additions. They are also great space savers, so if your company's facility has a limited amount of space available to dedicate to computing equipment, these carts would be perfect. In addition to being portable and compact, they are also easy to maneuver and can be relocated quickly if your company upgrades its facilities or moves to a new location.
Other awesome workplace additions which complement portable printer carts include order picking carts that make order fulfillment a breeze. Order picking carts can not only improve warehouse efficiency but they also reduce errors, allow employees to update and see order information in real time, and - like printer carts - they allow your staff to take their work with them as they move around their work areas. Portable workstations are also ideal for companies that lack office space, and they are just as customizable as other portable carts and mobile workstations.
Portable carts for printing, working, or order picking can be designed to meet the needs of each company, and they can be outfitted with shelves, storage compartments, and adjustable stands to give each user the ability to create a portable cart that makes their job much easier. They are a great way to streamline your business operations and there is truly no downside to adding them to your company.
Below is an overview of the available mobile powered printer laptop carts.
Mobile Workplace Systems
Newcastle Systems has developed an ROI Calculator to help you quantify these inefficiencies and to demonstrate how our wireless stations can help. We invite you to see how much you can save in your facility.