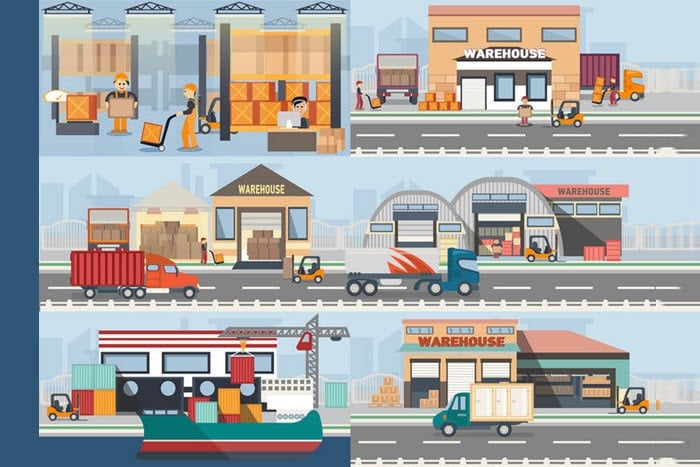 Receiving, Put-away, Picking, Packing, and Shipping. Actually, there are more, but we'll use the limited space in our blog post today to share five processes that can be transformed by deploying a single workstation with a dimensional scanner.
One Workstation, Five Processes Transformed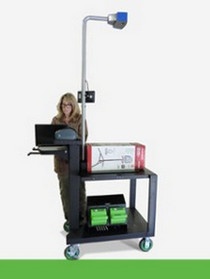 1 - A Dimensional scanner as part of a complete mobile workstation mounted on a cart with a lithium power source.
For those of you not familiar with these machines, a dimensional scanner records a three-dimensional scan of an object, not only recording its dimensions but its weight as well when paired with a digital scale. While there are some differences between the different products available out there, they all can perform this basic function for anything that can fit into a shipping box (while other models can scan much bigger items).
Here's a quick tour of your warehouse – now with dimensional scanning:
Scan and You Shall Receive
Let's be honest – while a scanner won't necessarily make your receiving process more efficient, scanning at the point of receiving will be the starting point to make all of your other processes more efficient. If you truly want to make Receiving as efficient as possible, get a mobile workstation to print your labels. But here is how you leverage your Receiving process to get the most out of your dimensional scanner:
Identify incoming shipments with any new SKU not previously in our inventory
When shipments arrive, set aside one sample of each new SKU
Scan each item and put-away with the rest of the case (if necessary).
If your Q&A process is done on samples of new SKUs during receiving, then it would make even more sense to deploy your canner there. A third scenario would include skipping the scan at Receiving altogether, and scanning products directly at their locations in the storage bays. However, this would suggest a need for equipment like an aisle picker with a cage where the scanner could travel with the worker moving from bin to bin.
Now that you have your incoming products scanned into your database (more on that later), here's where it starts to make a difference:
Put-Away Your Fears of Space Shortages
Now that you have the dimensions of your products, you can re-configure your shelving and bin arrangements so they are optimized for the products you are storing, not for a generic size that will fit some and not others. Our customer surveys in recent years have shown us that "space utilization" is the number one concern of warehouse management. Even with all the automation and digitization in the modern distribution center, the concern for physical space and the ability to manipulate it more efficiently is still paramount.
And if you are not putting away individual products but keeping them in cases, then the same principle applies, though the marginal benefit may be less.
No Need to Pick Your Brain For Picking Improvements
Moving on to Picking – the benefit is similar to what you get in Put-away. Space utilization is improved, which provides a few immediate benefits:
More compact picking areas
Short picking routes, improving pick counts per wave
Optimized picking processes with an improved cart or bin design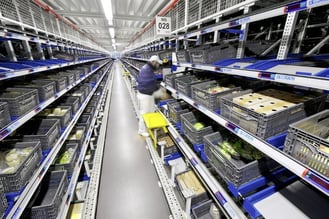 2 - Picing process using Pick-To-Light technology
Long-term, there are even bigger benefits in picking given that it requires less space. This means that space could be freed for use by other processes, expanding the SKU count in the facility (putting more on the picking process), or even reduced and lowering the overall cost of the facility.
Finally, the implication of improved pick counts per wave and shorter picking routes is that labor costs are reduced. Given that our customers report that about half of their total labor costs are in the Picking area, this may be the most significant benefit.
Pack It In Better Than Ever
Now, the most VISUALLY satisfying way to see the impact of your dimensional scanner is in Packing. Assuming your warehouse system has the capability, you can optimize your box size for each and every order going out, because the product dimension data will be used to pre-select the box you use at your packing station. Costs are reduced in a number of areas:
The average box size is reduced, which lowers overall cost of boxes
The cost of filler products is reduced from decreased dead space in boxes
And most importantly –
With major shippers now using total dimension as a measure of cost, shipping costs are optimized.
Any of the applications mentioned so far can easily justify the cost of the scanner, but the recent evolution of how shipping is charged is by itself one of the most visible and immediate in terms of overall impact on day-to-day operational costs.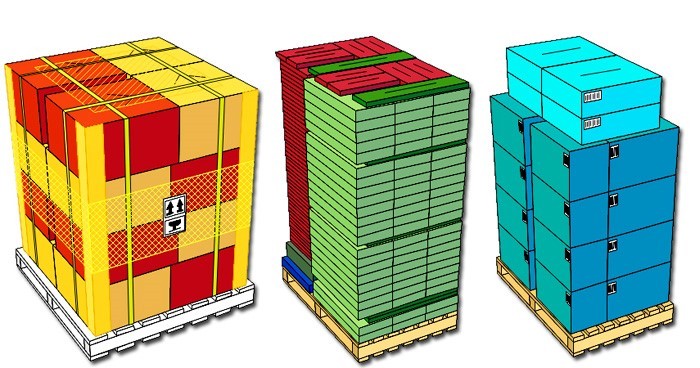 3 - Sample configurations from pallet optimization software.
Ship It Tetris Style
Finally, your dimensional scanner can come in handy when loading your packages on a pallet or directly on a truck. Up until this point, your scanner was used only once – in Receiving (or Q&A), and the data from that scan created a benefit for every other process in the system until the moment a customer's order left the packing station for the shipping dock. Again, the software will allow you to measure dimensions of your outgoing shipping boxes and lay out a pattern for loading your pallet or truck to eliminate space and gaps and use every cubic inch possible.
Don't Forget the Software
As referenced more than once, software plays a big part in leveraging the power of a dimensional scanner. The scanner will record all the pertinent data you need for the products you carry, but to make it work, you will need the software (or the modules in the software you already have) to see the impact you want. For a primer on some of the typical systems being used in modern warehouses see our earlier article "An Introduction to Warehouse and Logistics Software."