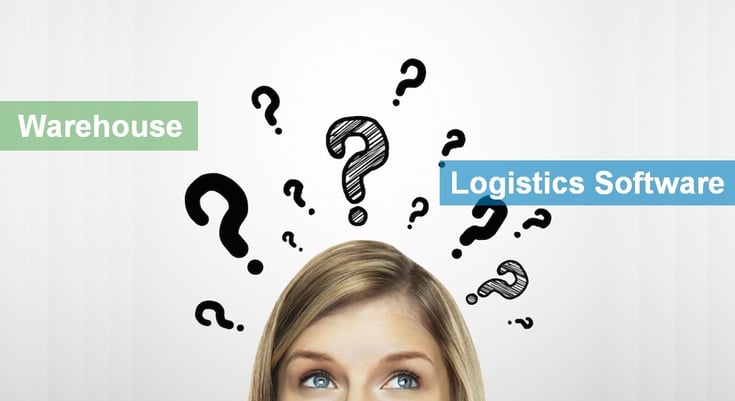 We recently ran a short series of articles (See parts One, Two and Three here) on Manufacturing Execution Systems (MES) a key software solution essential in the Manufacturing world. We had some excellent feedback on the articles and realized that while prolific with sharing our thoughts on the warehouse and logistics space where equipment, process, and people are concerned, we never really spent much time talking about software solutions that help connect it all together and make it work. This week we are going to dive a little deeper in the topic and will offer more information during the coming year.
Here is Part I of a sampling of the basic software systems everyone should be aware of if you are looking to do more automation or in-process KPI tracking:
TMS (Transport Management System)
If we think of the start of the day in the warehouse as "Receiving" and the end of the day as "Shipping," then everything that leads up to the first and follows from the latter revolves around trucks and moving product around. TMS software is a critical part of any supply-chain execution (SCE) platform. Designed to optimize logistical operations – it's all about knowing where your stuff is when you don't have it under your own roof. Sitting between your ERP or Order Management System and your Warehouse Management System, TMS does all the hard work of consolidating orders, grouping them into shipments and determining anything from the route, carrier, vehicle, timing, etc. of the shipment to optimize it for your business.
Available systems can cost from a few thousand dollars to millions of dollars, depending on the complexity of what it is required to manage and the number of features and users. Each business optimizes it based on the balance they want to strike between cost-efficiency and customer expectations.
Like most applications in this space, they are built as a series of connected modules. Typical modules you will find in this space include: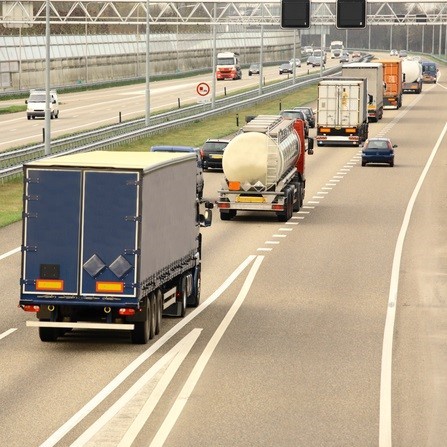 1 - Who's Going Where? When? With What?
Planning and optimizing routes
Optimizing loads
Freight audit and payment
Fleet/Equipment Management
Driver Management
Scheduling
Shipping, order tracking, and carrier management.
What you get from a good TMS system is:
Reduced overall cost of your supported process.
Improved accountability and transparency.
Greater operational flexibility.
WMS (Warehouse Management System)
Warehouse Management Systems are mission-critical applications that make complex warehouse operations efficient and cost-effective. If your warehouse is a rackless open space storing a small variety of large dry-bulk items on a long-term basis, then you may not have had much need for WMS. But for everyone else, it is a key piece of management's ability to optimize operations and transparency.
A WMS application supports all the key process areas of the warehouse, like receiving, storage, replenishment, picking, returns, packing, dispatch, quality assurance, and almost anything else you do under the roof there. It is the glue between all the other hard technologies in use in the DC, connecting barcodes, scanners, mobile computers, racks and bins, RFID (Radio Frequency Identification) tags, voice recognition, and anything else you bring in to optimize and support your operations. Designed both as part of some ERP systems or as a stand-alone product that can link with your Order Management System, it is the workhorse of your distribution center.
Imagine this scenario: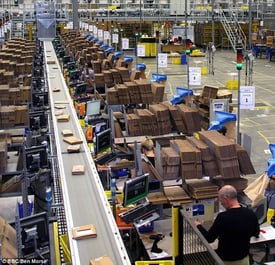 2

- Amazon UK Facility (via Daily Mail)
Your business is selling a popular gadget on its website.
There are 19 units of them in your warehouse.
Eight were ordered yesterday, and are in picking this morning.
Two just came back as returns
Six are on the Receiving dock in a box on a mixed pallet
Five were ordered (so far) today.
18 more are on backorder, six arriving in 2 days, 12 more in 7 days.
Now when a customer calls and wants to order one, how does your phone rep respond? They will be able to tell the customer all of the following:
"Yes, we have one available."
"Sorry, it is on backorder."
"But will be here in two days."
"And will ship to you a day later."
That is what your WMS application will do for you because it is designed to intelligently track all the "counters" that keep track of all your products in your DC, their location, status and even condition.
Since it also tracks, manages and optimizes all those other processes we mentioned earlier (and more), the benefits are pretty broad and extend to increased operational efficiency, optimum customer service, reduced error rates, improved employee safety and a big boost to transparency and visibility for floor managers and HQ.
Order Management Software
We are going to cover Order Management Software here for one BIG reason – it's the one that has direct contact with and impacts your customer. While the supply chain applications may be the most relevant for your in your day-to-day duties, your teams in the DC and driving your fleet would benefit by knowing what your OMS does and does NOT do.
Why is it important? Well, about a year ago a client mentioned being in a warehouse of a very well-known, national supplier of office and warehouse products. As a user of their services, the catalog and online ordering system have always impressed, and that is ALL that matters to a customer. The reason for saying that is because the client mentioned how shocked he was to find out that it was only last year they started using barcodes to track and manage their inventory. Asked how they kept track of everything, the supervisor responded "tribal knowledge"!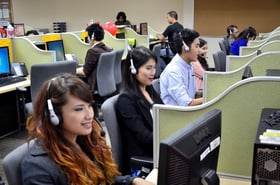 3 - Call Center Operation as the Face of your Business
The lesson is that you can have a very organized mess in your warehouse and still make customers happy if you have the right OMS.
OMS applications have been around well before the internet. The catalog industry had been far ahead of the pack due to the competitiveness of getting orders taken easily, providing accurate info and servicing claims. But they were also prolific in many industries like insurance, telecoms, banking and others as well. The catalog industry was unique, however, in developing the back-end WMS-type applications and their integration too.
A typical OMS system will include some or all of these modules or tables:
Product information (descriptions, attributes, locations, quantities)
Inventory available to promise (ATP) and sourcing
Vendors, purchasing, and receiving
Marketing (catalogs, promotions, pricing)
Customers and prospects
Order entry and customer service (including returns and refunds)
Financial processing (credit cards, billing, payment on account)
Order processing (selection, printing, picking, packing, shipping)
Like both TMS and WMS systems, OMS systems vary widely in their scope, cost, and complexity. A B2B business selling big-ticket items to a 100 customers who get their shipments once a month on a flatbed truck will have very different needs than an e-commerce operations shipping 20,000 packages of mixes SKUs every day.
While the WMS system may feel like the brains of the company for those working in the DC, from the customer's point of view, the OMS is your company. It is the tool behind all the interactions your customer has with your company's reps or online interface.
What They All Have In Common
While the OMS applications are the core tool that delivers your customer experience, it's important to remember that your TMS and WMS apps play a role in that experience too. One client's Operations Director shared with us that one of the things he always reminds his DC team about to motivate them in regards to their role in customer experience is "We are the last people to touch the product before the customer receives it. Make it count." And with modern delivery services being pushed to deliver faster and more accurately than ever, the role of all three applications in customer experience can't be understated. While the efficiency gains are critical to remain competitive in pricing, wages, and continued investment in infrastructure and technology, there should always be a balance that considers the customer service objectives your business has.
Next Time: Part II will cover a suite of lesser-known, more specialized applications. Stay tuned!