Warehouses, fulfillment centers, and distribution centers are fast-paced, busy places with lots of activity--which can also make them a magnet for safety issues. Learn about the strategies you and your team should be implementing to avoid injuries and maintain your positive business reputation.
Why Warehouse Safety Matters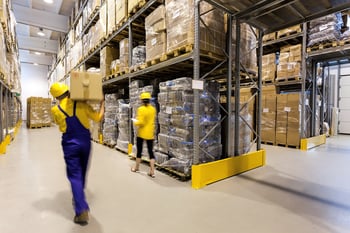 Warehouse safety might seem like an unnecessary burden to some businesses. But workplace accidents are costly and a drain on the organization's efficiency. One of the main benefits of having a comprehensive safety program is that it can eliminate or lessen the risk of accidents and injuries in your warehouse. These include accidents from moving machinery, falling objects, and hazardous materials.
Warehouses are still largely staffed by human workers. The last thing you want is to endanger the life and safety of your workforce. If your business becomes known as a dangerous place to work, fewer people will want to work there, and even more will leave.
Productivity and efficiency can be impacted by warehouse safety as well. When workers don't feel safe or are dodging hazardous conditions, they won't be as productive as possible. And a warehouse with a high injury rate will end up paying higher insurance rates, impacting bottom-line results.
Finally, warehouses are subject to various safety regulations, similar to other businesses. The Occupational Health and Safety Administration (OSHA) requires that businesses adhere to certain minimum safety standards when working around heavy equipment, doing repetitive tasks, or working from heights. Failure to follow these standards could result in steep fines and other penalties.
Strategies to Keep Your Warehouse a Safe Place to Work
Employers are ultimately responsible for protecting warehouse workers from hazards. Since warehouses are such diverse environments, it can be challenging to consider all the potential safety issues. Here are some top strategies to keep your warehouse or distribution center a safe and more productive place to work.
1. Keep Areas Organized and Clean
It's critical that all areas of the warehouse be kept orderly and clean at all times. A disorganized warehouse invites confusion and potential injuries. Many warehouses have established protocols for cleaning up areas at the start and end of every shift to avoid messes and safety hazards.
2. Optimize Warehouse Layout
Optimizing your warehouse layout can boost your efficiency and also create a safer workplace. When you have a logical flow of materials, machinery, and people, there will be less chance of a misunderstanding leading to a serious accident.
3. Have Trained Equipment Operators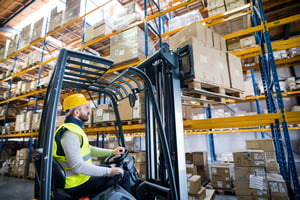 Employees should only operate equipment that they have been trained to use safely. For example, only workers with forklift operator certifications should operate a forklift inside the warehouse since they've been trained on how to do so properly and safely.
4. Inspect Equipment Regularly
Tragic workplace accidents can occur due to malfunctioning equipment. These can often be prevented through proactive measures. Have employees inspect equipment before each use and create a schedule for regular maintenance.
5. Define Forklift Paths
If your warehouse uses any heavy equipment, such as forklifts to move pallets or other objects, it's a good idea to create defined forklift paths. These are marked paths within the warehouse designated for forklifts only to ensure workers stay out of the way and remain safe.
6. Wear Appropriate Attire
Warehouse workers should be advised on the most appropriate attire for their particular job functions. For example, forklift operators should wear steel-toed shoes. Other employees may only need to wear comfortable closed-toed shoes to protect their feet.
7. Supply and Wear PPE
In addition to wearing the right clothing in the warehouse, employees should be provided with and required to wear personal protective equipment (PPE). This includes items like hard hats, safety goggles, ear protection, work gloves, and harnesses when working from heights.
8. Understand Established Safety Protocols
It's important to become familiar with all established safety policies, measures, and protocols that can help workers remain safe on the job. These include safety regulations established by OSHA as well as internal policies created by the organization. These should be easily accessible to everyone.
9. Hold Regular Safety Training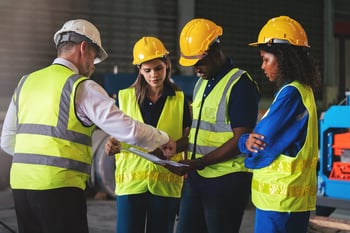 Holding regular workplace training meetings in the warehouse is one of the top ways to instill a culture of safety and ensure your employees are well-versed in various safety protocols. Each training session should focus on a different safety topic, such as heavy lifting, PPE, or forklift safety.
10. Foster Communication
When employees don't feel comfortable coming to management with concerns, there's a good chance workplace safety issues won't be addressed timely. When you foster a culture of communication, you can get insight into safety concerns before they become serious problems.
11. Hold Practice Drills
Emergency situations can happen in a warehouse or distribution center. If workers don't know how to respond, it can cause additional safety issues. For this reason, it's important to hold practice drills for things like fires, natural disasters, or other serious events.
12. Implement Technology Solutions
Many workplace accidents occur due to employee fatigue, and common claims arise from repetitive motion injuries. You can address these by implementing various technology solutions. For example, automation strategies and wireless carts can ease some of the burden on your human workers and create a safer work environment.
If you want to get the best results possible, warehouse safety must be a priority. From keeping your warehouse clean to leveraging the latest technology solutions, these strategies can create a culture of safety throughout your warehouse and improve your overall efficiency and productivity.