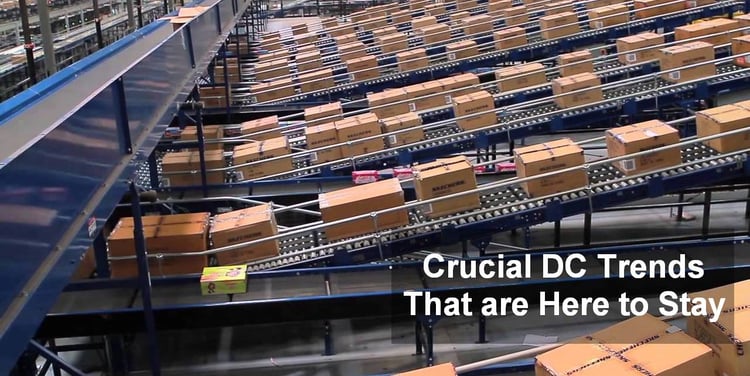 This year's edition of the DC Measures study is in, and their findings contain some crucial distribution center trends that both management and employees need know about in order to make the remainder of 2017 successful. Of the respondents surveyed, 51 percent identified themselves as managers, 26 percent as directors, 15 percent as Senior VPs, and the smallest group was Executives at roughly 6 percent.
Retail DCs were the primary focus demographic for the DC Measures study this year, with 3rd Party Warehousing and Manufacturing DCs following closely. All survey questions focused on day-to-day operations and processes, primary customers served, business and operational strategy, company size by annual sales, and location. In simpler terms, DC Measures is attempting to quantify what makes successful DCs successful as well as their greatest challenges. Let's take a look at what they found.
DC Measures Findings: Changes for 2017
These are the results based on metrics such as average warehouse capacity used, order-picking accuracy, on-time shipping, and peak warehouse capacity. Here is what the data had to teach DCs this past year.
Retailers are struggling to maintain their just-in-time inventory management to meet consumer demand for products. One of the primary factors behind this struggle is traffic through the Panama Canal has slowed due to the increased amount of cargo being transported by ships from China. Another bottleneck is the fact that there are few ports on the Eastern US Coast that are capable of accommodating these much larger and more heavily laden cargo vessels. This increases transit time from China to the US and requires DC administrators and managers to become much more efficient about their use of space in their warehouses in order to keep sufficient supplies on hand for their retail clients.
The extended winter holiday shopping season to November 1st as opposed the day after Thanksgiving has extended the period of time that retailers need to have inventory held on hand at DCs. This put a serious strain on the amount of available space in DC warehouses, and so many existing spaces may need to be expanded in order to handle this more extended shopping season.
Order picking accuracy continued to reign supreme over on-time delivery, especially in DCs that service end-consumer customers. Customers are far more concerned that everything is in their order correctly and that shipping is free rather having it arrive on a specific day.
DC Measures Findings: The Human Component
Over the last several years, the DC measures report has closely examined the relationship between operational metrics and supporting an overall organizational strategy.. As a part of the 2017 study, DC Measures also looked closely at companies priorities for people, processes, and technology. Here's a rough summary of what they found.
62 percent of companies surveyed stated that people came first before processes or tech. Respondents who prioritized their people's performance were also the companies that were seeing the lowest turnover, and that there were three factors they all had in common: workforce agility adapting to changes, number of full-time employees, and human resources strategies. They key to implementing these three factors was simple: training their workforce to be flexible and adaptable to changing conditions in warehouse traffic, hiring more employees full time (though most companies reported this does cut into profitability), and lastly inspiring loyalty through investing in the long term potential of every candidate they hire rather than the short term gains a potential employee has to offer the company.
Companies that invested in team building and keeping their employees happy saw tremendous results in long term efficiency and profitability. Happy workers are better workers regardless of the metric used to evaluate them. Your processes and tech are only as good as the people operating them. Focus on your people's happiness and job satisfaction first, and the other factors take care of themselves.
The most successful companies surveyed were smart about their tech integration for managing their workforce. This includes digital workforce training for existing employees and using tech to make employees a part of the business' decision making processes.Probably the most puzzling result of all was that over half of all respondents surveyed didn't use workforce technology to streamline their processes and help their employees develop better on the job skills. On interesting anomaly that occurred regularly though (and this is still not completely understood) was that DCs that used workforce management tech saw a higher turnover rate. The reasons aren't presently clear, but with time and study some connection is likely to emerge.
Conclusions: What Can Be Learned From the 2017 DC Measures Report?
In short, your business can have the best research-based processes and protocols in place and use the latest in workforce and DC management technology, but if you aren't focused on developing the best employees in the business, you will not be successful. Put a higher priority on hiring and retaining the best people, focus on making your DC one of the best places to work in your community, and use more workforce technology to help train and motivate your people to be more successful. Invest in your people's long term potential as the backbone of your business, and your processes and metrics will increase.