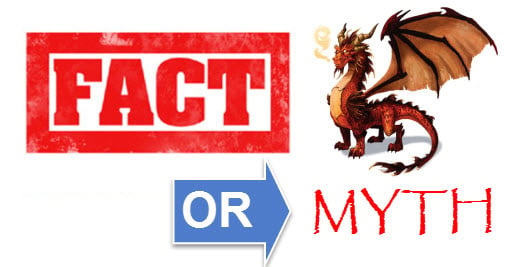 There are many examples where lean manufacturing has inspired a new and arguably better way to eliminate waste. To appreciate it, you have to understand what adherents of this paradigm mean by "waste." The term, put simply, refers to anything—tools, processes, materials, activities, personnel—that does not contribute to the value of a product or service as perceived by the customer.
But there are a lot of misconceptions about lean manufacturing that, when left unchecked, could devalue brands and companies committed to the paradigm. Here are some of those myths, along with the facts. Remember, making a well-informed decision—not blindly adopting just about any aspect of the paradigm—is the key to getting the most value of it.
Myth #1: Lean Manufacturing Equates to Job Losses
There's an article from Forbes India that caught a lot of attention: "A Lean Production System is Bad for Workers."
That statement was made by a professor from Delhi. Under a lean paradigm of production, Professor Annavajhula J C Bose said, permanent employment was reduced and workers denied of a better life.
There are several other instances, in fact many are published in the news, where lean manufacturing is said to reduce workers to robots. Unfortunately, those companies who do reduce people to automatons and do so in the name of "lean" incorrectly apply the principles of the paradigm.
Just because a company reduces "waste" or gets work done faster and cheaper doesn't mean it operates under the lean paradigm. The fact is, an organization also has to deliver more actual value to the customer.
Myth #2: Doing Lean Means Spending as Little Money as Possible
While lean manufacturing focuses on eliminating waste, it isn't a mere cost-cutting exercise. Many fall victim to this myth. There are companies and managers out there who still believe the main objective of their lean program is cost-cutting. This only perpetuates existing productivity problems and may even impede growth.
The fact is some lean initiatives and tools actually require cost increases in the short run. They may require additional investment in training, equipment and processes. If your goal is to get cost, you're likely to get discouraged when you don't see immediate results.
Myth #3: Applying Core Lean Principles is Painlessly Easy
The basics of lean production sounds easy. Look for efficiencies and remove any waste that doesn't add value to the end product or service.
In practice though a different picture emerges. In an IMTS Insider story, an author revealed how many in the audience claimed they're doing lean manufacturing when in fact they're not.
A whopping 70 to 80 percent of the hands go up to indicate that they're doing lean. Out of this figure, only 1 to 2 percent actually understood what the concept is all about. The author was right to explain that while the concept is very broad, there's a set of practices every manufacturer or decision-maker needs to understand deeply. What does it mean to monitor your shop floor? Walking around and writing down figures on a piece of paper certainly doesn't capture the practice.
The fact that implementing lean principles isn't not easy explains why Toyota failed in following it's own lean playbook, the Toyota Production System (TPS). According to analysts, the company itself abandoned the fundamentals of Lean and TPS. The company, for one, let complacency spread throughout the organization. Here is one compelling statement from the article.
"Toyota invented the Toyota Production System and it was working so well that they felt they didn't need to worry about being vigilant with their manufacturing processes anymore."
It's easy to dismiss lean manufacturing as either idiotic or over-hyped — if you don't understand the principles and practice of lean thinking and production deeply and thoroughly. Pointing out these misconceptions help but don't stop here. Apply the concepts and be really honest about the results you're getting. Expert lean manufacturing consultants can offer an objective, honest perspective and provide the necessary steps to go bigger.