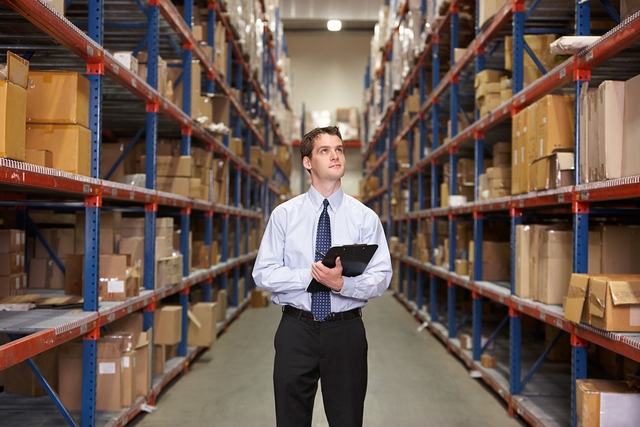 We appreciate those who work within the warehouse environment as they overcome the pressures of deadlines and costs. Each warehouse manager must be meticulous, technologically sophisticated, authoritative, organized and calm under pressure.
The resources of a warehouse are space, equipment and personnel. The cost of space includes the cost of the building or leasing a space and the cost of maintaining the space. The equipment resources of a warehouse include data processing equipment, computers carts with portable power, dock equipment, material handling equipment, storage equipment and unit load equipment.
According to experts, there are 'secrets' behind running a successful warehouse.
Here are a few experts who
have shared their thoughts about what it takes:

"Always be prepared to change. Be forward thinking and just because you are doing well now does not mean the future will be the same. The tacit you use today to get a project done successfully may not work tomorrow. Also your number one asset in the warehouse is never technology it is the people utilizing the technology. Always look for the success of your people, that is the key to your success."
- Kevin Warner - Warehouse Manager at Pitman Warehousing

"For a successful warehouse a lot of factors should be considered like the receipts procedures,storage,issue procedures and preservative measures and these factors should be carried out in the best possible way to reduce losses due to the above factors which should be carefully implemented.Also good stock control systems should be user friendly and people should have warehouse management training and renumerated well.The employees must be trustworthy and honest."
- Obeymore Mahove - WAREHOUSE SUPERVISOR

"By teamwork. It is started from small up to top people regardless what position they have. The objectives must run on what the business is goal and not the thier own purposes just only to work but to follow the whole process."
- Mizael Boquid - Warehouse Unit Leader at 2GO Logistic Inc.

"Put the right management in place working together as a team. Hire the best managers for each department and leverage each others skills (need people who are not threatened by someones else's ability or talent) Support from top executives (if there is no support there is no success) Think for the future, not just today or tomorrow, but months/years down the road. Set the culture you wish to have from the start. Set up a strong safety program."
- Justin "JT" Griebe - Operations Manager at iHerb

"Team Building is very important; employee moral and management support are equally valuable in maintaining your warehouse. Even though you may have an excellent operational warehouse; there is always a way to increase your ability to make it better. I am one that firmly believes that constant change is a way to keep away from being complacent. Training, retraining, safety and organizational policy enhancement help to ensure that your warehouse has the optimal advantage while keeping your success in constant flow.
Tools, tools, tools; any successful manager knows that if the tools are not available for your team to succeed, you eventually will lead your team to fail. Making sure that upper management is there to support you in your efforts to lead your team toward the goals of success is one of your responsibilities; providing all of the reports and documentation needed to gain that support is expected if you are seeking improvements for your department."
A failure of your team is just as much a responsibility as its successes, and as a manager, knowing the difference is key toward your own success."
- Chadwick Buchanan - Organizational Warehouse Operations & Production

"That's simple! Love materials, love co-workers, love procedures, love warehouse athmosphere, love all kind of difficulties, feel good, be positive!"
- Orhan ELBEK - Warehouse Manager at Zorlu Energy

"Success in any business starts with trust. Sustained high level performance from your employees is a direct result of winning their trust as a leader. It's no different than a sports team that gives it their all night in and night out to be the best because they trust and believe in their coach. The question becomes what type of leader are you?
Are you a leader people can believe in and trust to have their best interest at heart? A good leader achieves buy in from his/her staff because of the content of their character. People can see through someone who is not genuine. You can be the most knowledgeable in your field of expertise and have the latest technology but that won't translate into long term success without employee buy-in.
If an employee can feel good about being valued, coached, mentored and setup to succeed by their leadership they will want to work for you. They will want to perform at a high level not just for themselves as obviously they should but they will want to perform the same way for their leader. It's been proven that high pay alone does not guarantee sustained performance nor does processes and procedures.
Good leaders unfortunately are few and far between according to todays work force and that is a testament to how charcter and integrity have taken a backseat to corporate performance anxiety. "Make bricks without straw" attitudes exist all over the place but it doesn't work. When you look at the happiest workers and companies, the leadership have made the investment of valuing their employees just as much as their customers and stakeholders."
- Derick Pope - Distribution, Logistics, Supply Chain Professional

"It starts with the team and the management. You have to recruit the right team and provide top-notch training, fair compensation and advancement opportunities. It makes for a positive work environment when the warehouse is running properly. Be sure to outline the specific qualifications you are seeking for each available position. new employees who are flexible and receptive enough can learn how to perform their job duties the way you want them to be carried out. A successful warehouse manager understands fully the role of a warehouse in the supply chain management system. It takes good management habits and skill set to meet the criteria of a good warehouse manager. Lead by example to inspire and motivate your staff. You can pitch in whenever necessary even if it is not part of a warehouse manager's job description. Efficiency and accuracy are the key words in the success of a warehouse and by taking interest in what employees are doing you can accomplish that goal."
- Ron Matthias - Distribution Manager at Plaid Enterprises

Sadly, the personnel resources of the warehouse are often the most neglected though the cost of personnel is usually the greatest. Labor related costs in a typical warehouse can be 50% of the total.
Reducing the amount of labor with higher labor productivity, good labor relations and worker satisfaction will significantly reduce operating costs. At Newcastle Systems, we focus heavily on the area of productivity and giving the staff the right equipment to eliminate steps. If you would like to know more, we have the new updated 2014 Mobile Workplace and Portable Power Systems Product Overview.