5S is a philosophy, a way of thinking which focuses on organizing and managing the workspace by eliminating 7 Wastes while improving quality and safety.
Waste:
Muda (無駄?) is a Japanese word meaning "futility; uselessness; idleness; superfluity; waste; wastage and wastefulness". A process that consumes resources where waste occurs is when more resources are consumed than are necessary to produce the goods or provide the service that the customer actually wants.
There are forms of waste in addition to the seven. The 8 most common forms of waste can be remembered using the mnemonic "DOWNTIME"
- Defective Production
- Overproduction
- Waiting
- Non-used Employee Talent
- Transportation
- Inventory
- Motion
- Excessive (Over) Processing)
To have an impact on profitability, you may rely on one or more of the problem solving tools that are used to systematically eliminate waste.
You are most likely aware of these tools and systems:
Value Stream Mapping
Pareto Analysis
Cause and Effect Diagram
The 5 Whys
Control Charts
The 5S System
Changeover Reduction
The 5S Methodology:
It is all about having what you need to do your
job when you need it; no more, no less!

The 5S's -
5S is a philosophy, a way of thinking which focuses on organizing and managing the workspace by eliminating 7 Wastes while improving quality and safety.
The 5S list describes how to organize a work space for efficiency and effectiveness by identifying and storing the items used, maintaining the area and items, and sustaining the new order. The decision-making process usually comes from a dialogue about standardization, which builds understanding among employees of how they should do the work.
There are five primary 5S phases which are known as:
1 - Sort
1.1. Identify all items in the work area
1.2. Distinguish between essential and non-essential items
1.3. Place any non-essential item in a appropriate place, not in the work area
1.4. Regularly check that only essential items are in the work area
2 - Straighten
2.1. Identify the best location for each essential item
2.2. Place each essential item in its assigned location
2.3. After use immediately return each essential item to its assigned location
2.4. Regularly check that each essential item is in its assigned location
3 - Shine
3.1. Keep the work area clean and tidy at all times
3.2. Conduct regular housekeeping activities during shift
3.3. Ensure the work area is neat, clean and tidy at both beginning and end of shift
4 - Standardize
4.1. Follow procedures
4.2. Follow checklists for activities where available
4.3. Keep the work area to specified standard
5 - Sustain
5.1. Clean up after completion of job and before commencing next job or end of shift
5.2. Identify situations where compliance to standards is unlikely and take actions specified in procedures
5.3. Inspect work area regularly for compliance to specified standard
5.4. Recommend improvements to lift the level of compliance in the workplace
A brief description of the 5S methodology and its application in an industrial plan is available below in a video from Lean Manufacturing Consulting Online:
What types of businesses benefit from a 5S program?
Everyone and all types of business benefit from having a 5S program. Manufacturing and industrial plants are first to come to mind and can realize the greatest benefits. However, any type of business, from a retail store to a power plant — from hospitals to television stations — all types of businesses, and all areas within a business, will realize benefits from implementing a 5S program.
The Benefits of 5S
Reduced changeover time

Decrease in flow distance

Increased floor space

Greater self-esteem

Improvement of communication

Increase in productivity

Fast work

Improved appearance of the facility and expectation for compliance to maintain that condition

Better and constant quality of products, services

Reduced equipment breakdowns

Improves workplace safety

Fewer hazards

Clean work place

Reduction in materials handling

Reduced lead time and cycle time

Reduced search time

Establishes standards for operating equipment and conducting processes Less spending on replacing lost or damaged items

Less stress and tiredness

Improved morale and pride in the workplace

Training time reduced for new employees

Greater efficiency in achieving goals

Greater readiness for new tasks

Better impression on clients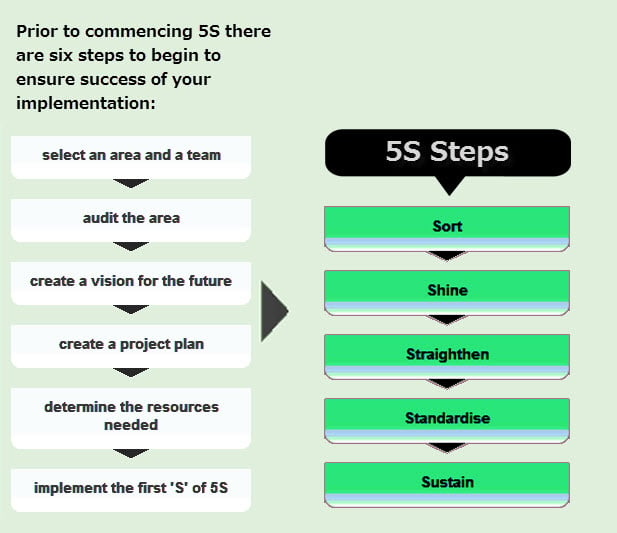 5S Summary
5S is a process and method for creating and maintaining an organized, clean, and high performance workplace.

5S enables anyone to distinguish between normal and
abnormal conditions at a glance.

5S is the foundation for continuous improvement, zero
defects, cost reduction, and a safe work area.

5S is a systematic way to improve the workplace, our
processes, and our products through production line employee involvement.
5S is accomplished by following all of the steps. DO NOT SKIP A STEP.

5S must become part of everyone's job.

5S is a team-oriented process between the members of the work area.

To review, some of the benefits of 5S include:
• Improved safety
• A clean, orderly workplace
• Improved efficiency
• Increased employee morale
• Standardized work methods.
Recommended Resources:
Improve your teams' understanding of 5S and other Lean Manufacturing principles with these popular books on www.5sstore.com.

During the 5S implementation,
feel free to download our free Mobility Audit here.