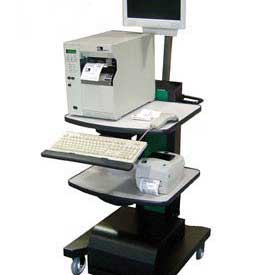 If you are not yet familiar with powered work stations, they combine the mobility of a cart with a portable battery power pack to provide electrical power for computers, printers and peripherals.
With such a versatile combination, mobile data entry, printing, WMS connectivity, and inventory management becomes more efficient and flexible. This new technology enables you to complete tasks which are a part of a multi-stage process from one location by bringing computer based elements with you on a cart with its own PowerPack.
With a basic configuration that includes a metal frame, two shelves, swivel casters and power package, maintenance of the workstations is fairly simple.
Here are the basic maintenance instructions for mobile workstation carts and PowerPacks. Newcastle's carts can be maintained by anyone on the staff and do not require high tech knowledge or special skills:
Check the fitting of all cables on batteries every 90 days.

Check casters to ensure they roll freely and the brake operates.

Make sure all shelf brackets are properly seated to slots in the mast.

Make sure all air vents are unobstructed.

Charge the battery before using it to ensure it is fully charged.

When powering equipment on the cart one can have the charger plugged in if necessary. In this case, the AC power will pass thru the charger and power your equipment directly.

When not in use, the system charger can be plugged into the AC power to ensure the battery remains in an optimal state or turn inverter to off position.

Charging system is a trickle charger so leaving it plugged in will NOT damage the battery.

Monitor the battery status meter on the cart.

Batteries SHOULD NOT be discharged below 11.5 volts as this will shorten the life of the battery.

Batteries should always be charged in a secure but ventilated enclosure.

Avoid exposing battery to heat, service life is shortened at ambient temperatures above 85F.

Batteries SHOULD NOT be stored in a discharged state for more than 1or 2 days. They should be charged as soon as possible after each use (otherwise it can void the warranty). If a battery has been left in a discharged state for a period of time it may no longer take a charge.
The typical concern about additional time, expertise and cost of maintenance does not apply to Newcastle Systems' powered workstations. They are built to last with minimum maintenance.
Are you interested in upgrading your workplace to one that is more versatile and productive?
Our mobility audit will quickly help you examine your current workflow, identify areas of inefficiency and provide you with information on how mobility can improve your workplace.