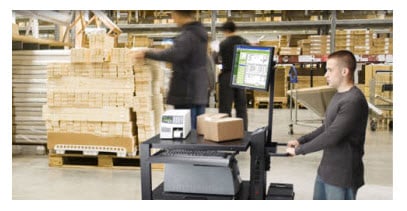 Reliance on computers can create a bottleneck in any operation. The ability to accomplish tasks by using computer carts with a power supply helps a business avoid the bottlenecks. New technology for computer carts can streamline the operation so that the work is quicker, easier, and more accurate making computers and printers an even more valuable tool for business.
One of the challenges of using a computer to run a business is portability. A stationary work station can waste time, causes delays, and increases labor costs. However, a computer cart with power supply that can be taken wherever needed can solve that issue. A computer cart with a power supply, a business can complete all of their tasks while on the move.
Computer carts are no longer simply a cart to stack equipment on. A computer cart with power supply can be designed according to business needs can include size, storage, power sources, even designed for the specific needs of a healthcare environment. Any business that relies on computers to function can benefit from a need specific computer cart.
One of the most important components of a computer cart is the power source. A computer cart that requires an extension cord to operate can limit the mobility of the cart. With several options available, today's computer cart with a power source of its own, they have become more mobile than ever before. Whether a business needs to run a computer, a printer, a tester, or other hardware, there is a power source that can operate for the length of time needed.
An eight hour shift or 24 hours a day, the right computer cart with power supply can keep a business up and running as long as it is needed. With a rechargeable battery pack that can easily be swapped out as needed, there never has to be any down-time. A computer cart with power supply that has all the power needed to complete the job eliminates the need for having several work stations. Instead, the work station can be moved where it is needed, replacing the need for two or three work stations.
No matter the need, or the environment, there is a solution available. With accessories that include laptop shelves, printer racks, keyboard trays, scanner holders, even bubble wrap holders, there is a solution for any business. Computer carts with a power supply can solve the challenges faced by a multitude of business, from factories, warehouses, supply houses, retail, education, manufacturing, and healthcare. Whatever the need may be, the solution is as simple as choosing the correct option for the business needs.
As today's businesses need more and more flexibility, mobility, and technology at its fingertips, a computer cart with a power supply can be the solution needed to keep the business running smoothly and efficiently. With savings on labor cost, increases in sales, increases in efficiency, a computer cart with power supply makes business sense.]
The first step is to consider the return on investment. Here is where you can calculate your ROI: