A mobile computer cart with a portable power package changes the way business is done as it eliminates steps to improve ROI.
When you need a mobile computer cart with a portable power source, you need convenience, not worries. Unfortunately, worries are what come with most of the available choices:
Some require a power cord that might present a tripping hazard.
Gasoline generators are noisy and unwieldy, emit fumes, and can only be used outdoors.
Many battery packs are too weak and/or don't last long enough between chargings.
Some are designed only for specialized uses, such as temporary emergency backup, proper computer shutdown, tire inflation, etc.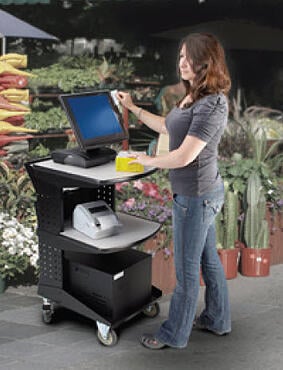 New alternative technology is far more versatile. Supplying clean, seamless AC power for as long as 12 + hours, there is a stand-alone, portable power package (PPP) housed in a sealed but ventilated steel cabinet. Consisting of a battery, charger, inverter, battery-status meter, and wire harness, it can be used outdoors as well as indoors with no cords or fumes.
No longer is a business limited to long extension cords or the long walk from point to point. The new portable power package on a mobile computer cart is capable of simultaneously powering several electrical devices to carry out many tasks.
New mobile computer cart technology with a portable power package is ideal for a multitude of applications:




In an office
Power computers, printers, mobile/cordless phones, photocopiers, etc.
In a manufacturing plant or distribution center
Power computers for remote data entry/retrieval in addition to devices such as barcode scanners and label printers for quality control, stocking, order-picking, shipping, receiving, etc.
In retail
Power computers and other devices to facilitate inventory management and labeling; LED signage; and electronic cash registers and credit-card processors for "line-busting" and for sidewalk sales, garden centers, etc.
At outdoors events
Such as weddings, reunions, concerts, fairs, graduations, retreats, rallies, etc., it can power amplifiers, lights, LED signage, etc.
In transportation
Power mobile kiosks for ticket printing, baggage checking, passenger screening, etc.
In education
Power audio-visual equipment for use in classrooms, auditoriums, amphitheaters, etc.
At home
(during power outages), Power lights, alarm systems, garage doors, computers, printers, televisions, radios, CD/DVD players, medical devices, mobile/cordless phones, fans, sump pumps, fish-tank lights/pumps, etc.
Personal recreation
Power electric grills, lights, and CD players for tailgating, beach parties, camping, etc.
Proven Track Record at Restaurant Depot and Amazon:
Although the portable power package is relatively new to the market, it is not brand new. It has proven its effectiveness in several applications.
Restaurant Depot, a members-only wholesale supplier of food, equipment, and supplies to restaurants, designed a PPP-equipped cart that is already used by more than 80 businesses. The mobile cart contains a portable power package with a 100-AH (seal lead acid) battery that powers an electronic scale and label printer for eight hours at a time and is recharged overnight.
Amazon.com, the world's largest retailer, took the concept a step further as part of a company wide process improvement initiative. Amazon designed a mobile cart to fit narrow aisles and chose a portable power package (with two 100-AH batteries) that powers a laptop computer, label printer, and scanner for up to 36 hours between rechargings. Amazon's mobile computer carts — more than 1,000 of them — are in use at more than 20 of the company's fulfillment centers in the United States and the United Kingdom.
Powerful, quiet, and compact, mobile computer carts with portable power packages are opening up new frontiers of convenience, productivity, and profitability. Offering reliable AC power for indoor or outdoor use, they have many advantages over extension cords, generators, and weaker battery packs.
Their many uses include powering computers, printers, and other devices on a mobile cart, which significantly reduces foot travel and paperwork.
If your business would benefit from the additional flexibility provided by one or more mobile computer carts with a portable power package, shop carefully, plan for future uses, and make sure the model you choose is durable and versatile.
Here is where you can configure your own mobile computer cart: