Stock picking carts are an essential part of factory and warehouse operations. Order picking is the most labor intensive and error prone process in the warehouse. Newcastle System's offers a NEW solution that is ideal for single line items, batch order picking, manual and RF picking as well as "Pick & Pack".
Once you understand how adding the latest technology from Newcastle System's includes portable power, you begin to think quickly about the possibilities.It doesn't take a rocket scientist to see the advantages of eliminating wasted steps with a power supply integrated with a mobile stock picking cart station.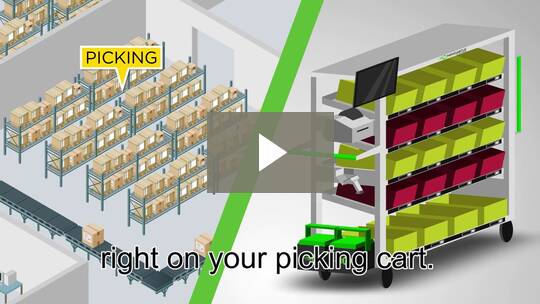 A Mobile Powered Picking Cart can help you:
Pick, Pack & Label directly to the cart; Improve productivity by more than 50%
Reduce cost per pick
Increase order accuracy
Before making a purchase, here is a checklist of questions you can ask to ensure success with implementation of your new PowerPick StationsTM:
What size is your pick area?

How many aisles, rows, etc.?

Do you pick from racks, shelves and pallets?

How many picks per hour do you need?

How do you pick: RF or paper?

Do you pick discrete or cluster?

Is sorting needed? By case or item?

Is customization required?

Do you pick to box or tote?

Is labeling needed?

Do you ship LTL = UPS – Fedex

What kind of accuracy is needed – put-to-light option?

How many hours of power needed?

What is the number of shifts?

What kind of options would be needed?

How many line numbers and orders need to fit onto cart?
Answering these questions will help you fully optimize the efficiency gained from a picking cart with power.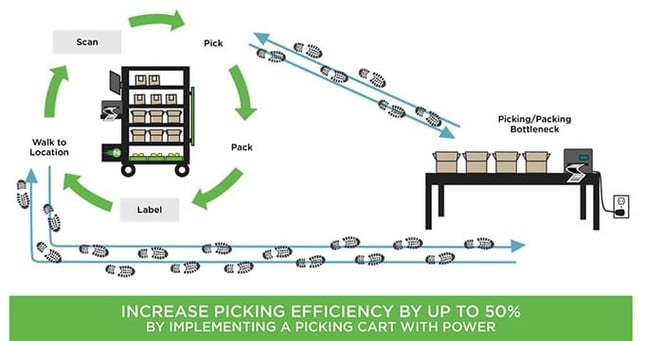 There are times when special customization is beneficial and the team here is very acquainted with adapting to the needs of any operation.
You can contact your Regional Sales Manager today to walk through the essential questions.