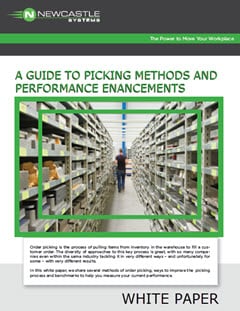 Picking carts are key for warehouse efficiency, but if your picking carts aren't equipped with the proper accessories, you could be doing extra duty. You want to make sure your picking carts have the best and brightest accessories to make sure you're getting the most out of your pickers' time.
Here are our top ten picks:


Post-Mounted Flat Screen Holder.

When you're working with limited, mobile space, you really need to be sure to take advantage of your vertical real estate. A post-mounted flat screen holder takes the inventory system away from the cart itself, giving your pickers more room to fill their carts with essential items.


Computerized Inventory System.

Whether your company uses a traditional PC format with flat screens attached to your carts, or you've moved into the age of tablets, you'll absolutely want to equip your carts with a computerized inventory system. The last thing that you want is wasted time that could occur from an inaccessible inventory system.


Scanner.

You expect your pickers to get from one end of the warehouse to the other while grabbing everything they need along the way. In order to keep track of the inventory that's being processed, a scanner is vital to make sure that everything is accounted for.


Scanner Holder.

If you've equipped your pickers with a scanner, which is a virtual necessity in this business, you'll want to be sure they have somewhere to store it. Scanners are expensive, and if your picking carts aren't equipped with an accessory that holds the scanners properly, you can likely count on replacing a few scanners after they've been broken or misplaced.


Tool Holder.

You're sending your pickers out into the warehouse with tons of tools. They'll have box cutters, scissors, markers, and whatever other tools that they'll need for the job. Each tool can make the order picking process more cumbersome if there's no designated place to put it. Having a tool holder on your picking carts eliminates this frustration.


Bubble Wrap Holder.

The last thing that you want to happen is to have breakables picked only to find that they're broken when they arrive at the other end of the assembly line. Having a bubble wrap holder on your picking carts can help prevent fragile items from breaking.


Power Strips.

Power strips are an essential element for picking carts. The nature of the cart's mobility means that your employees can plug in and power up to whatever they need to along the way.


Label Holder.

If you've worked in a warehouse, you know how frustrating it can be to find the labels you're looking for. They can get lost and damaged quite easily during the picking process. When you have a label holder on your picking carts, you're giving your staff easy access to the labels that they'll need to do their job without wasting time and resources.


Bag Holder.

Your pickers are going to come across trash and need a place to put things they come across that aren't on their lists. Bag holders offer a simple solution for getting trash off the ground and keeping the extras out of your pickers' ways.


Desk Organizer with Cup Holder.

Permanent markers, pens, paper clips, and sticky notes can be easy to loose, and when they're lost, they can bring a halt to production. A desk organizer gives each of these items a place, and the cup holder will make your thirsty employee a little more comfortable, too.
Which picking cart accessories do you consider to be imperative additions? We'd love to hear your thoughts in the 'Comments' section below!