What drives better productivity is mobile power. The PowerPack on Newcastle Systems' mobile workstations has changed the game for companies such as Ross Stores, Amazon and others. You can read the case studies here. Contrary to a recent April Fool's email we sent out, batteries don't last forever. To extend the life of a battery, recycle and/or replace the battery, we offer the following information:
Tips to extend the life of a battery:
Check the fitting of all cables on batteries every 90 days.
Check casters to ensure they roll freely and the brake operates.
Make sure all shelf brackets are properly seated to slots in the mast.
Make sure all air vents are unobstructed.
Charge the battery before using it to ensure it is fully charged.
When powering equipment on the cart one can have the charger plugged in if necessary. In this case, the AC power will pass thru the charger and power your equipment directly.
When not in use, the system charger can be plugged into the AC power to ensure the battery remains in an optimal state or turn inverter to off position.
Charging system is a trickle charger so leaving it plugged in will NOT damage the battery.
Monitor the battery status meter on the cart.
Batteries SHOULD NOT be discharged below 11.5 volts as this will shorten the life of the battery.
Batteries should always be charged in a secure but ventilated enclosure.
Avoid exposing battery to heat, service life is shortened at ambient temperatures above 85F.
Batteries SHOULD NOT be stored in a discharged state for more than 1or 2 days. They should be charged as soon as possible after each use (otherwise it can void the warranty). If a battery has been left in a discharged state for a period of time it may no longer take a charge.
At the end of the battery life, it is time to recycle.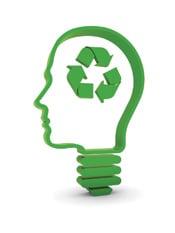 Did you know that more than 97% of all battery lead is recycled? Compared to 55% of aluminum soft drink and beer cans, 45% of newspapers, 26% of glass bottles and 26% of tires, lead acid batteries top the list of the most highly recycled consumer products.
The lead-acid battery gains its environmental edge from its closed loop cycle. The typical new lead-acid battery contains 60 to 80 percent recycled lead and plastic. When a spent battery is collected, it is sent to a permitted recycler, where under strict environmental regulations, the lead and plastic are reclaimed and sent to a new battery manufacturer.
The recycling cycle goes on indefinitely - that means the lead and plastic in the lead-acid batteries that you use have been - and will continue to be - recycled many, many times. This makes lead acid battery disposal extremely successful from both environmental and cost perspectives.
To find out more about recycling, the applicable Federal and State laws and locate battery recycling locations in your area, visit the following sites:
www.earth911.org - This is a very comprehensive site, and by entering your zip code the site will direct you to battery recycling depots in your area. Think and act green!
www.batterycouncil.org - This site will provide you with more information on the recycling process and direct you to the pertinent Federal and State laws.

www.corrugated.org - To find out more about corrugated recycling.

Replacing the battery:
Replacement batteries are available for the mobile workstation carts. Here are a few of the current batteries found on the accessories page:
B202



Battery, 40AH sealed lead acid

(33 lbs.)

B206



9Battery, 100AH sealed lead acid

(70 lbs.)

B212



Charger stand alone, 10 amp

(10 lbs.)

B215




Charger stand alone, 25 amp

(20 lbs.)
How much power do you need?
The amount of power needed depends on which equipment is required. Below is a list of typical equipment and how much power each uses. 
How to calculate watts:  Watts = Amps X Volts
Laptop = 50 watts

Scanner = 5 watts

Thin Client = 30 watts

17" LCD or Monitor = 30 watts

Sm. Desktop Thermal Printer 

(ex. Zebra LP2844 or Intermec Easycoder 3400e)

 = 50 watts

High Volume Thermal Printer 

(ex. Zebra S4M or Datamax I or M Series)

 = 100 to 150 watts

Desktop PC = 200 watts

Small Laser Printer 

(ex. Hewlett Packard Model HP2015)

 = 315 watts

Medium Laser Printer = 400 to 800 watts

OKI Data Printer = 110 watts
For other equipment, please refer to user manual or contact the manufacturer.
If you are still using a stand up workstation and interested in adding a rolling workstation to your operations, this must read guide will help you rethink the way you manage power: