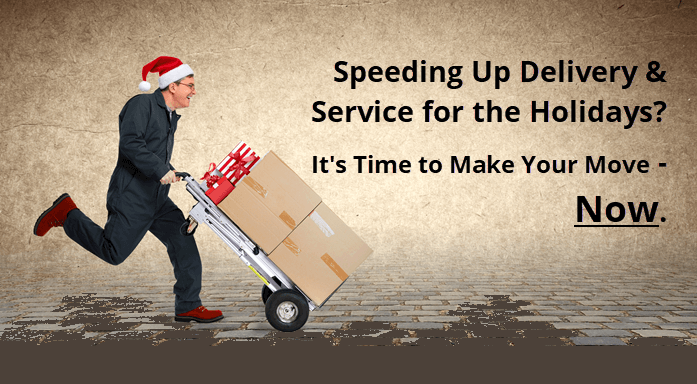 With inventories bulging from summer shipments coming in for the holidays, Distribution Centers everywhere are gearing up for the peak retail season. Historically the last four months of the year generate about 60% of a typical retailers' annual sales, which also means this is the season where many businesses earn their real profit for the year. But how do you make sure all that inventory get out the door as planned and you are not stuck with overstock at the end of the year?
"Customer Service" is a Broad Term, But It's Everything
One thing certain as the holidays approach: consumers become more impatient. A story from a phone center manager of a major cataloger years ago is still relevant today. In a phone center with 100 seats (and phones), they might have normally had 120 phone lines, with the assumption that if all lines were full, twenty people could be on hold listening to music or a message, and beyond that incoming calls would get a busy signal. The assumption was that those who got a busy signal would call back. But when December came around, they would add another 30-40 lines, as expensive as that might be. But why? Because in December customers are worried about getting what they want, so if they got a busy signal they would hang up and call a competitor instead! The extra lines were put in place to get everyone lined up in the phone queue and increase their chances of taking their call – and getting the order.
What – if anything – can a Distribution Center do to improve service, set and keep high expectations and convert more orders over the holidays?
Speedy Delivery is No Longer the Exception
The modern E-commerce culture has been defined by Amazon, which accounts for almost half of all online retail sales. And as we should all know by now, Amazon continually delivers speed – so much so that getting something delivered in 1-3 days is now considered the norm.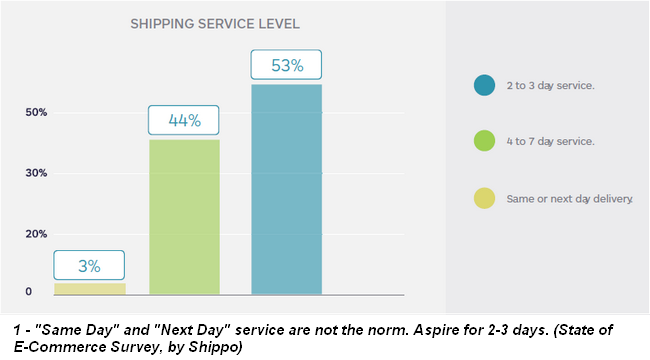 But what about the rest of us? Replicating Amazon's infrastructure is not possible (330 DCs in the US alone), but there are remedies for everyone else. A recent webinar from Shippo and Flexe spelled out some simple approaches for the rest of us to raise the bar with our customers during the holidays. The survey from Shippo highlights that only 3% of consumers want same or next day delivery, so any solution you can come up with to achieve a 2-3 day timeline raises the bar significantly to meet and exceed expectations.
But what are some other improvements that could be made to delivery options?
According to the survey, here are a few that matter:
Free Shipping – only 29% of retailers surveyed had no option for free shipping. Given the pressure and mindset of holiday shoppers, creating this option even as a promotional tactic is helpful (e. "Free Shipping for Orders Over $35").
Weekend Delivery – While less than half (44%) of consumers expect weekend deliveries since the USPS does include Saturday in their service days, it means it also counts as a transit day. So while "2 Day" for most shippers means that a Friday shipment will arrive on Tuesday, for the USPS it means arriving on Monday. Having Saturday available as a delivery day is just one more way to exceed expectations.
Expand Shipping Choices - Half of all businesses surveyed use 2-4 different shippers. Given the ability of software to now guide you through the best options for whatever criteria matter – speed, weight, dimensions, distance, cost, etc. – it is easier than ever to leverage a variety of options to optimize your customer's choices and your costs.
Use Your Data to Inform Yourself – And Your Customers
Our modern-day ERP, WMS, CRM and other (hopefully) integrated software systems contain a mountain of data – most of which most businesses do not use effectively. Digging out some key data points and sharing them with your customers can enhance your customer experience as well.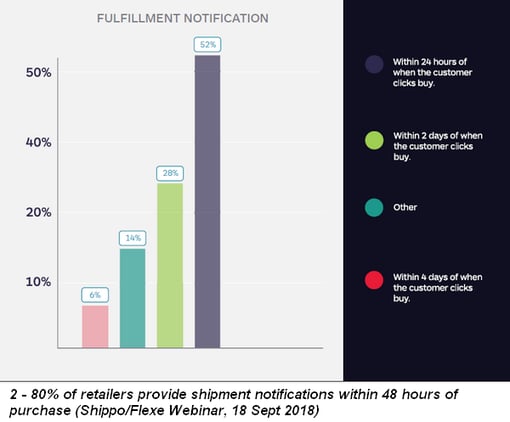 A very basic piece of information that is now standard from a consumer's point of view is delivery notifications. If your order processing requires any additional "finishing", be it "kitting" for a set of products or customization like embroidery, logos or hemming of pants, then this becomes more important as you can not rely only on the systems in use by your shippers that only kick in once the package is shipped. If you DON'T have any of these special services and are picking/shipping within 24 hours, then linking your systems to pull in your shipper's data is pretty standard and should be used to communicate with customers. As the Shippo survey chart above indicates, 80% of survey respondents already provide this data within 48 HOURS of the customer clicking on "BUY," which is impressive. But it also means it is the norm now, so no excuse not to do this!
What other information are you sitting on that you could be using for yourself or sharing with your customers?
Add More Locations? Not as Crazy as It Sounds
In our customer surveys, "space management" is consistently a Top 2 issue for all of our customers – five years and running. But one of the easiest ways to address your delivery performance during peak season is by adding more space. While some retailers already add temporary space right where they are in the vicinity of their main DC to accommodate the big influx of inventory, others think a bit further ahead and add space – far away. Why?
According to the Shippo data in their webinar, a typical single-site fulfillment center can reach only 19% of its customers with standard one-day shipping, and 34% with two-day shipping. Everyone else? Three days or more. Adding additional fulfillment centers expands the area where you can reach your customers in less time. The chart below shows the progression of virtuous service improvements that come from adding additional fulfillment centers: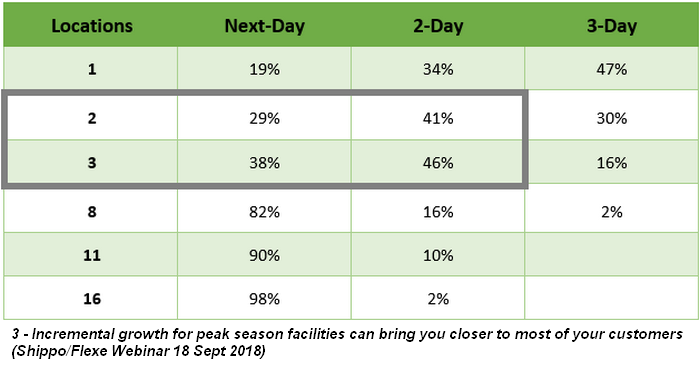 As the data shows, there is a sweet spot that gets you within two days of 70-84% of your potential customers just by adding one or two additional fulfillment centers. Choosing to go this route at all, and how many centers you add should be based on what your data tells you:
Do you have data to show where your customers are geographically clustered?
Do your customers want faster delivery (in the context of the holiday season, I would generally assume "Yes")?
From where do you receive most of your inventory? Because where it comes from determines how far it travels.
If you are sourcing everything from Asia and have a single facility on the East Coast, adding a West Coast center for the season makes sense and can be very economical. If you are already on the West Coast, you will need to account for the additional shipping costs getting your shipments to an East Coast fulfillment center.
Modern 3PL companies like Flexe (also part of this webinar) provide space, services, and software for turnkey operations year-round, but are especially useful for managing peaks like the holiday season.
As part of their webinar, Flexe and Shippo shared real-world examples from three different industries that had measurable good results: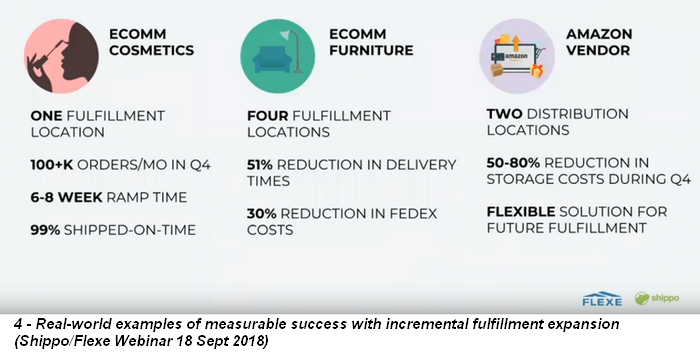 Too Late for 2018? The 2019 Holiday Season Starts Now
If your business is already too deep into the 2018 season to make a move this year, then it is probably worth putting the planning for this project on the "To-Do" list for 2019 right now. The process involved in planning a temporary expansion like this will have a lot of positive benefits from the work diving into your data. You'll learn about your customers, your costs, the gaps in inventory management, etc.
Watch the full webinar from Shippo and Flexe:
Click here to download the full survey from Shippo.