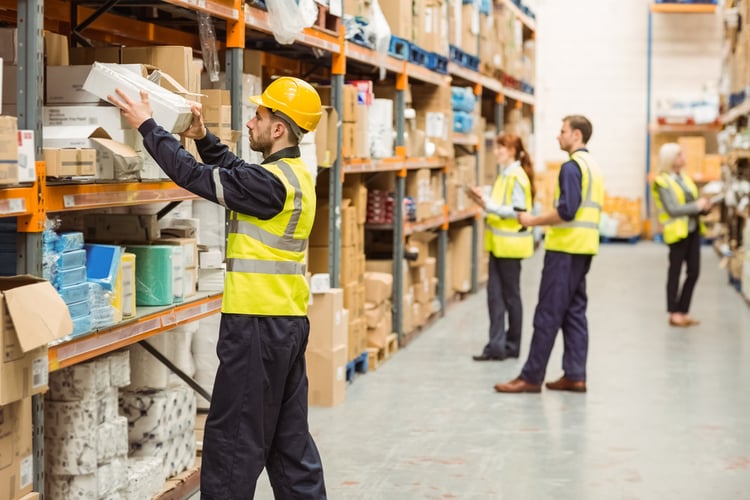 How does your labeling process work for your facility after expanding it to support your e-commerce business? Unlike the simpler processes of shipping out pallets and totes to a retail location or distribution partner which lives on the common 4x6 label, e-commerce shipments of individual bags or cartons being shipped to residential addresses can come with a very different level of complexity.
While the standard 4x6 stock label may still be the best option for many of your shipments, it's worth a look at some of the other considerations to take into account to ensure that your labels are not the weak link in ensuring that your distribution center is not a source of lower customer satisfaction.
1. Document The "Order Journey" From Start to Finish
First of all, it's important to full document and analyze the "order journey". When you are picking full cases for distribution, you are likely adding the one 4x6 label that includes the data required to help it reach the right pallet before it goes on to a truck headed for a retail destination. You will likely have an additional label, probably a dedicated pallet label that would be bigger, 8.5" x 5.5" that will contain the information needed to make sure it gets on the right truck and that the truck leaves it at the right location. In most cases, the pallet won't be wrapped very long, nor will it be exposed to the elements by being stored in a yard or in extreme temperatures. A typical "journey" for the products in this case would involve just two labels. For others, it might be just one.
For e-commerce? Let's walk through the possible labeling scenarios:
Receiving – While the "Receiving" process does not normally include applying labels to individual products, there are two possible labeling scenarios that may be required for e-commerce: For cases that may need to be directed directly to picking, pick reserve or deep reserve OR for products pulled from cases that were diverted to Quality Assurance before being put back into inventory.


Picking – the most common application used in picking is the use of a smaller label that a picker would apply to an individual item. The label will usually include any data indicating a wave, batch, order #, designated packing station, packing batch, etc. but may also include data points intended to help the picker both locate the item (aisle, rack and bin) and the quantity (for an individual order or for the entire wave).



Packing – this is where it gets interesting. There are a LOT of possibilities for printed items in addition to the labels here:

Packing slip – which may or MAY NOT be a label itself. Labels like the Zebra Zip-ship label use both sides of the stock, so the packing list can be used by the packer prior to being applied on the carton as the actual shipping label (which is also perforated so the recipient can remove it and see the packing list underneath).
Return Label – if you have a return policy that covers shipping for your products, you might also include this label INSIDE the outbound package.
Others – if some products require special instructions or warnings, you might also have a label produced at the packing stage to be matched up to the product.
The scenario above demonstrates that you would generate anywhere from 2 to 8 labels for a single product being shipped to a customer. How many labels would your "Order Journey" generate?
2. Get the Right Label – Stock, Varnish and Adhesive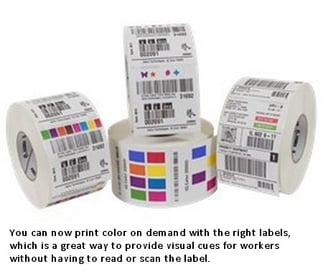 While most typical e-commerce labels don't require any of the specialized labels, you should consider a number of things and share with your label expert to select the labels that work best with your packaging (i.e. poly bags, cardboard, recycled cardboard, etc.) and might be exposed to the elements based on how they are transported or handled in the distribution chain. If there is a long conveyor path from packing to shipping, frequent bumping could damage the readability of the label, impacting the label and ribbon combination you would need to choose.
3. Choose a Printer that Matches Your Processes
How do you know you have the right printer? In an e-commerce operation, you'll need multiple printers, but can some of them can do double duty depending on how your process is organized and the timing around each. You'll also want something that not only meets the speed and volume of your current business, but for the growth you would be expecting in the next 18 months.
For example, if you are like some businesses that do their Receiving early in the morning with the arrival of trucks and containers coming overnight and process your shipping mostly in the afternoon after packing has gotten started then your printers can do double duty (and so can your dock if you're squeezed for space!).
If your picking process requires pickers to label hundreds of items per hour, then it's probably not practical to be using battery-powered clamshell printers that carry a small roll of labels, but they would be practical where picking is focusing on larger items where a roll of labels would last for an entire wave, batch or more.
4. Minimize the Unnecessary Movement
Finally, consider how to minimize the additional movement that e-commerce processes will create in your facility. If you create an active picking area that workers will roam for an hour with hundreds of labels, make sure there are printers available at reasonable intervals so new waves or batches can be started in succession without making long trips to pick up labels. If your picking team is losing 5-10 minutes per hour just walking, then you need more printers.
The other way to maximize the productivity of your printers is to make them mobile. Having your printer on a powered cart can improve the speed of your Receiving process by up to 50%. And once your receiving process is done for the day, they can be repurposed and moved to another process area like packing. Mobile printing is now a widely used technique that goes beyond the standard KPIs applied to printers and impacts overall labor costs and fatigue as well.
Review Your Label Process Today
Take a walk-through for each of your processes, consider if each one is using the label/ribbon combo that provides the best results, that your printers are the right ones for the job (and that there are enough of them) and if they need to be located differently – or turned into a mobile workstation. e-commerce requires agility and speed of change management, and having a good handle on the full range of label solutions will give you an advantage in eliminating problems – seen and unseen.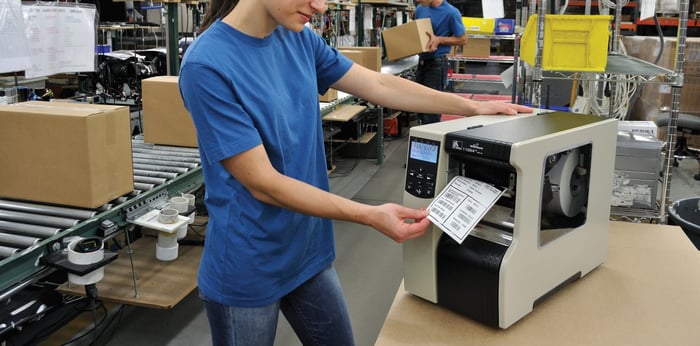 Download The Warehouse Guide to Lean Labeling to start creating better awareness of the label problems you may not see and how to address them.