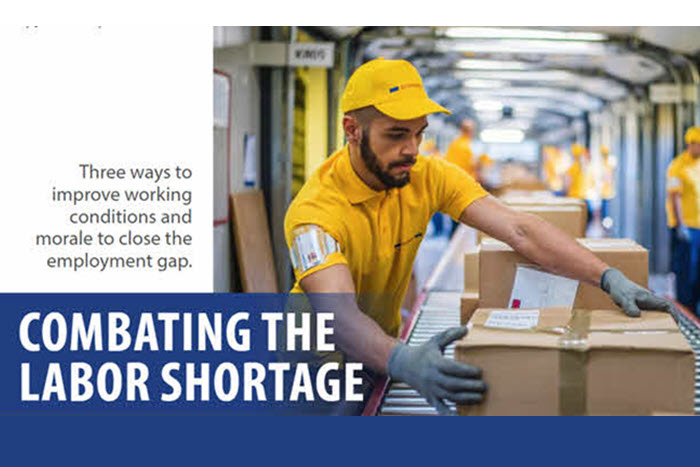 I've been a business owner in the warehousing industry for more than a decade now, and the labor shortage issue has never been more prevalent.
At the beginning of the year there was more than 12.5 billion square feet of industrial space across the U.S., and this will only grow as an excess of 200 million square feet is currently under construction. Add to that the growth in ecommerce, which is expected to grow to $4 trillion by 2020. As warehouses grow and expand, the need for workers becomes increasingly critical. But who's going to do the work if your business is not ready to heavily invest in automation and robotics?
Especially considering the turnover rate is 36 percent, according to the Bureau of Labor Statistics. And the older generation of the supply chain workforce is moving closer to retirement and millennials lack interest in blue collar jobs.
To turn the tide, we must improve working conditions in the warehouse environment, provide a more competitive wage, give warehouse employees a voice and make them part of the improvement process, and incentivize the work. If we make these simple changes, it will become easier to find and keep workers.
Emphasize safety
Warehouse work is manual labor. Most employees are walking up to 10 miles a day, operating heavy machinery and lifting packages of varying sizes. Safety should not be overlooked. When a prospective employee comes to a job interview, he or she needs to know that above all else safety is a top priority. Strict guidelines need to be put in place to ensure safety and prevent injury. Warehouses always need to be well-lit and clean. Prospective employees also need to know that proper training is available for all new employees. Safety also includes tools, employees need to know warehouse managers are investing in the latest products and solutions to keep them safe, and to keep the wear and tear on their bodies as limited as possible. With so many job options, most of which center around a desk and the internet, employees considering manual labor need to understand that safety is a top priority.
Give warehouse associates a voice
The best information comes from direct observation and involvement with the workforce; top managers don't expose themselves enough to the work on the floor. The staff on the floor has the best understanding of what's happening day in and day out, and know what can be improved. Create an environment where they can share their knowledge and feel invested in the process. People want to make valuable contributions to the world, warehouse employees included. If employees truly understand the value, they will gladly provide it.
Incentivize
Over the last year, unemployment has fallen from above to below the natural rate, signaling a shortage of labor throughout the warehousing market. This is a concern because at the same time, the national unemployment rate has gone down in the last year. Providing financial and career growth incentives will go a long way to attracting staff, and keeping them for the long-term.
Professional Development – Providing a clear track to management is vital. If a prospective employee sees no room for growth within an industry, why would he or she stick around? Employees need to know that they're working towards something and that the warehouse floor is not a dead-end job. Provide constant training and professional development opportunities for employees to reach the next level.
Performance Incentives – Day to day performance can also be incentivized. It's important warehouse associates don't feel as if they're just punching a clock, and putting in a mindless eight hours. Reward efficiency, hard work, and results, this will allow employees to set professional goals, and become eager to improve. Implement daily/weekly incentives for employees who consistency delivers strong performance, and get things done quickly, and recognize them throughout the organization.
Good wages – Wages in the industry need to improve. There needs to be a livable wage for hard work, and make no mistake about it, this is hard work. The national average for a warehouse worker's salary is less than $30,000 a year (source – Glassdoor). This just won't keep people around, and it's one of the main reason we're facing a labor shortage. Losing goodworkers to Amazon for a few extra bucks an hour is painful. Find the money in your budget by looking for efficiencies throughout the warehouse – changing layout, reducing steps, or going paperless. Raising wages will make employees feel like there is a future for them in this industry rather than looking for the next opportunity. Investment in your people is crucial for sustained growth.
There is no denying that this is a tough task. However, there is plenty of opportunity for improvement. It's a team effort, and making sure all parties are heard and respected will go a long way.

via www.sdcexec.com