Sure enough, even Mr. and Mrs. Claus has moved into the 21st century. There is a rumor that Santa and his elves use the Portable PowerPack as a means to give extra power to his sleigh. "Having Portable PowerPacks at the North Pole has been the difference between happy vs. grumpy among the elves and reindeer. They appreciate the convenience of having power handy in the most unusual places." says Mrs. Claus.
As Santa is checking his list, he sees many who are not so nice. He first looks at his list for warehouse supervisors. When reviewing the job expectations and how a warehouse supervisor can excel (be nice), he considers what may be found in as their job description: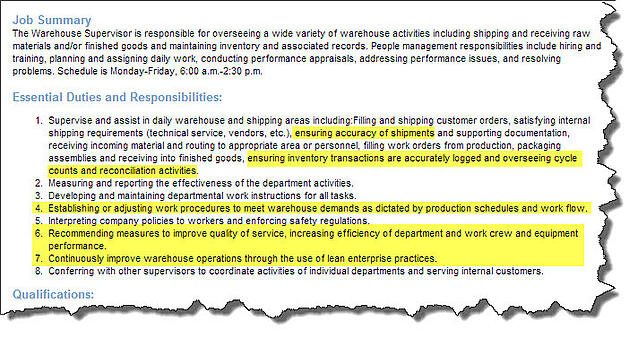 Those areas highlighted in yellow are extremely important. They relate to accuracy (Santa's pet peeve) and always improving procedures, operations, lean enterprise practices and customer service. "The world is always growing bigger and we must be ready in advance." is a mantra Santa has shared for centuries.
Santa also reads Forbes Magazine. Recently there was an article in Forbes that caught his eye.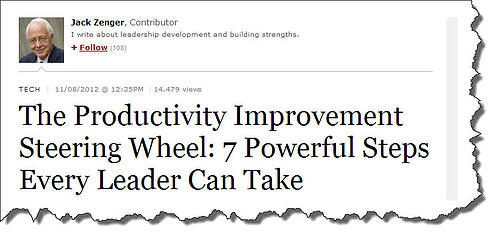 In the article, Jack Zenger wrote the following:

"Jack Welch's comment about the potential of people to be more productive. He said, "There is an unlimited amount of juice in that lemon." While the amount of juice may not be truly unlimited, the fundamental point that people are often capable of producing at a far higher level continues to be true.
Research has shown that there are huge differences in the productivity of people in any occupation and the more complex the job, the larger the difference between top performers and those at the bottom. I currently serve on the Board of Regents of the State in which I live. One startling fact I've encountered is that five percent of college faculty members produce 80% of the publications. So while huge differences in productivity exist in many occupations, this is especially true for those involving the application of knowledge.
This long-term interest in productivity improvement has led me to ask two obvious and practical questions:

1. What is it that leaders do to create a climate in which people go the extra mile and perform at remarkably high levels? and
2. What causes people to put forth extraordinary discretionary effort?

Santa immediately added these seven powerful steps to his "naughty or nice" evaluation program. Following are some of the most important elements research identifies:
1. Redefine work.
2. Make the targets highly visible and clear.
3. Emphasize continuous improvement. (Not new for Santa)
4. Convey confectious enthusiasm about your projects. (With smiles or ho-ho-ho's)
5. Treat colleagues at work with great respect. (We heard the Rudolph story)
6. Express appreciation and provide recognition.
7. Take an active role in the development of subordinates.
Too many warehouse supervisors are not so "nice" and could be said to be "naughty". A warehouse supervisor is in a key position where decisions can costs hundreds of thousands of dollars and put others at risk. Those who ask: "How can we improve operations" are off the naughty list. Those who are on Santa's bad side say: "I don't care how far you have to walk, how you don't have time, and how hard it is! Do your job! That is what you are paid for!" Warehouse supervisors with this mentality may be under high pressure with low skill. Regardless, they are in for dissappointment as their team and peers will avoid them. Caution: In the office and/or public, there is may be no sign that the supervisor is jeopardizing the business. (Santa knows)
Inside a large warehouse there are only three people who know of such conversations. The warehouse supervisor, the employee and Santa. This is one of the advantages of being a supervisor in a large warehouse - independence and autonomy.

With a belief that people can change, Santa is willing to invest and thinks to himself: "What special gift can I get for a warehouse supervisor who is on the edge of naughty or nice?"
Santa loves new gadgets and technology and when the new PowerPack Series was introduced by Newcastle Systems this year, he was full of ho-ho-ho's. Santa's elves, as skilled as they are, could not create such an ingenious solution for eliminating wasted steps. He was especially cheerful when he heard that employees with the workstations with PowerPacks were much happier. Read case studies here.
Warehouse supervisors looking forward to making improvements will be making recommendations to add efficiency, improve accuracy and offer more remarkable customer service. The best investment for the company and employees is seamless, cordless AC power - ANYWHERE You Need it! (Yes, even in where you sell your Christmas trees.)
The PowerPack Series Portable Power System provides quiet, seamless AC power for as long as 12+ hours at a time. This sturdy, compact unit is ideal for powering computers, printers, POS Systems, scales, testers and any other electronic hardware. At the end of your shift or use, simply plug the unit into a standard wall outlet to recharge. Eliminate the need for extension cords or noisy generators!
Here is a video that shows the new Portable PowerPack in action:
In the world where manufacturing companies, distribution centers and large retail operations are in full throttle during the Christmas season, we want to say: "Thank you for what you do."
Along the way we hope you will consider how to make a difference to your bottom line and empower your team to do more than you ever thought possible. As Jack Welch said: "There is an unlimited amount of juice in that lemon."
If you are not yet familiar with the idea of making your operations more mobile, we highly recommend our latest whitepaper.
This whitepaper will show you how a reliable power source can bring flexibility to your business along with improved accuracy of task execution, fewer needed workstations, and higher volumes and throughputs for existing facilities and equipment.
How to Rethink the Way You Manage Power-
Download This Must Read Guide