Even the most powerful "portable laptop desk" is limited. Power to the portable desk (also referred to as a workstation) is a challenge. Long extension cords remove the benefits of using a portable laptop desk in business and in fact could become more of a hindrance. The young man you see below in the photos has everything he needs: A laptop, a printer and a shelf to put the item he is working on. There is a flat surface for writing and an additional keyboard. With the tools on a portable laptop desk, he is happy and productive.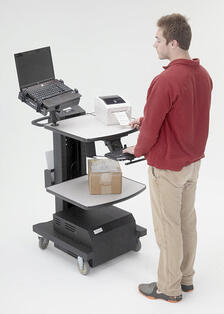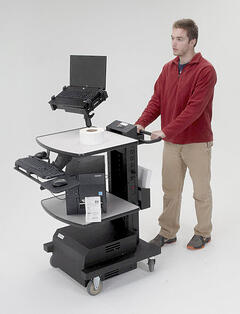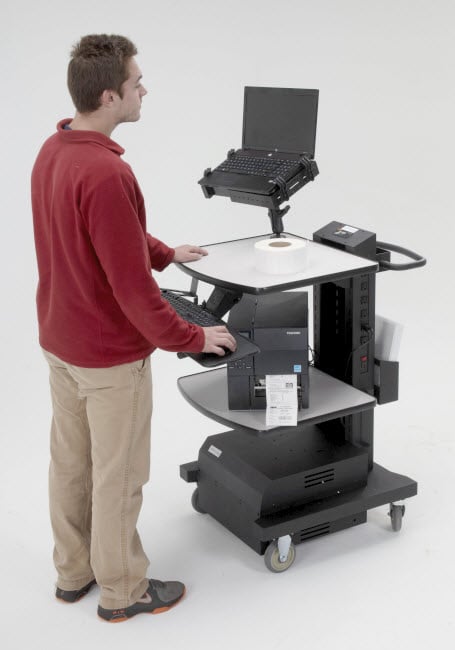 The real advantage with this particular workstation is that he has the "ultimate battery". As you look to towards the bottom of the cart you see the PowerSwap system.
With the PowerSwap system, the only down time is the seconds it takes to quickly swap out the battery.
The video below shows how the PowerSwap system is the ultimate battery solution for a portable laptop desk. Note in the video how the swap is complete in seconds. The caster wheels on the battery makes it simple to roll away and with a couple of snaps, the workstation is moving again.
In the meantime, while a staff stays mobile and productive, the battery is off to the side charging.
No doubt you can now see why we believe the PowerSwap System is the ultimate battery for a workstation or portable laptop desk.

The NEW Power Swap System enables the Mobile Workstation to power your printers, computers, scales, testers and other hardware 24 HOURS PER DAY. It's ideal for facilities with multiple work shifts.
When the NB Series battery power is running low, simply swap out its power system with a fully charged one.
The swap takes about 30 seconds to complete, allowing the Mobile Workstation to be used during multiple shifts with minimal interruption.
Here is another example of how the someone used the portable desk / workstation and shows both batteries side by side:
NB430PS - Power Swap System with 100 AH Battery: Includes (1)NB430 Mobile Workstation with PS01 installed and (1) PS22. International version is also available.

NB440PS - Power Swap System with 200 AH Battery: Includes (1)NB440 Mobile Workstation with PS01 installed and (1) PS25. International version is also available.

Complete system shown right with optional middle shelf and keyboard tray.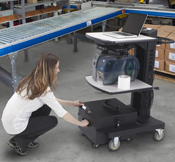 Eliminate the need to purchase additional workstations and hardware. One workstation can now do the work of 2-3 units when its integrated with the power swap system.
We have helped many companies change the way they do business by offering them simple solutions to improve productivity. You can read the case studies about how they have increased productivity by as much as 40%. Read case studies here.
If you are interested in learning more and would like to upgrade your workstation, you can get the whitepaper report here: