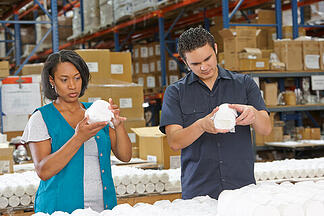 With new technology available, "productivity challenges" no longer need to be so. As you evaluate your work spaces, watch for these seven typical workplace "productivity challenge" scenarios:
1. Workplaces without Wi-fi or only partially mobile workplace.
(i.e. using carts, but equipment is stationary for lack of wireless or battery power)
2. Labeling Processes that require walking back and forth to a printer.
3. Receiving/Shipping operations where labeling is required.
4. Receiving/Shipping operations for breaking down pallets.
5. Retail floors where relabeling of product or shelving is required.
6. Other powered transactional operations which use scanners, scales, printers, etc. repeatedly in high volumes or is inefficient from the equipment remaining in one place.
7. New facilities being planned where significant equipment
(i.e. scanners and printers) will be required. The use of mobility (mobile carts with power) will often lessen the total equipment requirements).
A solution to these productivity challenges is simple implement and the return on investment can be seen quickly. Computer carts with batteries for laptops, PC's, PC tablets, printers, labelers, etc., have been modernized to provide power for up to 12 hours.
As you search the marketplace for a solution, you will find Newcastle Systems is a leading innovator of workplace mobility solutions for many of the world's leading retail and operations companies.
As the leading provider of Mobile Workplace© solutions, Newcastle Systems provides the means to dramatically improve your employee and facility productivity without major changes to your infrastructure, software or processes.
A Newcastle Systems' Mobile Workplace© facility requires less equipment and less power to do the same work as a standard workplace configuration. Companies which have taken advantage of the new mobile computer cart with power technology have been able to reduce and eliminate the productivity challenges listed above.
Avalon Integration provided a solution which eliminated the bottleneck in a receiving department. As a result, the company used 60% less labor and was able to process in-bound materials faster. The solution included Newcastle Mobile Powered Cart. Watch the video for more information:
If you are interested in learning more about how to overcome the productivity challenges, read the case studies, access the case study library here.